Arnold Palmer Invitational
Robert Gamez shot a nightmare 92(!) at Bay Hill, and the details will make you nauseous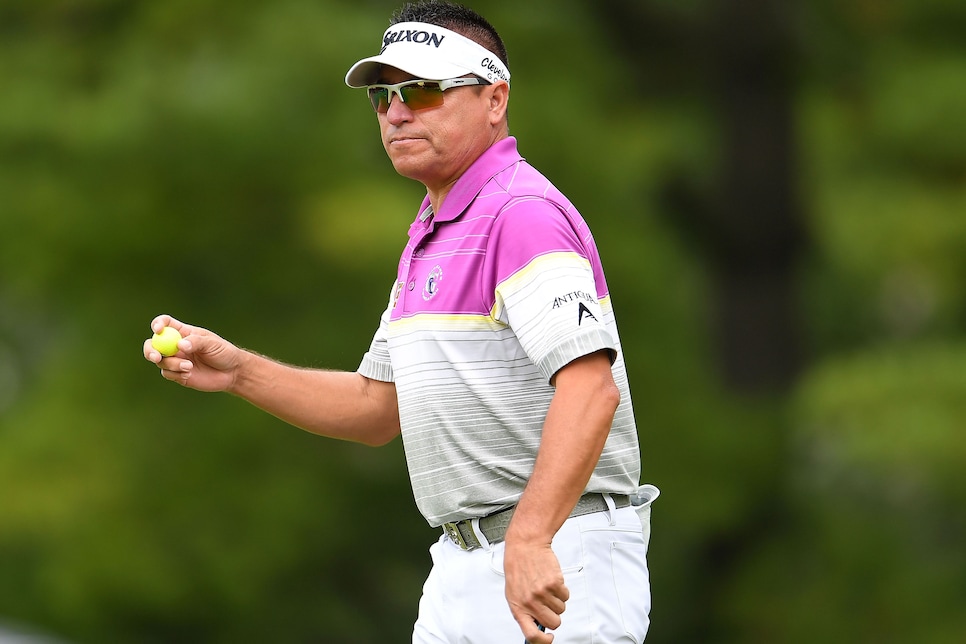 Robert Gamez, shown at the 2018 Ally Challenge, shot 92 in the second round of the 2021 Arnold Palmer Invitational at Bay Hill.
Stacy Revere
More than 30 years ago, Robert Gamez produced one of the most iconic shots in Bay Hill history when the then-21-year-old rookie holed out for eagle from the 18th fairway to beat Greg Norman by a stroke and win the 1990 Nestle Invitational (now Arnold Palmer Invitational). A plaque marks the spot from where Gamez hit 7-iron from 176 yards, and the victory would be a high point in a career that spanned nearly three decades and included three wins.
On Friday, the 52-year-old experienced perhaps his toughest moment on tour.
Playing this week's Arnold Palmer Invitational on past champion status, Gamez shot a 20-over 92 that included one triple bogey and five double bogeys. It was easily the highest score of his career, surpassing an 85 he recorded in the opening round of the Legends Reno-Tahoe Open (now the Barracuda Championship).
The round also will not count as official. Gamez was disqualified for failure to sign his scorecard afterward.
After opening with a 79 on Thursday, Gamez, who last played full-time on the tour in 2008, struggled right from the start in the second round, making bogey on the opening hole before three-putting for double on the par-3 second. He then bogeyed each of his next three holes before finding water off the tee on the par-5 sixth, where he went on to make double. His lone par came on the par-3 seventh before another bogey on the eighth and a double on the ninth to turn in 47.
Still, Gamez, who was the tour's Rookie of the Year in 1990 and holds the record for longest gap between victories —15 years, 6 months after winning the Valero Texas Open in 2005—pressed on.
He tripled the par-11th after hitting his third shot into the water then doubled the par-5 12th. Another bogey followed on the par-3 14th before he made double from the middle of the fairway and 165 yards out on 15. After pars on Nos. 16 and 17, Gamez was forced to lay up from the rough on 18 and went on to make one more bogey.
Overall, he hit just three greens in regulation and six fairways.
Even though the round is unofficial it doesn't come close to being the worst on tour. At the 1974 Tallahassee Open, Mike Reasor recorded scores of 123 and 114, though he had a very good excuse—he had separated his left shoulder and cracked some ribs in a horseback riding accident the day before.