Equipment
Arnold Palmer hand-drawn sketch of Augusta National's 13th hole up for auction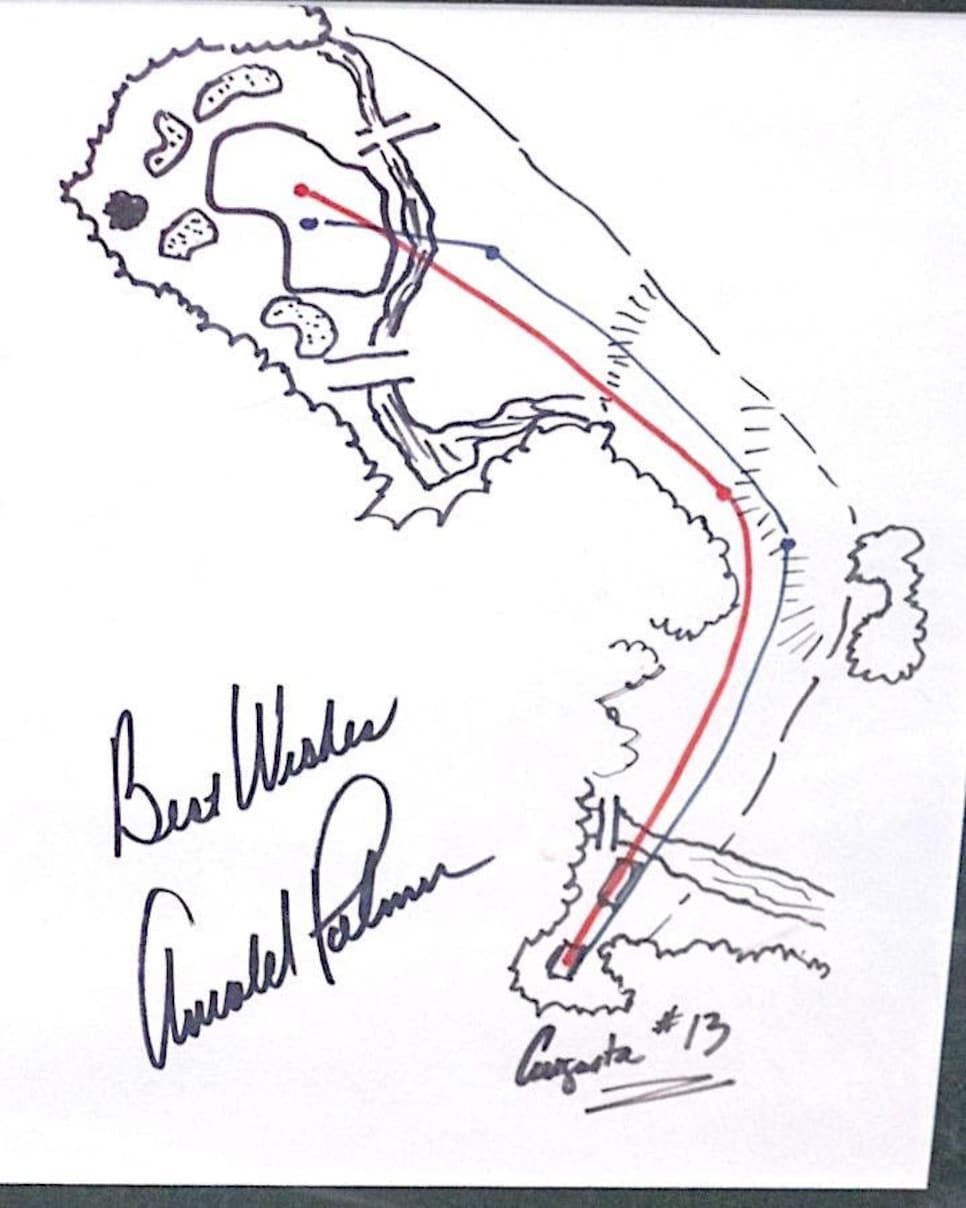 Arnold Palmer had an affinity for the 13th hole at Augusta National. Not just for its grandeur, either. Palmer played the hole seven under par during his four Masters wins, including ripping a 3-wood onto the green and making the putt for eagle during the final round in 1958, leading to his first win. Now a little bit of Palmer's history on that hole is for sale.
Starting today, Pure Golf Auctions is accepting bids on a lot that features a hand-drawn sketch of the hole by Palmer, along with two lines drawn (one showing how to play the hole as a layup and the other for going for it in two). The sketch is signed by Palmer in his trademark, fully readable signature. Although the opening bid is only $750, expect the final figure to be well into five figures. For reference, last year a pair of signed Palmer golf shoes from the 1958 Masters brought $66,000. In another auction, Palmer's winning putter from the 1967 Masters brought $97,000.
"Just when I think I know the value of things, it surprises me what people will pay, especially for anything Arnold Palmer," said Tom Stewart, founder of Pure Golf Auctions, who estimates the sketch could bring $12,000 to $15,000, but is quick to add, "You never really know." Stewart said he obtained the drawing in a purchase of 1,000 golf books for $1,000. "Most of the books weren't worth much, but this came with it," he said.
As for the quality of the drawing itself, some might be surprised by Palmer's expertise with the drawing pen, but as Stewart, who was head professional at Adios Golf Club—a course designed by Palmer and Ed Seay—was quick to point out, Palmer was a designer and knew plenty well how to draw a golf hole.
Other items include a Tiger Woods signed 2005 U.S. Open staff bag as well as an original U.S. Open program from 1929 at Winged Foot Golf Club, which Bobby Jones won in a playoff.
Pure Golf Auctions is based in Pinehurst, N.C., and was founded by Tom Stewart, a life member of the PGA of America. Bidding on the lot closes on April 28th at 7 p.m. For more information go to puregolfauctions.com.