The Loop
Arnold Palmer after pacemaker procedure: "I wish everyone felt as good as I do"
LATROBE, Pa. -- Arnold Palmer has logged millions of air miles in his life, nearly all of them piloting his own planes for 60 years, but it was a short helicopter ride he took nearly two weeks ago that was one of his most important flights in recent memory.
On Friday, August 18th, a day after telephoning his cardiologist and family physician Dr. Robert Staffen to report that he was feeling poorly, Palmer immediately was sent by helicopter to UPMC Presbyterian Hospital in Pittsburgh. Three days later, he underwent a pacemaker implant procedure for an irregular heartbeat.
"I'm fine, and I'm continuing to feel better," Palmer said Thursday morning in his office located across from Latrobe Country Club, his boyhood golfing home that he now owns.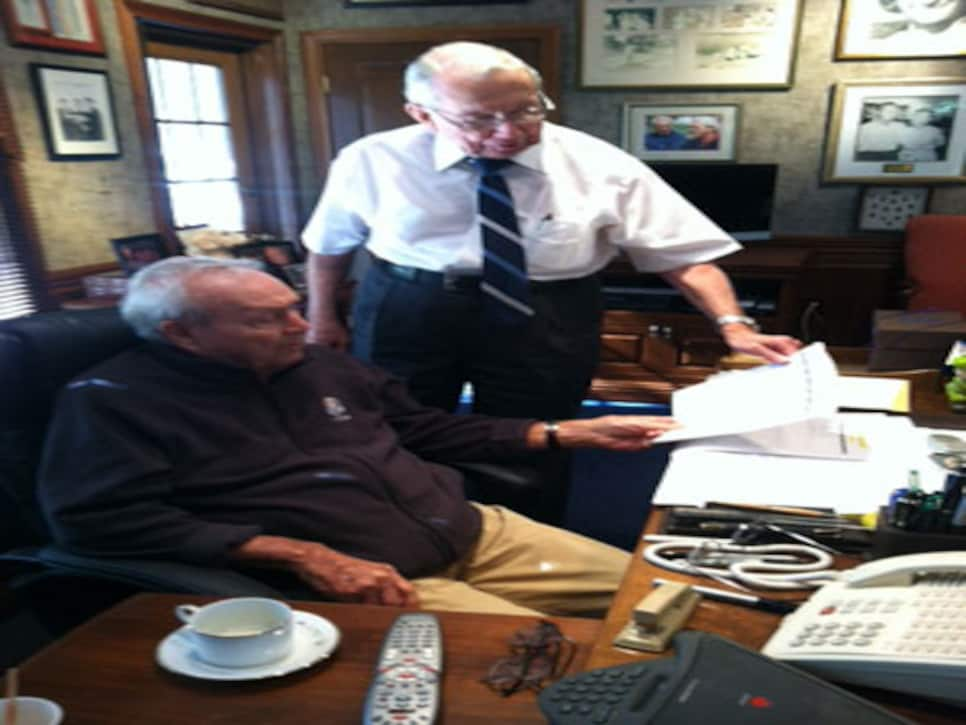 Palmer had just returned from a checkup with his doctor, and he was told that his recovery is progressing on schedule. "Except for the fact that I have a hole in my chest, I'm OK," he said with a wry smile. "I don't even know it's there, really, except it itches."
And except for the fact that he can't play golf for 10 more days. He is not yet allowed to lift his left arm above his shoulder (though he insists on demonstrating that he can do it), a post-operative precaution so he doesn't adversely affect the new wiring. He can, however, resume his three-times-per-week workouts with his personal trainer.
Palmer was back at work the day after surgery, and among his current tasks is getting through a mountain of notes, letters and get-well cards stacked in a wicker basket behind his desk. One of his favorites is a handmade note written in crayon on orange construction paper.
"They come from all kinds of people of all ages -- and they're still coming in," said Palmer's longtime media representative, Doc Giffin.
Palmer, 84, is reluctant to say how serious his condition became. He explained that during his checkup earlier in the day it was determined that he is using only about two percent of the capacity of his pacemaker. "And I'd be happy if that's all I ever had to use," he said. "So things are good. I feel good. I wish everyone felt as good as I do."
What seemed to make him happier than his own well-being was news that a close relative had weathered a more serious health crisis. He expected the worst when his mobile phone rang late Thursday morning, but instead he was pleased to hear the voice of his in-law, Robert Saunders. The 85-year-old father-in-law to Arnie's daughter, Amy, underwent a heart procedure a few days ago in which doctors gave him a 50-50 chance of survival.
"He sounded great," Palmer said, smiling broadly. "We talked about five minutes. He said he wanted a milkshake."
Palmer turns 85 on Sept. 10, and he said he had no special plans that day. "Is that coming up again?" he said, pretending he was not aware. "Just peace and quiet, nothing else, really."
Of course, it will be around that time when he can start hitting a few balls on the driving range again.
Most people who get a pacemaker might find golf difficult. But Arnold Palmer won't. He showed why. The seven-time major championship winner unzipped his tan Ryder Cup jacket and pulled back his white shirt. Under clear medical tape there was a bulge on the left side of his chest, high up, just under his collarbone and near his shoulder -- far higher than for most anyone else who receives a pacemaker.
That's right. It was put there so it wouldn't interfere with his golf swing.