The Loop
Another strong start for Woods, but can he make it count?
NORTON, Mass. --  Maybe Tiger Woods can decoy his demons into thinking that since the Deutsche Bank Championship has a Labor Day Monday finish his weekend woes need not apply.
Woods looked a lot like his old self on Friday as he overwhelmed TPC Boston with a seven-under-par 64. Playing the back nine first, Woods ran off six consecutive birdies beginning on No. 18. The round was marred only by a bogey on No. 9 -- his last hole -- when he chipped poorly from the back fringe to 12 feet and missed the putt.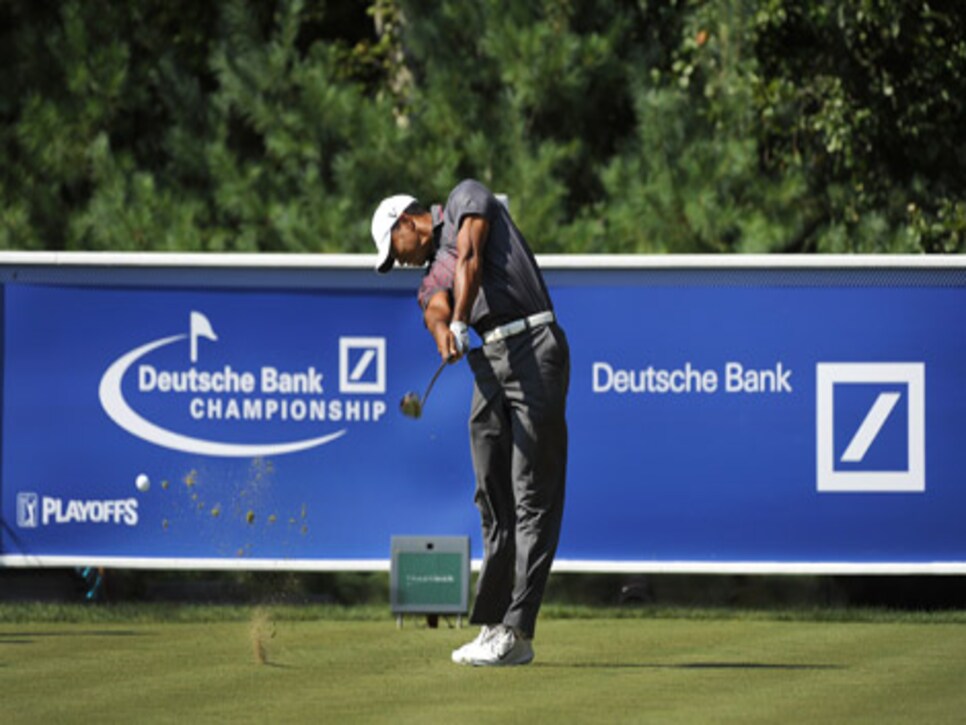 *Woods' starts this year haven't been the problem. Photo by Getty Images
"I hit a lot of good shots and made a few [putts] today," Woods said. "It was very tricky out there," he said about he swirling wind. "We didn't know if it was downwind or upwind. The lucky thing was that the greens were soft."
The course record at TPC Boston is 61 by Vijay Singh and Mike Weir. For Tiger, it was a start that reminded folks of what he was like at his very best -- especially that run of birdies.
But beginning tournaments has not been the problem this year for Woods; closing them has. Coming into Deutsche Bank, his pre-cut scoring average was 69.65, third best on the PGA Tour. And then strangeness sets in.
Tiger's third-round scoring average is 70.63,  59th among his peers, and his final-round average is 70.83, a woeful 73rd on tour. This is stunning from a man who was once considered the greatest closer in the history of the game, the best front-runner since Secretariat.
"It's just you can't really look at it as real bad going on this year," Woods said in advance of his great opening round about his problems on the weekend. "I won three times [this year], so it's not like it's been bad," Woods said accurately.
"It's just a couple rounds here and there or it's an up-and-down here and there ,or it's making one putt which is not good," he said, sounding like a political strategist spinning the news for his candidate.  "So that's a good thing."
The bad thing is that those "here and theres" and that one putt which is not good have come in the closing rounds of tournaments. Yes, Woods has won three times, but in the big events he has failed on the weekend.
At the U.S. Open, Woods opened 69-70 and was positioned perfectly to take control on the weekend, but closed and 75-73. It was déjà vu all over again at the British Open, when Tiger started 67-67 but managed only 70-73 on the weekend.
And at the PGA Championship, Woods jumped out of the starting blocks 69-71 before limping home 74-72. His final-round scoring average in the four majors this year was 72.87 and he never broke 70 in eight tries.
Even last week at the Barclays, the first of the three FedEx Cup Playoff events, Woods went out 68-69 and came in 72-76. "I wasn't playing that badly," he said Friday about his weekend at Bethpage in the Barclays. "On Saturday, I had four three-putts. My rounds weren't as bad as they scored."
Now he has a chance at the Deutsche Bank to take a step toward putting those weekend demons back in the closet from which they inexplicably escaped. "We will just keep working on what we are working on," Woods said about his on-going swing change with coach Sean Foley.
Woods will almost certainly be in contention, if not in the lead, after 36 holes at TPC Boston. Maybe this time he can get it done on the weekend  -- or at least on Monday, when the tournament ends.