It's fitting as we celebrate and swoon over links golf on the eve of the Open Championship to wonder if it is the game's consummate test. With cheek-rattling wind and sock-soaking rain and blind shots and hidden bunkers and slivers of water so impossibly thin that they can't catch a ball until they most certainly do, golf on the great coastal venues of the United Kingdom surely must leave our lack of skill most nakedly displayed. Links golf is simply and relentlessly the hardest form of the game to be played.
While American golfers love and live for the bucket list trips to Scotland and Ireland, the prevailing wisdom is that the unfamiliar challenge and the unmerciful conditions of links golf rarely leaves the tourist golfer shooting record rounds. Indeed, in such beautiful but beastly conditions, how could the American golfer be expected to play anything like his or her usual game? Well, new data from Arccos, the stat-tracking GPS app, suggests the average American does wondrously well when playing links golf in the United Kingdom.
A study of nearly a thousand rounds played in the U.K. by Arccos users this year showed their average score for those visiting links rounds was nearly identical to that of their play at home. The average score for U.S. rounds was 85.3, but for U.K. rounds it was less than a stroke higher (86.0).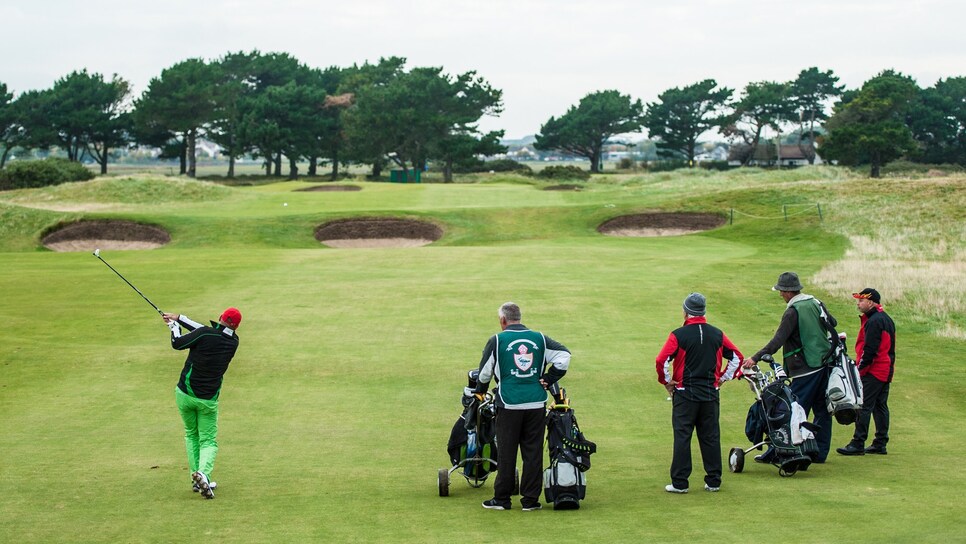 A deep dive into the numbers showed that while there was more three-putting in the U.K. rounds (almost 27 percent of the time on links greens), there also were more greens hit in regulation (about eight a round vs. seven in their home games). There were more birdies and fewer bogeys in their rounds on their golf trips to Ireland, Scotland, Wales and England. But, alas, more triples, or worse.
Surprisingly, the best golfers played a little worse on links courses, while the double-digit handicappers played better. In terms of scoring, 47 percent of the single-digit players shot higher numbers in the U.K., while 62 percent of double-digit handicappers played better. We like to think that might be the advantages of taking a wise Scottish or Irish caddie and the willingness of a high handicapper to take his caddie's advice.
Of course this data is a relatively small sample, and it might be fair to suggest that Arccos users are better than the typical golfer. The average handicap for all Arccos users is around 12, and the average in this specific data set is 9. (It's also fair to surmise that Arccos users have a better handle on their games than those who don't track their statistics. Indeed, Arccos says its research shows that the average user improved by more than 3.5 strokes after a year of using the stat-tracking app.)
But experts still believe the game is harder for those unfamiliar or unprepared for the vagaries of links golf. Marty Carr, executive chairman of Carr Golf where they've been planning golf trips for nearly 30 years, has seen how it goes for the typical American taking on the links of the U.K. In short, it goes as well as driving on the left side of the road, eating haggis or speaking Gaelic.
"Generally American handicaps don't travel well on the links, especially when pitched against the locals, in either Ireland or Scotland," Carr said. "It's a completely different game—pitch and run golf instead of the target golf that you have in the States. Links golf for amateurs, especially when the wind blows, requires golfers to hit a low ball, or in many cases keep the ball on the ground from well off the greens."
Of course, there's more to it than the score when it comes to that dream trip to the links of the U.K., no matter how hard it might or might not play. As our English colleague once wrote about preparing your game for a trip to the links or Ireland, "Forget about your medal scores, and instead make a match of it. Whatever happens, you'll hit some fine shots to remember, in a beautiful setting, on the trip of a lifetime, with friends....Whatever the reason, go you must. Because it is in Ireland that we seem to become who we were meant to be."