News
Another major reminder that golf is a tease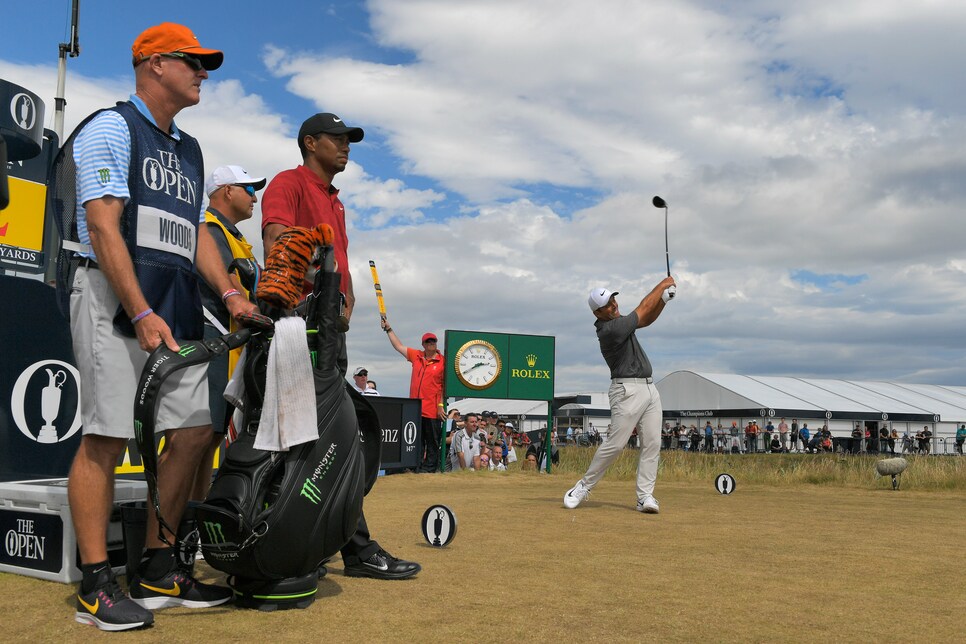 All praise to Francesco Molinari. He faced down a difficult course, ridiculous wind and an unbelievable field to play beautiful golf and win the claret jug. His entire back nine—but especially the birdie on 18 that thrust the dagger in the heart of the field—was the stuff of a champion. Moreover, he's a worthy champion. He "deserved" this, insofar as a golfer's career can be said to merit a certain number of majors, and he's been one of the hottest players on the planet over the last two months. Nobody, including me, can object to Francesco Molinari as champion golfer of the year.
There was a moment when Rory McIlroy drained a prayer of a putt on 14 for eagle when it looked like the tournament might come down to him, Tiger Woods and Jordan Spieth. A hectic, unpredictable Sunday had gradually built toward its climax, and this seemed like the last piece of build-up. What came next, I thought, might actually go down in history as one of the greatest major finishes ever. And with due respect to Molinari, a comparatively dull two-shot win was not what I had in mind. Like it or not, a sporting event is defined by its ending, and the 2018 Open Championship was like a movie that keeps you on tenterhooks for 90 minutes and then sputters through the conclusion. You wander out of the theater a little puzzled, a little disappointed. And watching Molinari hoist his trophy, I felt a little like I'd been working up to a mighty sneeze for hours, only to feel it vanish at the moment of eruption.
I should have known better. Golf is a tease.
There is little debate about the greatest rivalry in the sport's history: It's Jack vs. Arnold. In 1962, they met in a two-man 18-hole playoff at Oakmont. With the pro-Palmer crowd taunting him the entire way, Nicklaus prevailed. Only 22 years old, it wasn't just his first major—it was his first professional win. It was also the peak of the rivalry, and it happened before anyone really knew the rivalry existed!
In the ensuing decades, as they fought for supremacy, they never again met in a what anyone would call a true "duel." Golf is a tease.
Tiger Woods and Phil Mickelson have never really fought it out mano-a-mano in a major. Golf is a tease.
Rory and Jordan have never been matched up with everything on the line on a Sunday, even though it felt like it might happen at Carnoustie. Golf is a tease.
When you want the classic showdown, you will get Francesco Molinari. When you scroll down the list of Tiger's greatest battles, you will find names like Bob May and Rocco Mediate.
Part of the problem is expectation. Every other sport on the planet has taught us that historic moments are made in the clash between two specific teams or two specific athletes. Baseball fans in the '50s were glutted with Yankees-Dodgers World Series throwdowns. The Lakers and Celtics have been doing battle as long as there has been an NBA. Ohio State and Michigan play each other every year. Ditto for Duke and UNC. For the last two decades, tennis has been spoiling its fans with grand slam matches between Roger, Rafa and Novak that somehow seem to get better with age.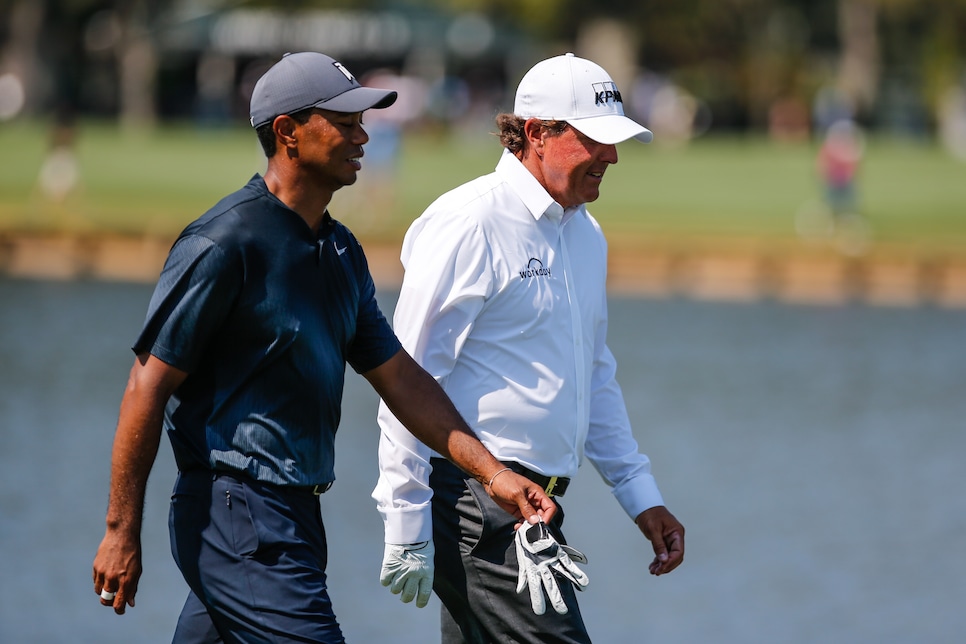 This is not golf. Golf is a sport of individual vulnerability. We're trained to expect not only that the best player or team usually wins, but—I think this is critical—that the second-best finishes second. So even in the rare cases when a player like Tiger strings together wins at an unprecedented rate that briefly makes you think golf is conforming to the laws of the greater sports universe, you're still deprived of an actual rivalry. Jack Nicklaus won 18 majors, Arnold Palmer won seven, but it was the exception rather than the rule when the other man came in second.
So even very late in the day on Sunday at Carnoustie, when it seemed like the dominos had been set in the right places, we were wrong to expect them to fall in perfect order. There's always one domino that flies sideways, leaving the rest agonizingly upright. Tiger goes +3 at 11 and 12, Spieth loses his ability to putt again and bogeys 15 and 17. Rory fails to make the big putt at 18 that might put some pressure on Molinari, and just when we have the secret hope that the eventual champion might succumb to the nerves and spray his driver into the gorse on 18, inviting chaos back into the equation, he does the opposite and shows a backbone of steel. The last hope for a tie is Xander Schauffele, which is not the hope of our dreams, and even that is taken from us when he bogeys 17 to remove all drama.
The engraver sighs, because the winner's name has 17 letters.
Of course, it can happen. Tom Watson and Jack Nicklaus distanced themselves from the field at the 1977 Open, and their final round clash in Turnberry was every bit as dramatic as advertised—right up to the final hole, when Nicklaus hit a 35-foot bomb on 18 to force Watson to make the winning putt under intense pressure. The British announcer summed it up well: "I don't think I've seen anything better than that in my life. And neither have you."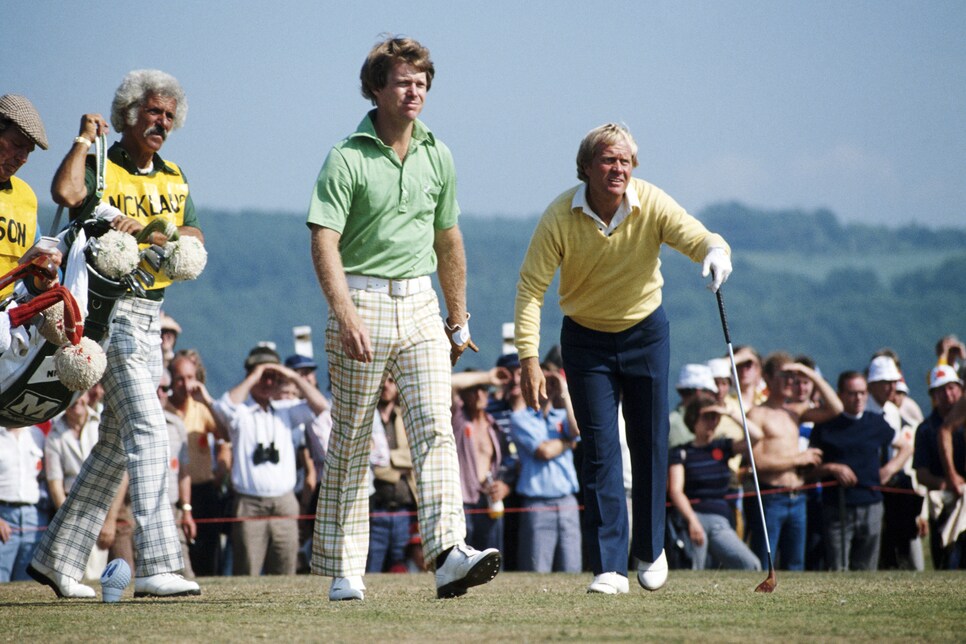 "The duel in the sun" was so remarkable, in part, because it was so rare. There have been others that came close—Phil vs. Henrik Stenson at the 2016 Open, the wild finish at the 2011 Masters, Jack vs. Tom again at Pebble Beach. And even the majors that don't conform to the broader sports narrative of what makes a good rivalry still deliver a certain intrigue. In just the last four years, we've seen Rory outlast Phil and Rickie Fowler in a bizarre PGA Championship. We've seen Spieth come desperately close to winning the first three majors of a season, only to falter on the final two holes at St. Andrews. We saw Patrick Reed stare down Rory at Augusta. We saw flukes, chokes, and outright brilliance. In some ways, it's been a golden age for the majors.
The lesson, probably, is to accept golf for itself. Temper your expectations, and enjoy the strange drama that plays out. Don't wait for it to conform to the mathematically pleasing "and then there were two" structure of other sports. Embrace the chaos.
It's a good lesson, but a hard one. It would be easier if we weren't offered the tantalizing glimpses of what might be—if it wasn't so easy to imagine Tiger and Rory and Jordan standing together on the first tee of a four-hole playoff at Carnoustie. But so often, that glimpse is all we get. Golf is a beautiful game, but that beauty only enhances the false enticements. It always leaves us wanting more. In its essential form, golf is a tease.