News
Another DJ W, more drama for Bryson and the worst Happy Gilmore swing you've ever seen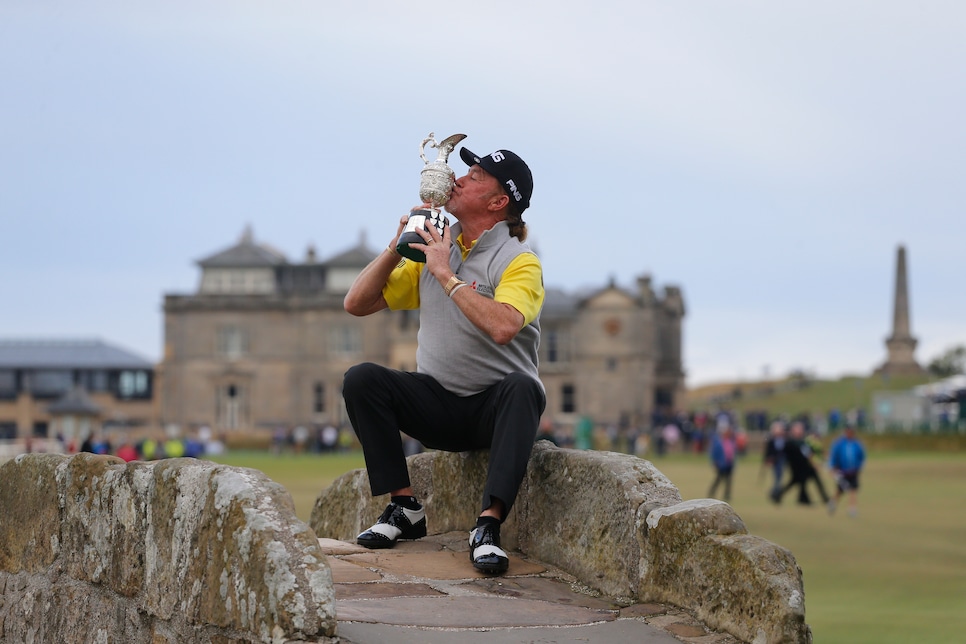 Welcome to the Dew Sweeper, your one-stop shop to catch up on the weekend action from the golf world. From the professional tours, trending news, social media headlines and upcoming events, here's every golf-related thing you need to know for the morning of July 30.
Jimenez wins at St. Andrews
In the game's most popular town, its hippest cat came out on top. Both proof that cool doesn't have an expiration date.
Miguel Angel Jimenez won the Senior Open Championship at the Old Course at St. Andrews, his 12-under total good enough for a one-shot victory over Bernhard Langer. Holding a two-shot advantage on the final day, the Spaniard's lead looked to be in doubt on the closing stretch, missing a short birdie on the 14th and a par putt on the 15th. That conditions could be described as unpleasant, demanding and difficult didn't help. "I didn't play too good over the last few holes," Jimenez said. "At that stage I was feeling the stress. My heart was really pumping very fast."
The Most Interesting Man in Golf—who only blinks when one mentions wine, woman, cigars and fast cars—gets nervous? There's no hope for the rest of us poor bastards.
Still, Jimenez managed the final three holes without incident, with his three-under 69 giving the 54-year-old the title. It is Jimenez's second Champions major of the season.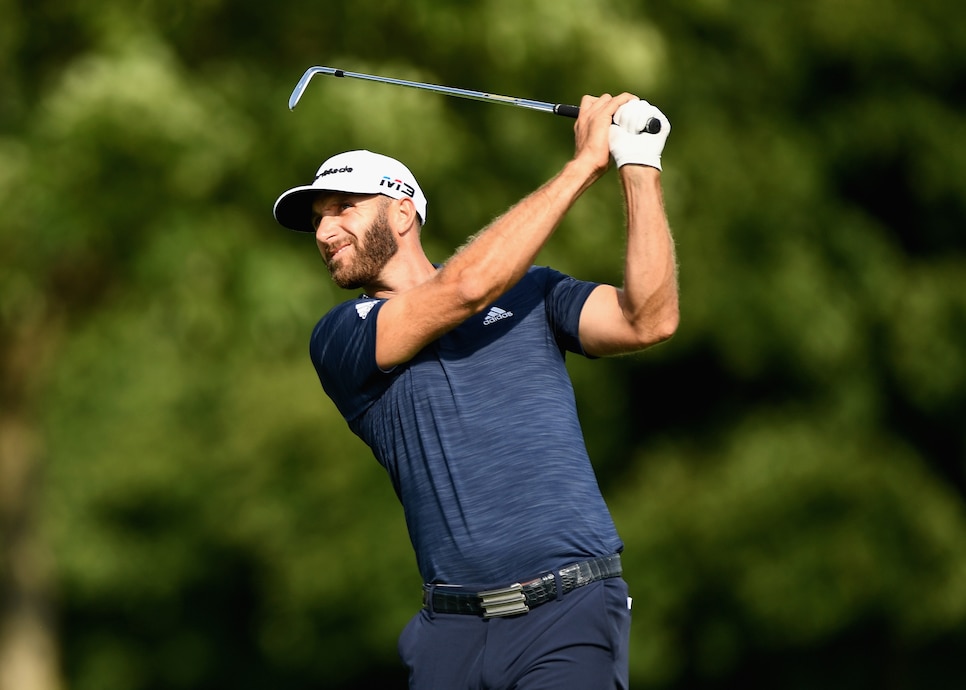 DJ takes care of unfinished business
That's one way to bounce back. After missing his first cut of the season at the Open Championship, Johnson responded with vigor, winning the RBC Canadian Open by three shots this weekend.
"Yeah, it was definitely a very good win. I'm very proud of the way I played today," Johnson said. "I knew I was going to have to go out and play really well. There were a lot of guys, a lot of really good players right around the lead, within a couple shots of the lead.
"This golf course, if you can get it going, you can shoot some low scores out here."
Johnson's enjoyed a nice track record at the event, with three top 10s (including two runner-ups) in his last four appearances. However, his ever-expanding trophy case had zero hardware from north of the border. That changed with a charge at Glen Abbey, shooting a Saturday-low 65 and following with a 66 on Sunday. Though he credited the outing to a more focused approach and better putting, it was his performance from tee-to-green that gave him the trophy, as Johnson posted an absurd 14.222 sg/ttg mark.
It is Johnson's third win of the season (which could have easily been four if certain forces at Shinnecock didn't intervene) and ninth top-10 finish in 14 starts. Player of the Year honors are very much up in the air with the PGA Championship and playoffs on the docket, but the 34-year-old No. 1 in the world certainly looks like the favorite as August nears.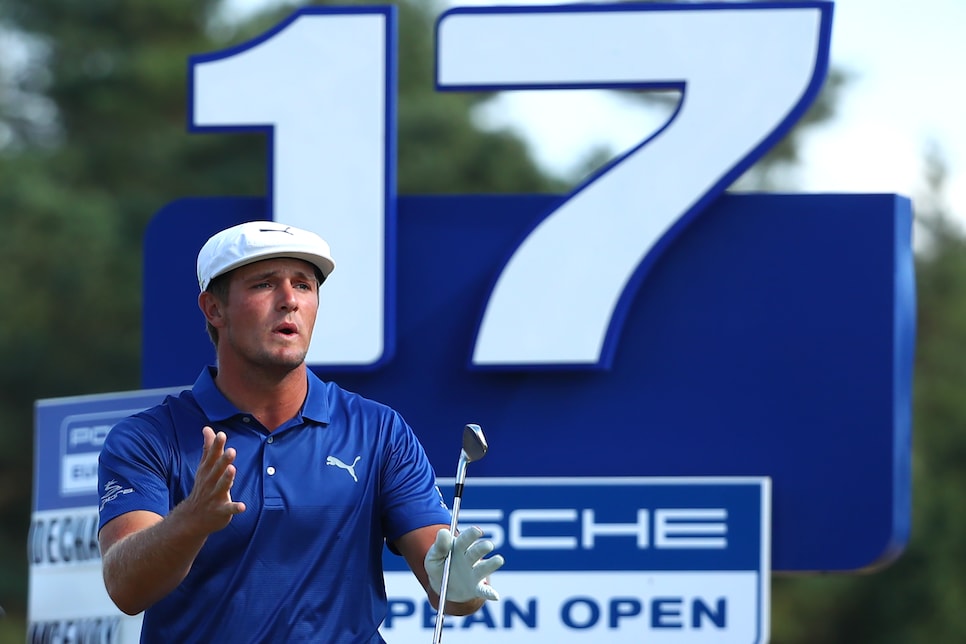 It's been a breakout campaign for Bryson DeChambeau, winning the Memorial, posting seven top 10s and ranking sixth in the FedEx Cup standings. Unfortunately for the former NCAA and U.S. Am champ, it hasn't been just his play that's made headlines.
Holding the lead in the fourth round of the Porsche European Open, DeChambeau struggled over the final nine holes, shooting a 43 to fall 12 spots down the leaderboard. Not helping matters was a demonstrative display on the back, his emotions clearly getting the best of him.
Coming days after a driving range video of DeChambeau at the Open Championship going viral, DeChambeau's actions were a field day for critics on social media. A sentiment heightened by his quick handshake to eventual winner Richard McEvoy that was perceived as bad sportsmanship by many (including fellow players).
There's no doubting DeChambeau's star burns bright, one fueled by his curiosity and cerebral pursuit. Here's hoping that light isn't dimmed by an unchecked temperament.
While DeChambeau made waves, the real story in Germany was Richard McEvoy. In his 285th start on the European Tour, appearances that have spanned over 17 years, the journeyman finally hit pay dirt at the Porsche European Open.
It wasn't pretty, with the 39-year-old turning in a one-over 73. But for a 39-year-old who's had to experience European Tour Q-school five times, McEvoy wasn't complaining.
"Incredible," McEvoy said. "I fought hard. I believed. Even at the last hole, I was overpowered by my caddie to lay up and give my best opportunity to make birdie."
It turned out to be the right play, as McEvoy drained this for the W:
That, my friends, is a well-earned hat toss.
The worst Happy Gilmore attempt you'll see
We love Paula Creamer. Heck of a swing, tenacious competitor, engaging personality. So it pains us to ask the following: has see ever seen Happy Gilmore?
Because this set-up and swing seemingly answers that question with a swift, hard no:
Perhaps Creamer's body was taken over by a spirit of a grandma trying TopGolf for the first time. Or she was hesitant at trying the Adam Sandler-inspired swing on the hallowed grounds of Scotland. At least Creamer didn't sugarcoat it: "I now know I will never do a Happy Gilmore swing ever again," she said. For the safety of golfers everywhere, for that we rejoice.