News
Announcing Golf World's "Mid-season" PGA Tour Awards*
*Yes, we're aware it's not technically the mid-season, but you know where we're going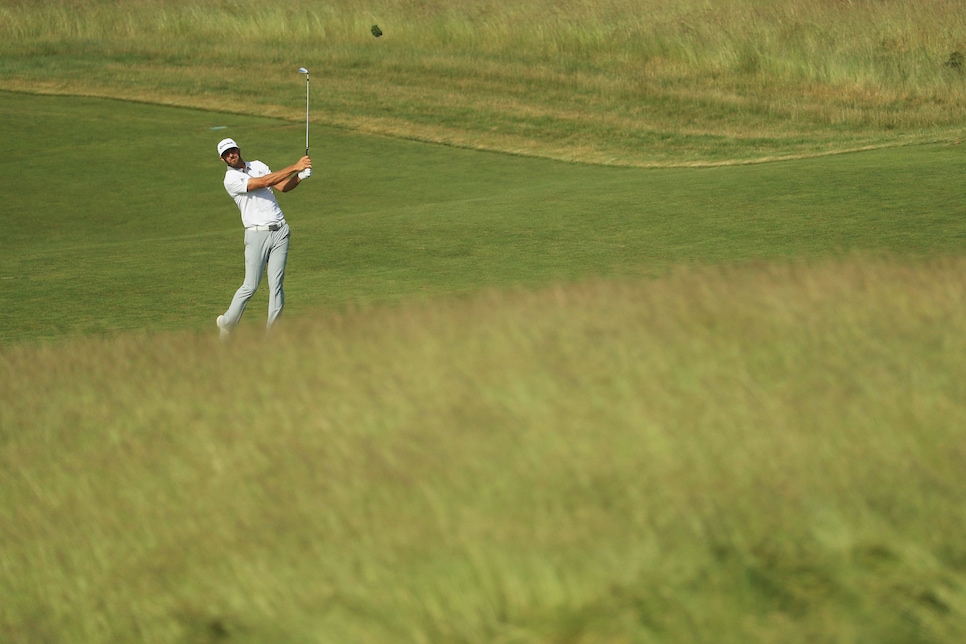 We are halfway between the U.S. Open and the Open Championship of the Glorious United Kingdom, and while this is technically not the halfway point of the golf season—that would have been in mid-March, if you go by the PGA Tour's wraparound schedule, before we even played a major—it is the point at which the opportunities for true glory are half in the past and half in the future—two majors done, two to go. In other words, it's the "real" midseason, as measured by the meaty parts of the golf calendar.
With that in mind, it's time to celebrate the good, the bad and the ugly of the PGA Tour thus far. Please roll your drums, bate your breaths and hook your tenters—these are the 2017-'18 PGA Tour "Mid-Season" Awards.
The "Comeback Player of the Year, Star Division" Award
This goes to Bubba Watson, and it's not a hard call. Bubba had his worst year in more than a decade in 2017, and judging by his age (39) and his seeming level of disinterest and frustration, smart money banked on him spending the bulk of 2018 behind the counter of his candy store in Pensacola ordering Ted Scott to re-stock the Sour Patch kids. Instead, Watson beat his ennui and the medical issues that cost him 20 pounds, and came back to win at Riviera, the WGC-Match Play and the Travelers. That's three wins (and counting?), the highest total of his career. All this on the doorstep of his 40th birthday, and a year spent wondering if he'd ever win again. Not bad!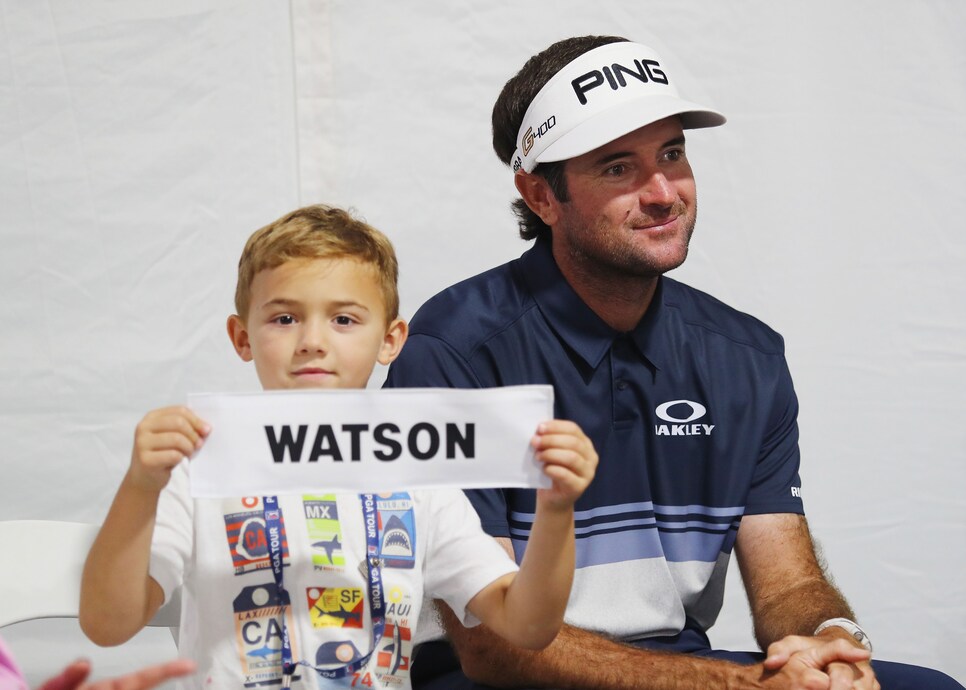 The "Best Comeback Off the Golf Course" Award
The "Comeback Player of the Year, Forgotten-Man Division" Award
Hello, Webb Simpson. I don't know about you, but I had placed ole Webb firmly in the Keegan Bradley category of golfers who won a big tournament ages ago and were never to be heard from again. But his name has resounded in 2018, particularly for his shocking win at the Players Championship—his first first victory since 2013. With six other top-10s on the year, he's on the verge of making the Ryder Cup team. (Though we would urge Jim Furyk to observe caution on that front, and maybe turn his phone off before making captain's picks.)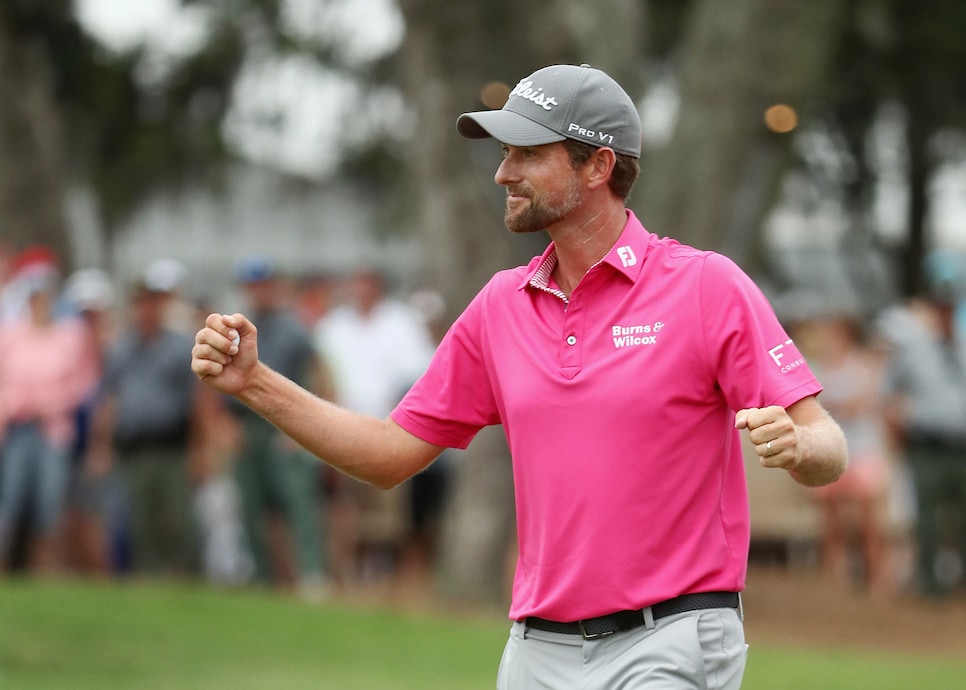 Jamie Squire/Getty Images
The "Sosa-McGwire Race Nobody Knows About" Award
Congratulations to Jason Day and Phil Mickelson. Since the advent of the strokes-gained statistics, only one player has averaged more than one stroke gained per round for an entire season. That player is Jason Day in 2016. This year, Day and Mickelson are both on pace to finish above that mark, and both have a chance to set the new record. It's just like the Sosa-McGwire home run chase in '98, except nobody really knows about it (and neither player seems likely to be linked to PEDs). There are some serious sample-size issues with this stat, but ignore that for now, because … HYPE!
The Rory McIlroy "Existential Crisis That We Would Really Like to See Resolved Very Soon" Award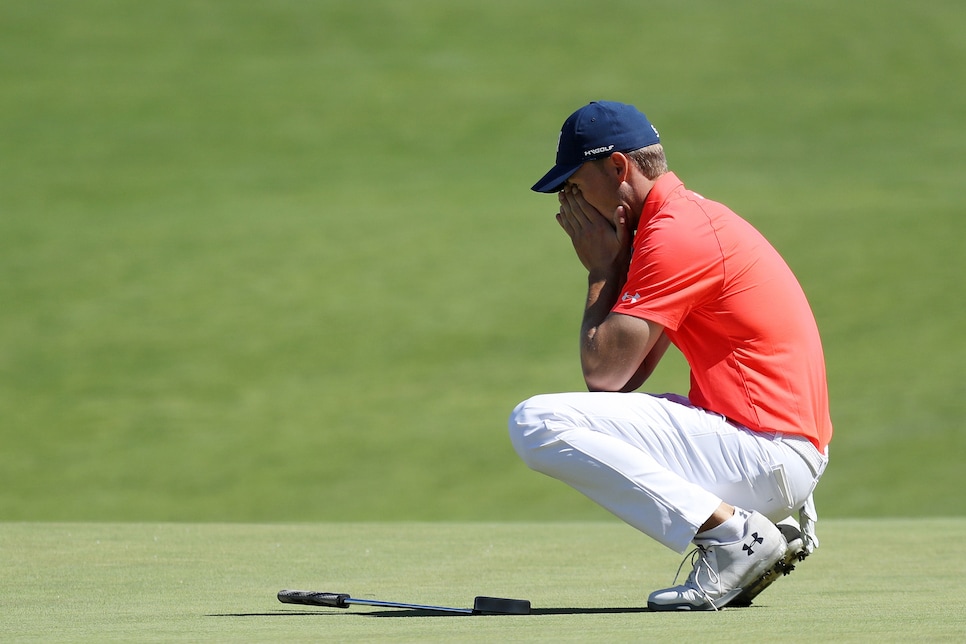 The "Honorary American of the Year} Award
Jon Rahm. Big hitter. Always angry. Feels like a physical and personality hybrid of Dustin Johnson and Patrick Reed. Definitely seems like he should be American. Seems like he's the kind of guy who will win a bunch of majors rather than doing that classic European thing of being very good at golf but either never winning or just winning once when you're 33.
The "Nondescript Excellence" Award
I announced the nominees last week, highlighted former winners, and explained what I was talking about (short version: Extremely good season, not a famous person, never wins). I'm pleased to announce that the midseason winner is Brian Harman. With two missed cuts, a Tour-leading eight top-10s, and zero wins propelling him to the 20th spot on the FedEx Cup list, Harman is a true nondescript superstar. Hopefully he doesn't blow it by winning in the next couple months.
The "Best Made Cut" Award
This goes to Kyle Thompson, who put up a glorious T-69 at the Travelers Championship two weeks ago to break a streak of 18 straight missed cuts on the PGA Tour dating back to 2012. The man was due!
The "Phil Mickelson Outlandish Moment of the Season" Award
Hmm, let's see … did anything quirky and eccentric and bizarre happen that we can't stop talking about weeks later? Something that stole the spotlight away from what should have been a bigger story, and spawned endless reactions and reactions to the reactions? Something that could be read as either a brief, regrettable moment of impulsive behavior, or a highly premeditated performance-art-style commentary on a perceived flaw of the sport?
Ahem … for the 45th year in a row, this award goes to Phil Mickelson. Get back up here, Phil!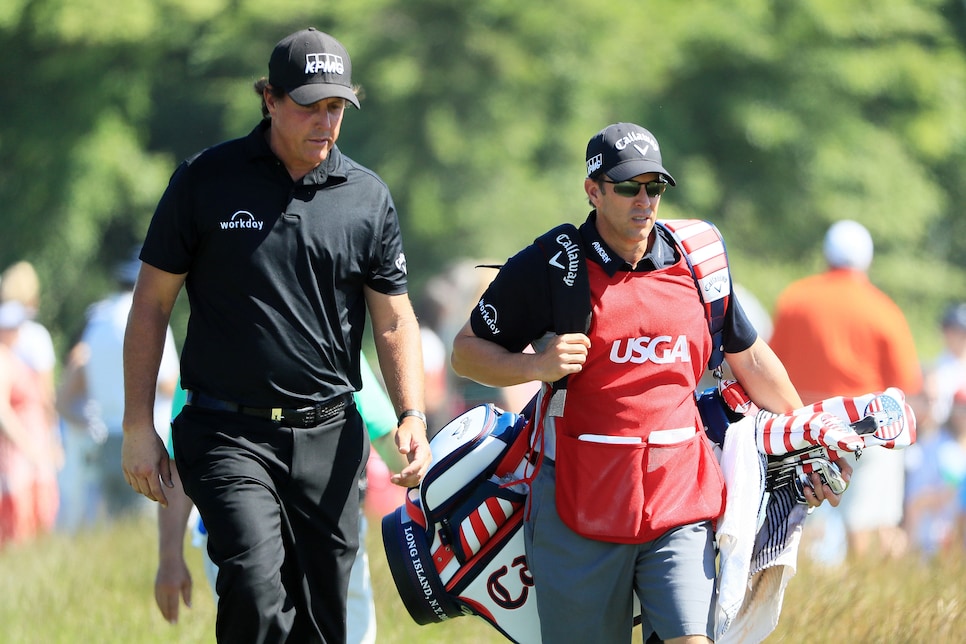 The "Funniest Non-Phil Moment" Award
Bryson DeChambeau, for using a protractor to determine "true pin locations" and forcing the USGA to decide whether that's legal or not. If the association bans them, DeChambeau needs to show up at the next event with a seismograph to determine "unseen subterranean undulations" that might affect his putt. After that, he should just carry a pet bird in his pocket and pretend it whispers Stimpmeter measurements in his ear.
The "Fearless Bastard" Award
This award, which honors someone whose age and experience might lead you to believe that they would handle a certain important situation with nerves and terror, but who turn out to be complete fearless bastards, is split this year between Patrick Reed and Brooks Koepka. Those guys? Not afraid.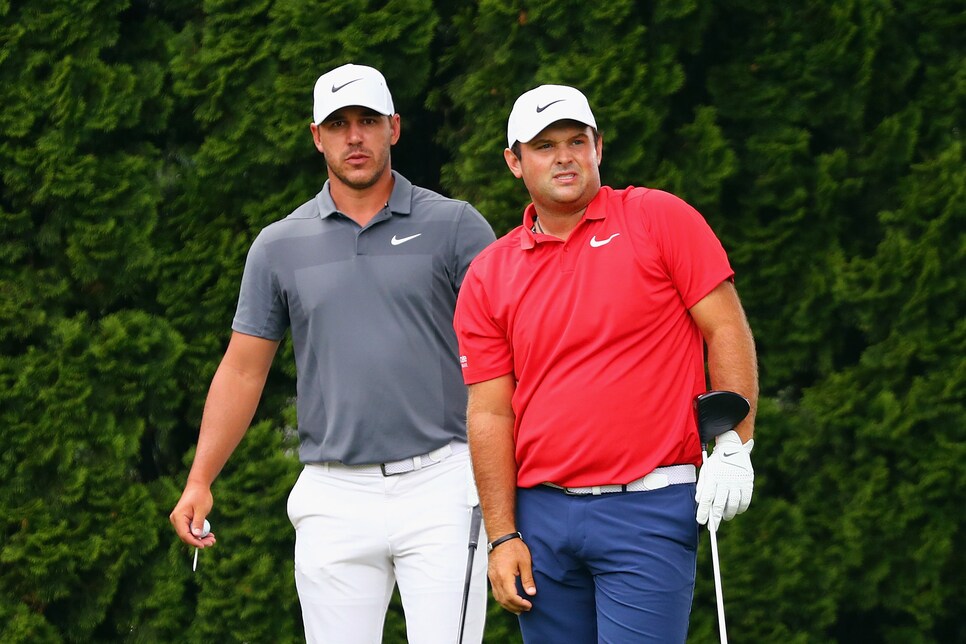 The "Rookie of the Year" Award
Aaron Wise. I was onto this guy a FULL WEEK before he actually won. I'm basically Nostradamus.
The "Worst Celebration Kiss" Award
Also Aaron Wise. First man to ever win $1.3 million and get immediately FRIENDZONED.
The "Player of the Year" Award
Our final award goes, amid much discussion and debate, to Dustin Johnson. You may be gasping and/or screaming now, so let's get the negatives out of the way first: He hasn't won a major, and he's won just twice on the season compared to three times for Bubba. Those are the points against.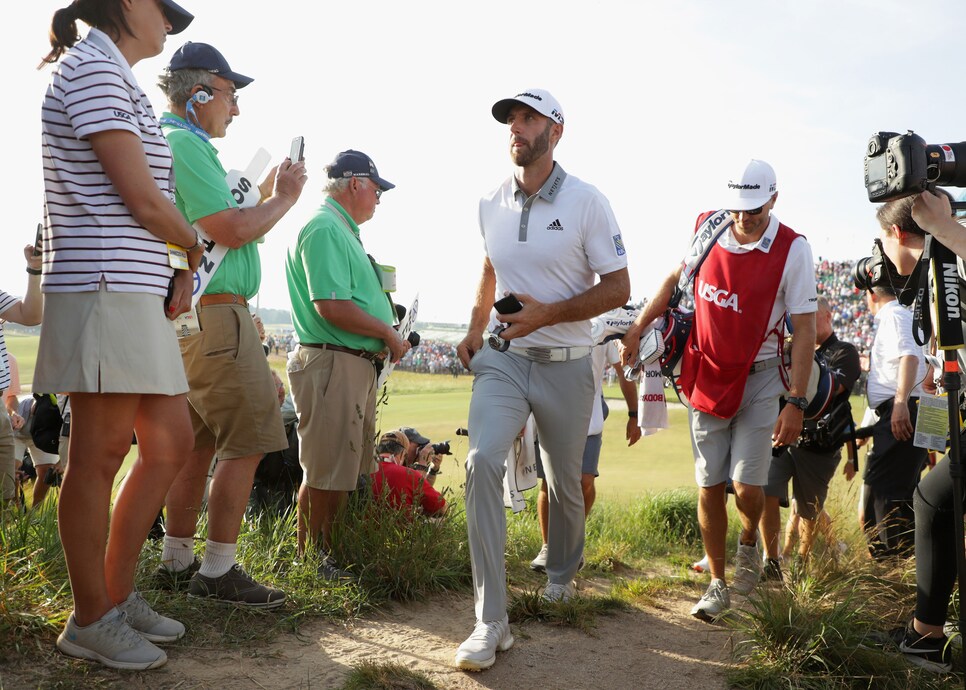 As for the points in favor? Let's see … he's got the best scoring average. He leads the world in strokes gained. He's the best driver in the sport, and he's also the best from tee-to-green. He hasn't missed a cut in a stroke-play event, but that's not telling the full story—the dude hasn't finished worse than 17th. And for what it's worth, he's also tops in the FedEx Cup race, and no. 1 in the world rankings. By almost any metric, DJ is the greatest.