The Loop
Annika's Tough Season is Over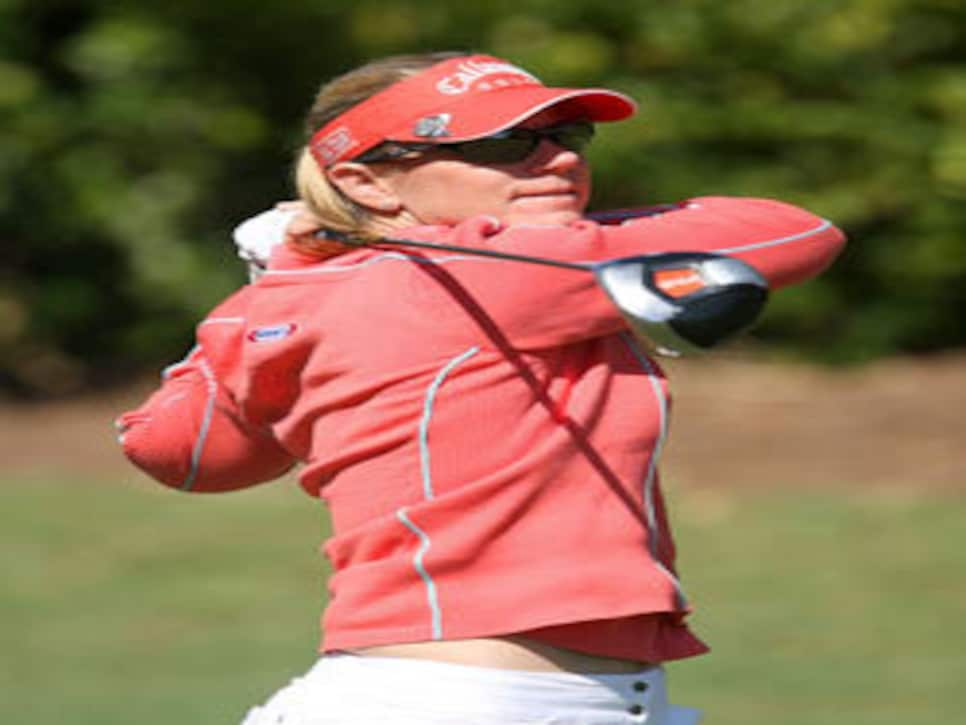 WEST PALM BEACH--The ADT Championship, the LPGA's entertaining season-ending event that pays a $1 million first prize and a measly $100,000 for second place, cleared a hurdle Friday that tripped up the HSBC Women's World Match Play earlier this year. That is, a lot of big names made it to the weekend, the notable exception being Annika Sorenstam. The Match Play lost the top nine seeds before Saturday, prompting HSBC to convert the event to stroke play for 2008 and move it to Singapore, as the women's game continues to chase the plentiful Asian golf dollars.
There will be no sponsors messing with this event. For the second consecutive year, there was a compelling playoff to advance to the weekend. In 2006, six players played off after 36 holes for three spots. This year, the high-profile threesome of Sorenstam, Natalie Gulbis and Ai Miyazato played off for two spots, with the Swede being the odd woman out. On the first playoff hole--the par-3 17th--all three made testy par putts in the five-foot range to extend the playoff. But on the difficult 18th, which bends around water on the right side of the fairway, Gulbis and Miyazato both hit the green in regulation, while Sorenstam, making another of the kind of mistakes she never used to make, pulled her shot into the left bunker. Her bunker shot from fluffy sand stopped on the fringe, 14 feet above the hole, from where she missed. Sorenstam was eliminated when Miyazato made a five-foot par save. It ended the first season since 1994 in which Sorenstam has failed to win an LPGA event.
Sorenstam's round Friday, in which she shot 73 with a quadruple bogey, was a microcosm of what her season has been like. She made three birdies in the first six holes, then made a 7 on the par-3 eighth hole. That's where she sliced a 4-iron into the water, then after drawing a hanging lie in the rough following her penalty drop, shanked her second shot in the water. Consistency has been an issue in Sorenstam's injury-plagued season. Time and again, when it seemed she might get on a run, a killing mistake would pop up.
"You get stabbed in the back with something, even though it's your own fault, and you go from so high to so low in the matter of 10 minutes," Sorenstam said about her quadruple bogey. "Yesterday I had three balls in the water, today I had two." Also erratic this year has been her putting, which failed to bail her out when she needed it. If not for a short miss on No. 16 in regulation, she could have avoided the playoff.
Besides Sorenstam, the biggest name eliminated after 36 holes was Se Ri Pak. Among those advancing were Lorena Ochoa and Suzann Pettersen, who have won seven and five LPGA events, respectively. Morgan Pressel, Paula Creamer, Cristie Kerr, Juli Inkster, Sophie Gustafson, Mi Hyun Kim, Nicole Castrale and Karrie Webb also made it to Saturday, as did Christina Kim, Seon-Hwa Lee, Catriona Matthew and Sarah Lee.
All 16 who advanced will start all over on Saturday, with the eight lowest 18-hole scores advancing to Sunday's final round. That's a change from last year when scores were reset only once--after 54 holes. This year they will be reset after 36 holes and again after 54, leaving eight players to pursue the $1 million first prize Sunday. In another twist designed to create intrigue--and guarantee attendance at the Saturday night party--the eight advancing to Sunday's final will draw for tee times. The best score after 54 holes gets first pick for which of the four the times she wants. Players who don't show up for the draw get the last available tee time.
Unlike the FedEx Cup, which extends playoff drama over four weeks, the ADT Championship compresses it into four days. There are some players--make that quite a few players--who don't like the $900,000 difference between first and second place, feeling that is too severe of a punishment for what could be a one-stroke loss. But it's exactly that drama that gives this event its identity. While it seems odd that the goal the first two days is to finish among the top 16 and Saturday's mission is to be no worse that eighth, that's part of the charm of this tournament. And with the quality of the players who advanced, it seems certain that Sunday will be a scintillating shootout for a million bucks.
(Photo: Scott Halleran/Getty Images)