Chevron Championship
Annie Park's solo performance ends on a high note, in contention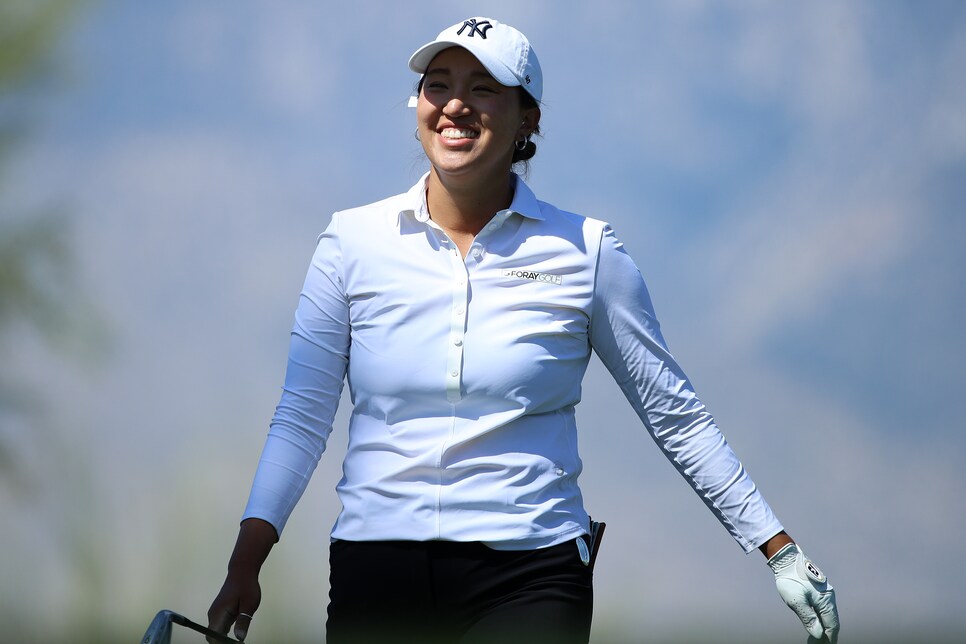 RANCHO MIRAGE, Calif. – Professional golf is a solo pursuit, though for two days here the definition of solo was expanded by Annie Park, who played alone. She, too, was briefly alone atop the leader board.
One-hundred-fifteen players qualified for the Chevron Championship, a tournament that sends the players out in twosomes. The odd number of players meant that one of them would either have to play alone or with a marker over the first two rounds on the Dinah Shore Tournament Course at Mission Hills Country Club.
Park, 26, was the odd woman out, and she opted to go it alone, with results that no doubt left her wishing she play alone for two more days. She followed an opening round of 69 with a five-under 67 on Friday morning, leaving her tied with defending champion Patty Tavatanakit and Jennifer Kupccho for second, a stroke behind leader Hinako Shibuno.
"Honestly, my goal was the same out there whether I was playing by myself or playing with someone," she said. "The only difference was yesterday I was just chilling, taking my time. Then I realized the group behind me started to catch up and I'm like, I'm going to get a warning at this rate by myself.
"Playing by myself was kind of weird yesterday, but today I got used to it. I think when I made the turn and started waiting on players in the group in front of me, kind of just starts to feel like a normal golf all over again.
"Just having fun out there. I think that's kind of the biggest key, and it's been a while that I've had a great time on the golf course. I mean, I am by myself out there. There is a lot of talking to myself and being stuck with my caddie's dad jokes."
Park is a former NCAA champion and a member of the U.S. Solheim Cup team in 2016. But her enjoyment of the game took a substantial hit in 2021, when in July she chose to walk away from the game in what turned into a two-month hiatus.
"I was miserable on the golf course and I was like, you know what, I'm going to take a two-month break," she said. "I withdrew out of Evian, British, and two other tournaments. Honestly, I really needed it. I've never done that in my past couple years. It was really nice.
"Just kind of like figured out like, what are my hobbies, let's start there. Had a lot of perspectives and introspectives, and I think without that I wouldn't be here today. I don't know, maybe I might have quit golf and picked a different career path.
"I decided I'd play the last four events [in 2021], and that was really stressful. I barely kept my card and played my way in [here] last week, and last week was the first time I actually enjoyed playing golf. I feel like I found this new passion again for golf."