Courses

NBC News came calling. Then Good Morning America and Fox News and the BBC, and before William and Nancy Nobbe knew what was happening, they were being bombarded by media from New York to New Zealand, and the weird thing was that all these reporters missed the story while chasing the news.
"The media has been driving us crazy," Nancy said, laughing in a way that failed to hide her bewilderment.
In the simplest terms, the Nobbes found themselves sitting on the most unusual 19th hole. Yes, that was the story, the thing that caused the reporters and cameramen and TV networks to descend on the tiny town of Waterloo, Ill., where Lewis and Clark passed through on their expedition to the northwest. And so the media passed through this week. But did anyone ever stay long enough to ask Nancy about the hole in her heart, the one that never goes away?
Maybe in some odd way this was supposed to happen to them. Maybe after 20 years there needs to be an excuse to tell the story of a golf course that brings immeasurable joy to a family even as it never lets them shake free of the anguish over their most profound loss.
. Mihal, 43, a mortgage broker from suburban St. Louis, dislocated his shoulder when he plunged 18 feet down the hole, but he was quickly rescued with the help of one of his friends, Ed Magaletta, and the Nobbe's son, Russ, the club's general manager.
"How can you explain it except that it was a freak thing, a freak of nature," Russ said.
Sam Panno, a geochemist with the Illinois State Geological Survey, told the Associated Press that the region of southwestern Illinois has perhaps as many as 15,000 sinkholes. Of course, no one had ever stumbled into one on a golf course.
"It's such a fluke occurrence. You might get five holes-in-one before you ever fall into another sinkhole anywhere in the United States," said Columbus, Ohio, golf course architect Mike Hurdzan, who designed AnnBriar with his former partner Dana Fry. "But probably after what happened in Florida I suppose there's a fascination with sinkholes."
Indeed, perhaps the timing of the story added to its sensationalism. On February 28, a Florida man was swallowed by a sinkhole near Tampa. His body was never recovered.
"If the sinkhole story in Florida doesn't happen, that poor man being lost, I don't think what happened here goes beyond the local media," William said. "Now all of a sudden, the whole world is calling us."
AnnBriar Golf Course opened May 28, 1993, and the occasion was as bittersweet as one can imagine when its namesake isn't there to share in the celebration. It was Ann, the oldest of the Nobbe's three children, their only daughter, who had prodded her parents into turning a substantial portion of their 345-acre farm into a golf course. Ann loved golf. William and Nancy knew little about the game.
"We didn't think much of the idea at first, but eventually she got us to like the idea," William said.
It was a tough sell for Ann. The Nobbe family had owned the rolling, wooded property since the 1880s. William raised hogs and steers and grew hay. He sublet other portions to local farmers. A pond that borders the sixth green used to be the favorite fishing hole of a frequent visitor -- former St. Louis Cardinals manager Whitey Herzog, who hailed from nearby New Athens, Ill.
William also ran a Chevy dealership. His grandfather had started it. Nancy's family ran the Dodge dealership next door. "If there was someone at the lot and we weren't there, her dad would call and tell us to get on down there. That's the kind of relationship we had. That's Waterloo, I suppose," William recalled.
When William sold the dealership in 1988, he was looking for something else to do besides tend to the things that make hogs a rather unenviable retirement hobby. Ann, 6 feet tall, athletic and energetic, had an idea. She loved golf, just as she loved most sports, from skiing to tennis to swimming. Ann wanted to quit her job as an office manager at a St. Louis realty company and run the golf course. That was the plan.
On the night of Jan. 26, 1990, when the Denver Broncos and San Francisco 49ers met in the Super Bowl, the car in which Ann and her boyfriend were traveling hit an icy patch at a turn on Route 3 in Monroe County, about four miles north of Waterloo. Neither was wearing a seatbelt, and they were thrown from the car as it slipped off the road. The car rolled on top of Ann, crushing her.
Not two weeks later, at that very same treacherous turn, two separate one-car accidents occurred. There were kids in the cars. They got thrown. They all escaped serious injury.
"How can you even begin to explain something like that, except to tell yourself that it was her time, and that the Lord had other plans for her," William said.
Ann Hills. Ann Woods. Ann's Golf Course.
For nearly a year the Nobbes couldn't bring themselves to talk about the golf course. Ann had been the driving force. She had seen the plans, and she had gotten excited about its potential. But she never saw one spade of dirt overturned.
"For months and months we couldn't even think about it. But then we figured, she'd be telling us to get on with it," Nancy said. "That was the hardest part, just getting started again. But once we did, we were so determined to get it finished, even if we had to build it ourselves."
Settling on a name for it was difficult, however. For the longest time they had merely been referring to it as "Ann's golf course." They would write names on little slips of paper. Nothing sounded appropriate. Then somebody said, "AnnBriar," one of the investors, nobody remembers who exactly, but that was it. There was no discussion. "AnnBriar just sounded right," Nancy said.
Construction began May 13, 1991. Eventually, AnnBriar Golf Course would cost more than $7 million to complete, far more than the Nobbes could afford. But Waterloo being the kind of town where one car salesman would alert his rival to a potential sale, friends stepped up to invest without getting in the way of what the project meant to the Nobbes.
"She was the driving force for us," said William, who used to ride horses with his daughter on parts of what are now fairways. "There are times when I might go for a walk in the woods and I still think to myself, 'Maybe I'll see her down here.'"
, awarded 4.5 (out of 5) stars by Golf Digest Places to Play, reopened all 18 holes just one week after the accident. The 18-foot sinkhole eventually turned into a yawning void in the landing area of the 14th hole, a par-5 that measures up to 509 yards. It took several thousand cubic yards of rock to fill it in, and the area is roped off as ground under repair until the warm weather returns and allows for the replanting of the zoysia grass.
After seeing that Milar told a newspaper that he might have trouble returning to AnnBriar, Russ Nobbe worries that business might suffer. "Will people stay away? That's the fear we have," Russ said. "I mean, reporters are asking us if it's safe to play here."
"That would be a shame if golfers think they can't go back," Hurdzan said. "People are afraid of what they can't see, but when it comes to golf, people don't stop playing even though they could get struck by lightning, and that's a much bigger risk. There are sinkholes all over the country. But people don't stop building houses or driving down the road."
Interestingly, William has a different take on the incident. "I don't know, maybe people get curious about it and want to come see where this all happened," he said. "And then maybe they learn a little bit more."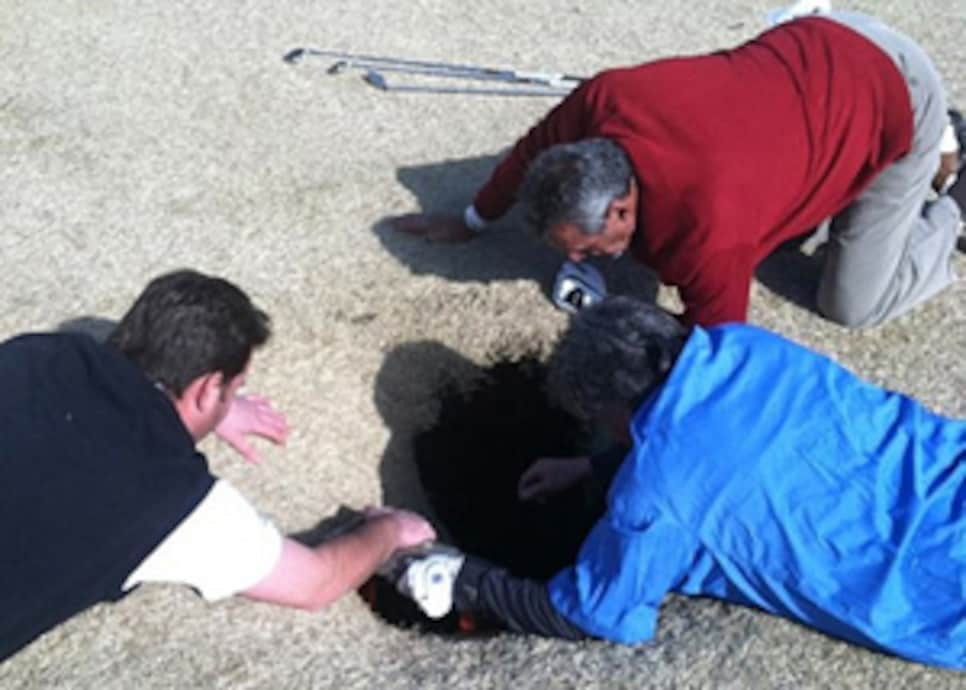 Last fall, there was another scare at AnnBriar that didn't make the news. A man suffered a heart attack, and Russ was summoned from the clubhouse. He carried with him a defibrillator, which he had just been trained to use. The club had purchased the defibrillator the month prior. Russ restarted the man's heart right there on the 13th hole, saved his life.
"That's something that if you stop and think about it you almost can't believe what happened," Russ mused. "What if we hadn't gotten it? What if I weren't around? I was the only one at the time trained to use it. To be able to save someone's life like that, it makes you feel good. The circumstances were kind of amazing."
Well, the circumstances of AnnBriar are amazing, as are the events that thrust it into the spotlight, however briefly. And it was all right there, if anyone had bothered to dig down a bit further.
Come this May, the Nobbes will celebrate AnnBriar's 20th anniversary, and in October, they will quietly mark what would have been Ann's 50th birthday.
They are astounded by how quickly the time has passed. And how slowly time heals.
Several times the Nobbes have been approached about selling AnnBriar to a golf course management company. William politely declines. A management company would run AnnBriar as a business. The Nobbes simply let it live as it was intended, as a manifestation of their daughter's spirit.
"After all these years," Nancy said, "it feels like Ann is still here."