The Loop
And the captain's picks are...not surprising
It is an odd morning, this biennial exercise, the announcement of the U.S. Ryder Cup captain's picks. We wait breathlessly for...for what? To learn that Jim Furyk and Steve Stricker are on the U.S. Ryder Cup team for the eighth- and third-straight time respectively?
There were no surprises, even the choices of Dustin Johnson and Brandt Snedeker to round out Davis Love III's four captain's picks.
"Everyone assume it's Furyk, Strick, DJ and Sneds?" Joe Ogilvie asked on Twitter in advance of the announcement.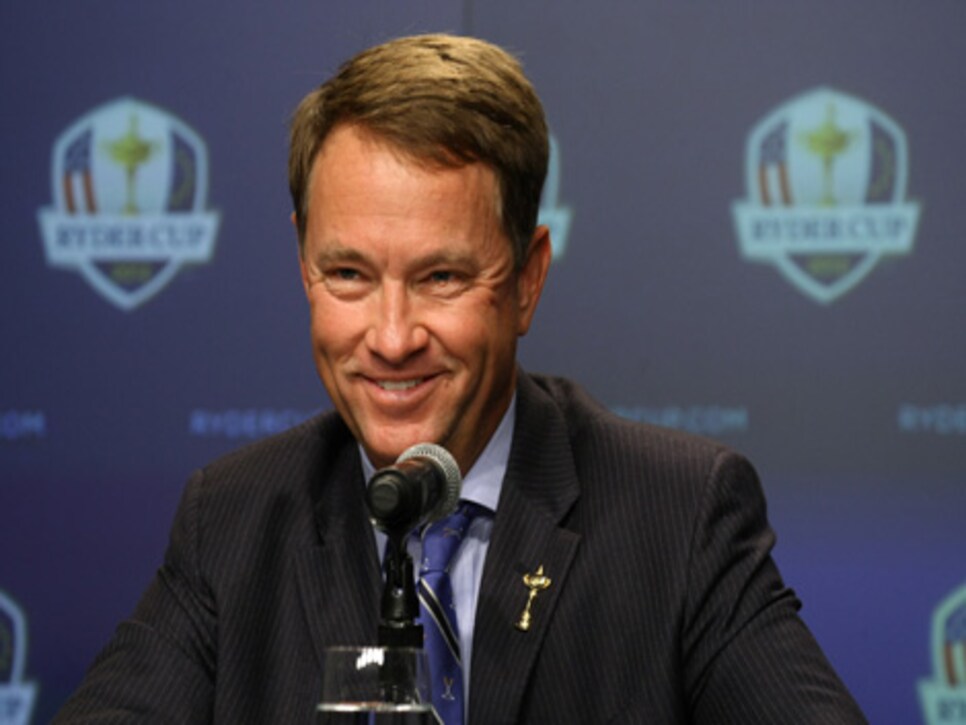 On Monday night, Steve Flesch posted that, "DL3's picks are no-brainers. Stricker, Furyk, Snedeker, and Johnson. Consistency, experience, clutch putting, and fearless power."
Yet even when it apparently is so obvious, it is still the most thankless part of the job for the captain, who is certain to disappoint more players than he pleases, while exposing himself to criticism over that which ultimately he has no control: Who will be playing well three weeks hence?
"I've been anxiously awaiting this day I'll be glad when this day is done," Love said at the PGA of America's news conference in New York City.
Those left out include Hunter Mahan, who has won twice this year and at 19th is higher in the world ranking than either Mickelson (22nd) or Furyk (30th), both of whom are on the team. But Mahan has had only one top-10 finish since winning the Shell Houston Open on April 1.
Also excluded were Nick Watney, who won the Barclays two weeks ago to salvage an otherwise forgettable season, and Rickie Fowler, who hasn't finished in the top 10 since the end of May.
This does not leave much room for criticism this time around. One might have argued against the inclusion of Furyk, notwithstanding his having played on the last 14 U.S. Ryder Cup and Presidents Cup teams. Furyk's Ryder Cup record is dismal (8-15-4), though he was 5-0 at the Presidents Cup a year ago. But he also has demonstrated a propensity for final-round collapses this year, three times a 54-hole leader without a victory.
Love chose him for his experience and the fact that he's "one of the most consistent players on tour and one of the most respected players on tour."
Stricker, meanwhile, makes sense on a variety of levels, among them that "Steve makes Tiger feel comfortable," Love said. In the last Ryder Cup, the team of Woods and Stricker went 3-0. "Tiger-Stricker's worked pretty well...I wouldn't want to play Steve Stricker and Tiger Woods for sure," Love said. Stricker also remains one of the stronger players in the world and one of its best putters.
Johnson and Snedeker weren't long shots, either. Both have played consistently well all season. Johnson, Love said, "is the best athlete on the team, perfect for Medinah," and Snedeker "fits the role of the one thing I've been saying a lot, that we need hot putters. There hasn't been a hotter putter on the course since the British Open."
So the news on Tuesday was typically anticlimactic. Fortunately, the Ryder Cup itself seldom is. Now we can dispense with the hype that the PGA of America stretches to nearly two years and get on with the main event.
"Now it starts," Love said. "Now we get to go play golf."