News
An inside look at how Danielle Kang, one shot off the lead, will prep for Round 2 of the KPMG Women's PGA Championship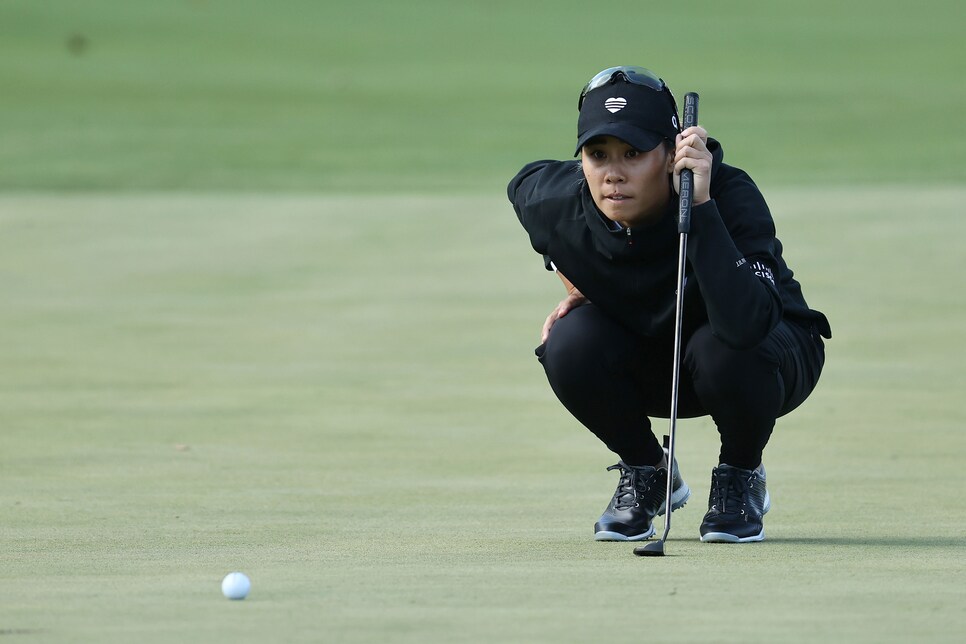 Danielle Kang looks over a putt on the 15th green during the first round of the 2020 KPMG Women's PGA Championship.
Andy Lyons/PGA of America
We're only one round in at the KPMG Women's PGA Championship, and Aronimink Golf Club is already proving to be a test. On a chilly, blustery day outside Philadelphia, the lowest score was just three-under 67, a mark achieved by Kelly Tan and Brittany Lincicome.
Only 12 players broke par, with six sitting one shot back of the lead, one of them being Danielle Kang. After wrapping up play on Thursday, the 2017 Women's PGA champ and a two-time winner since the LPGA's return to golf in July got specific about how she'll prep for Round 2 on the long, difficult Donald Ross design.
"I replay the golf course in my head," Kang said.
Pin sheets are be released to players around 9 p.m. ahead of the next round, so Kang says she'll mark where the pins will be and study up.
"I sit there and put the pins in and I check the winds, how the wind is going to play," Kang explained. "[The] eighth hole I replay that in my head probably about seven times thinking if I would need the hybrid or not. No matter how much it was gusting I think I could have covered 176, so I was like, 'OK, 4-iron today.' "
The par-3 eighth has an elevated tee. The tee box leaves you exposed to the wind, making club selection to the green below difficult. Kang made birdie there in round one. Lydia Ko, also at two under after Thursday's play, made birdie as well, and said it was a highlight of her round.
Kang says she gets more specific in her preparation when the course is harder, and when she hasn't played it before.
"More so to the golf courses that I don't know, that are difficult, that kind of just stays with me," Kang said. "If I don't know it very well, then like I said, if I can't get a grasp on it then I just have to keep thinking about it over and over."