News
KPMG Women's PGA preview: Will there be another player who makes a major her first win on the LPGA Tour?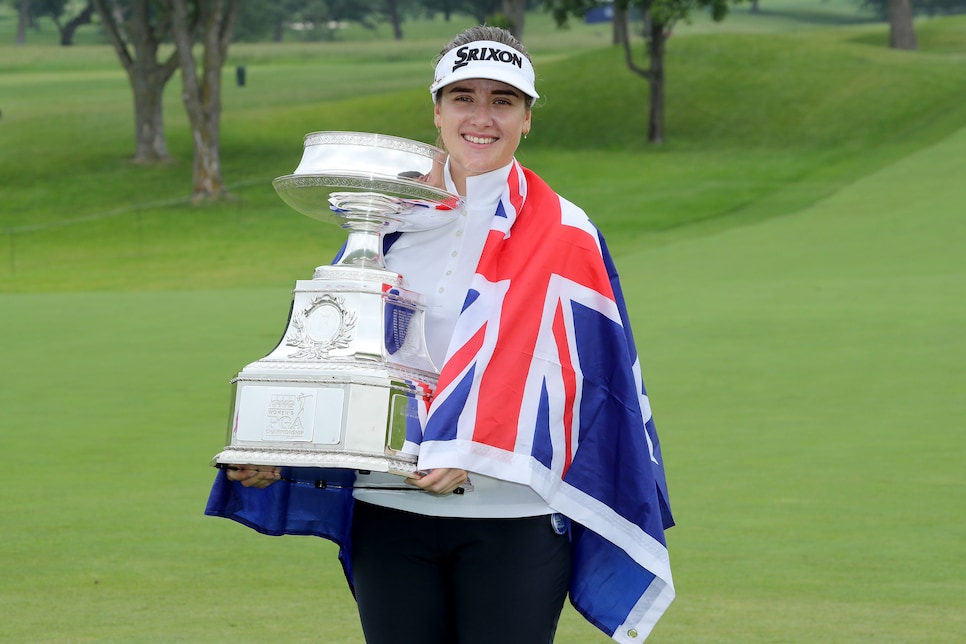 Australia's Hannah Green joined the list of players who made a major championship their first career LPGA title when she won last year's KPMG Women's PGA Championship at Hazeltine National.
David Cannon
Let's begin with a statement we can all agree on: Winning a major championship is harder than winning a regular tour event. Presumably, it requires more experience to win a major since the more experience you have, the more likely you'll be able to handle the nerves and pressure as you play those final holes coming in. The experience, then, of winning a time or two on tour would not only be helpful, but seemingly necessary to getting that first major title. Right?
But here's the catch: When you look at the results of the majors for the last five years on the LPGA Tour, suddenly that assumption falls to pieces. Eight times since 2015, a golfer who won a major championship was also winning her first LPGA Tour title of any kind. By comparison, just one male golfer in that same period made a major his first career PGA Tour win, that being Danny Willett at the 2016 Masters (although Willett had won four European Tour titles at that point). It's only natural then to wonder if it will happen again this week as when the KPMG Women's PGA Championship is held at venerable Aronimink Golf Club outside Philadelphia.
The most recent first-time major/LPGA winner was arguably one of the most surprising, seeing that she wasn't even a member of the LPGA Tour at the time of her win. In August, Germany's Sophia Popov showed no nerves in taking the title at the Women's British Open. With her victory, she joined the list of InGee Chun (2015 U.S. Women's Open), Danielle Kang (2017 KPMG Women's PGA), Sung Hyun Park (2017 U.S. Women's Open), Pernilla Lindberg (2018 ANA Inspiration), Georgia Hall (2018 Women's British Open), Hinako Shibuno (2019 Women's British Open) and Hannah Green (2019 KPMG Women's PGA).
So how can this be happening so often? One explanation for why first-time winners are able to succeed on the major stage could be because though these players haven't won yet on the LPGA Tour, they've still been in high-pressure situations at some point in the competitive golf careers, and thus have gained that needed experience. They're prepared. Maria Fassi, who's in her second year on tour and is still looking for her first win, has already had big-tournament experiences, like being in the final pairing at the Augusta National Women's Amateur Championship. Having played a tournament on one of the most famous golf courses in the world, in front of thousands of fans, she's able to simplify and compartmentalize the pressures of being at a major in ways young tour pros of the past might not have been capable of.
"It's definitely different," Fassi said of playing majors, "but it's a golf tournament at the end of the day. Whether it's to win a major or win against your friends back home, it's just another golf shot. Of course, that's easier said than done. But I feel like that's how we have to approach the week."
Sophia Popov poses with the trophy after her surprise victory at the AIG Women's British Open in August.
Jan Kruger
Another thought on why first-timers have had success in the LPGA's big five events is that major weeks can be more stressful for established tour winners.
"Sometimes the top players put a lot of pressure on themselves, and they're expected to do well," said Nelly Korda, 20, the No. 2 ranked female in the world and a three-time LPGA winner seeking her first major. "I'm not sure, but all [who have won majors as first-time winners] have played great golf that week. And that's what it takes."
While the top players are saddled with the added pressure of being expected to win, players who haven't won yet can play free of extra stress and obligations during major weeks. It puts them, potentially, in the right position to play their best golf.
"I think maybe somebody who hasn't had a win out here walks into a major maybe with less expectation. We're not the favorites, not the top picks. So maybe that has something to do it," Fassi says. "I think for first-time winners, they kind of go one shot at a time. They kind of bump into the trophy, if that makes sense. Hopefully I can bump into that big trophy on Sunday."
Brooke Henderson, whose 2017 KPMG Women's PGA Championship win was her second win on tour, believes another explanation is that players sometimes just get on a roll during a major before realizing what's happening. The players get a few breaks, step up their own games and start playing well enough that it doesn't matter if they're won anything before.
"I feel like when you get into that spot, you're just making everything and feeling great," Henderson said. "That's definitely what happened for me in 2017. Similar people have broken through like that on the LPGA Tour."
Maybe, above all else, the players who haven't won yet on tour are more fearless and more confident than ever. Their lack of winning experience doesn't deter them from thinking that any week, even the majors, could be theirs.
"I believe in myself more than anybody else out here," Fassi said. "I haven't lifted a trophy out here yet, but I know I have what it takes to win."