DP World Tour
An American amateur and Stanford junior, Michael Thorbjornsen, tied for the lead at Hero Dubai Desert Classic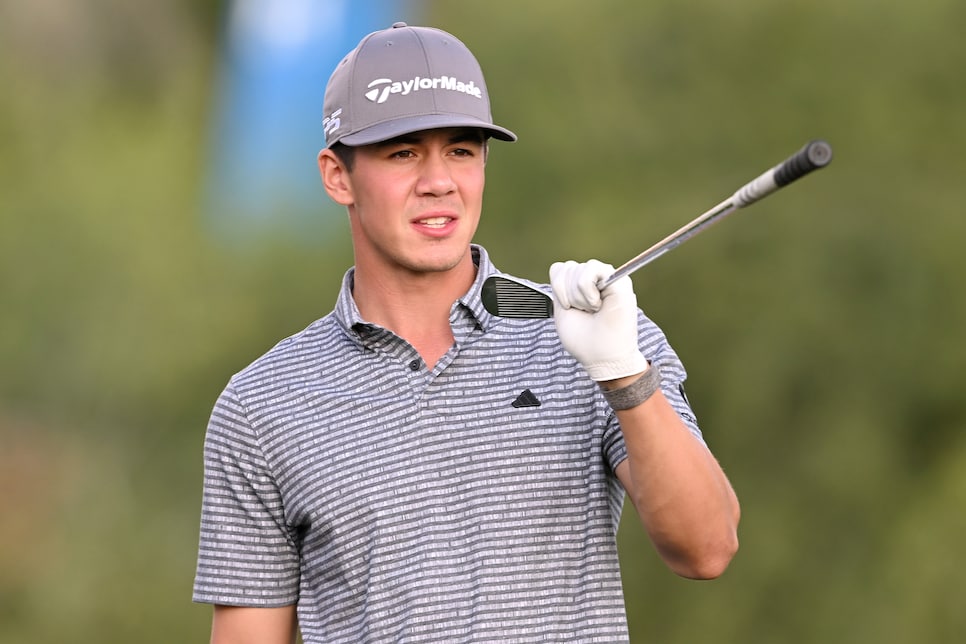 DUBAI, U.A.E. -- Most of the Thorbjornsens in the world are to be found in Norway. But not this one. Michael, born in Ohio, resident in Massachusetts and a junior at college in California (Stanford), is currently in the United Arab Emirates. And he's doing rather well, too. Rounds of 70 and 64 over the Majlis course at the Emirates Golf Club have the 21-year-old former U.S. Junior champion tied for the halfway lead in the Hero Dubai Desert Classic alongside Richard Bland and Thomas Pieters at 10-under par.
That fact is impressive enough, but currently trailing in Thorbjornsen's wake are Eorld No. 1 Rory McIlroy, former Masters champion Patrick Reed and a host of DP World Tour luminaries. Even if this is hardly the World's No. 2-ranked amateur's first rodeo—he has played in two U.S. Opens and finished fourth in a PGA Tour event—this is a seriously impressive performance in some seriously impressive company. Only Dan Bradbury's 63 outmatched Thorbjornsen's score in round two/day three of this $9 million Rolex event.
"The front nine was a little bit of a blur," admitted the former Western Amateur champion of the 30 shots he expended on the par-37 back-nine after starting on the 10th tee. "I made some birdies then finished off with an eagle on 18. But it didn't feel like anything crazy. I did what I came here to do. I hit the shots that I needed to. I did get away with a couple of things here and there. I had a couple of miscues and so-so shots. I definitely feel like I'm hitting driver kinda poorly."
That is hardly a common admission on a course softened by so much rain over the previous two days. With preferred lies in operation and the rough still thick and soggy, finding the short grass and getting ball in hand represents a sizeable advantage. Those failing to do so with any consistency have invariably struggled. But not Thorbjornsen.
"I guess I'm hitting enough fairways though, even if I don't feel great about how it's going," he elaborated. "I'm having to play a little cut off the tee. It's not going very far, certainly not as far as my preferred high draw. But I'm working with what I have right now."
As for how well this clearly confident young man will do over the next two days or rounds, only the foolish would rule out the possibility of him becoming the fourth amateur to win on the DP World Tour. For the record, Pablo Martin Benavides (2007 Estoril Open de Portugal), Danny Lee (2009 Johnnie Walker Classic) and Shane Lowry (2009 Irish Open) are the others. With seven holes to play in last year's Travelers Championship on the PGA Tour he was one shot off the lead before subsiding into a tie for fourth that would have paid him in excess of $400,000 had he been a professional.
Still, while even that big a finish is by no means certain, the same can be said of Thorbjornsen's prospects of becoming low amateur on Monday evening. The only man above him in the unpaid world rankings, Texas Tech's Ludvig Aberg, is also in the field and also made the cut. Leading jointly after the opening round, the Swede is currently T-22 at six-under par, only four shots behind.
"Ludvig and I are friendly rivals," said Thorbjornsen, who has his best friend, Drew Cohen, on his bag. "We actually had dinner together this week. We're pretty good friends. But we definitely push each other. We're out here representing the amateurs so it's really cool that we are both doing well."
Further down the line Thorbjornsen is a certainty to turn professional, either at the end of his current junior year or when he completes his degree in communications as a senior. For now, though, it is enough that he has already mastered "pro-speak" in interviews. Asked what he hoped to achieve over the next 36 holes, his response would surely please his watching representative.
"My target for the next few days is obviously to win," he said. "But that is a result-based goal. What I have really been focused on is the process. I just have to keep doing what I did today. Focus on the game plan and see what happens. I'm not sure how winning might affect my plans. I'd have to talk to my agents."