The Loop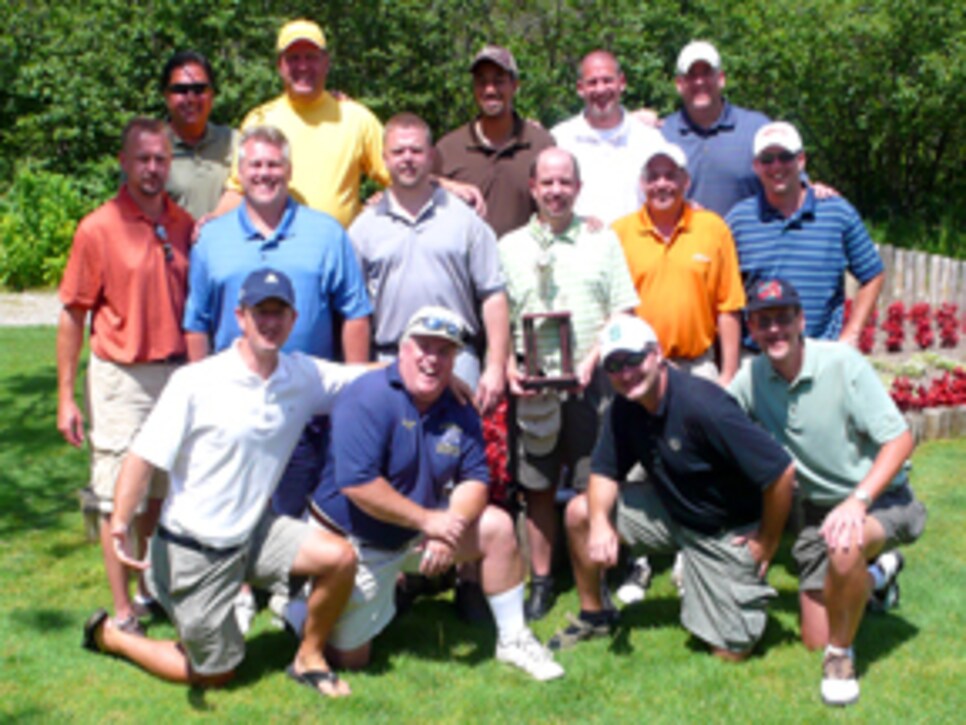 They call it the Mid-Michigan Golf Invitational. I Ambushed them for the October issue of Golf Digest. Len D'Angelo, a fairly new member to the 16-year tradition, sent in the itinerary, which included: "In 2007, a 230-pound friend, who shall remain nameless, was paid $50 to wear a ladies' size small, pink sleeveless Polo for 18 holes. To this day that image in my mind brings tears to my eyes (and not all tears of laughter!). That performance probably summarizes our annual outing: For one long weekend, as long as the wives, known as the "scheduling department," clear it, we forget about our worries and our strife, we let it all hang out and relish the fact we'll be made fun of for years to come. And should something terrible happen, God forbid, you'll be remembered forever, at least once a year, as a fun-loving goof. Of course, then there 's also the hundreds of homemade Jell-O shots, the complaining about handicaps and Pat postponing his wedding to make the MMGI. I could go on and on. I'm relatively new to this thing, but I can tell you, this is one heck of a group of guys who are every bit deserving of being honored in your magazine."
Len was right. They were quite a crew. They went to Garland Resort in Michigan, an hour and a half from Traverse City. Michigan has seven of the top 40 on Golf Digest's list of America's 100 Greatest Public Courses, but none of them are at Garland. This was a place, however, good enough for ABC-TV golf commentator and ESPN Radio talk-show host Mike Tirico and his friends, who happened to be at Garland the same time as the MMGI. And this was a place with good-enough accommodations, plenty of space for general guy-bonding havoc. There's room to remember fallen friends and to brag about kid's accomplishments. There was an occasional call to the wives back home, countless drinks, and, oh by the way--some golf.
You can read about their trip and watch the Ambush video when they appear in the magazine and on the website respectively, the first week of September.
I also wanted to pass on a hand-written letter I received this week from Bill Cooper of Port St. Joe, Fla.:
"Greetings, lurking Ambushers. Matt, after reading your article in the August issue about the San Diego dudes who took on Pinehurst, I was virtually powerless to keep from writing you. I realize that you won't do a Pinehurst excursion twice but thought you might be interested in our story.
In August, we, too, will descend like a plague upon the hallowed grounds of Pinehurst. This will be the 35th anniversary of our group's genesis, and we wanted to celebrate appropriately. We discovered each other when we were all steely-eyed jet pilots in the Air Force (ours) and stationed at Moody Air Force Base, Georgia, in the early 1970s. We began playing golf as a foursome in 1973 and are still going semi-strong. During that time, however, life was not all fairways and greens. Ever vigilant as we were, we can now proudly divulge that the skies over south Georgia were never threatened by Communist aggressors during our watch.
Now, as we sneak up on our dotage, we are scattered to the compass points, though not all of them. One of us lives in Texas, one in Arkansas, one in Georgia and one in Florida. We still manage to get together several times every year, at least once characterized by a mega-uber-golfathon. We have assaulted your Scotlands, your Hilton Heads, your Sawgrasses and your Whistling Straits (last year), but mostly have gathered close to our homes so that the police, who occasionally found the need to question us, were often known unto us. This year, Pinehurst will fall victim to our onslaught.
We have every good and perfect intention of holding several bottles of young scotch in abeyance, taking hostage a vat, or three, of wine, playing multiple rounds of butt-ugly competitive golf, tell lies (which we have now almost come to believe ourselves) of how skilled, courageous and steely-nerved we were as hot-shot pilots, and revel in the hospitable confines of the Pine Crest Inn as we celebrate 35 years of fulfilling friendships and fall asleep at 9:30 p.m., drooling on our respective golf shirts. Matt, why don't you take a week off and come with us? No Ambush; just exquisite camaraderie as we age anything but gracefully.
Thank you for keeping Georgia safe all those years, and thank you for the letter. Congratulations on 35 successful years of buddies trips--Pinehurst is a worthy destination for celebration. Don't dare try to top the land-speed record set by cigar-smoking Tim O'Neill (18.5 seconds) as he rode a cruiser (bike) around the loop in front of the Manor Inn--especially if the pavement is wet from over-ambitious sprinklers. It gets dark and slick out there, and a lit cigar is no headlamp.
Look for the five finalists for next month's Ambush, which will be posted on my blog next week. You might be next.