Courses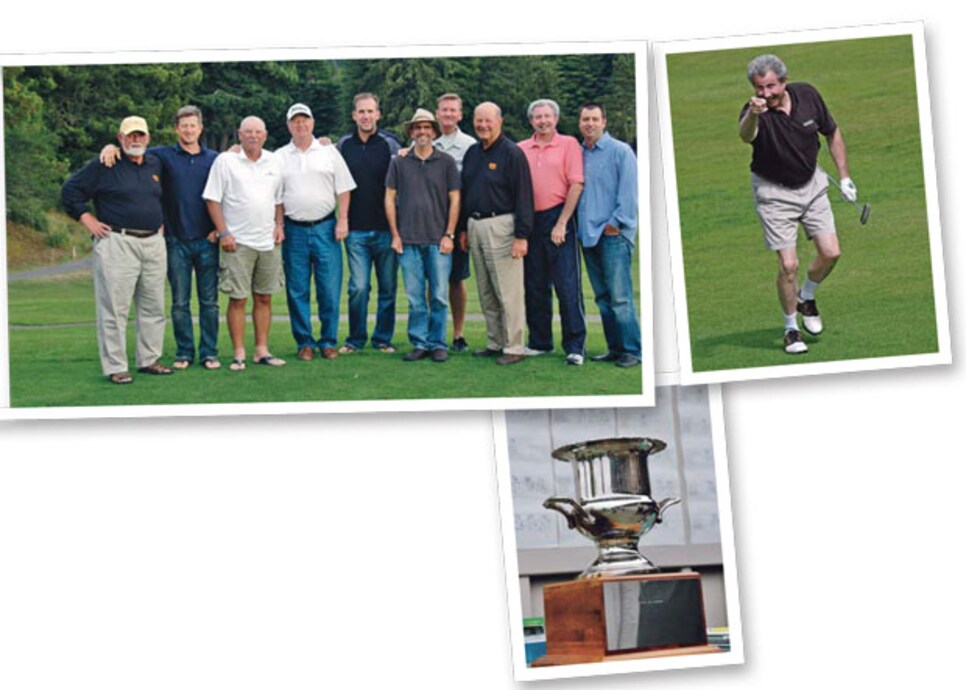 Clockwise from top left: Tony Kielhofer (yellow cap) and crew; the unsinkable Nick Christensen; Baywood's much-coveted cup.
The typical buddies outing has a modest intramural tournament of some kind, but that's not enough for Tony Kielhofer. He wants to be part of a bigger match, to compete against a larger field than just his friends. His buddies trip of choice is to a pro-am tournament, where he and his crew can compete against 100 or more golfers from other clubs. "I play better in competition," he says.
Kielhofer, 69, is Uncle Tony to Golf Digest Travel Editor Matt Ginella, who credits the Santa Rosa, Calif., seafood distributor with introducing him to golf. We ambushed Kielhofer and his group -- Nick Christensen, Bill Salmina, Sam Stassi and club pro Jeff Pace -- in Arcata, Calif., site of the Baywood Pro-Am in August. They each got sunglasses, balls, cigars and hats, and Uncle Tony was given a carry bag.
The Baywood pro-am has been a summer ritual for this group since 1992, and Ginella isn't far behind. He made his 15th appearance, bringing a team that included college pal Tim Hetrick, Golf Digest's Craig Bestrom, club pro Glen Stubblefield and me.
The event's $295-a-man entry fee covers a practice round Sunday, tournament rounds Monday and Tuesday, five meals, and prizes. Uncle Tony's group finished tied for second this year with a score of 37 under par, worth $320 in golf-shop credit. It was their best finish since 2007, when they won. "The guys on our team are all competitors," Kielhofer says. "None of them ever gives up. I call them jungle fighters."
Most of the 152 amateurs came to Baywood
with their club's pro, though not all of them. Jim Hosley, Baywood's head professional, says he often matches pros with amateurs who want to play in the event. As long as you've got a USGA Handicap Index and the pro on your team is a PGA member (i.e., not a mini-tour player), you can compete. Hosley figures there are 20 to 25 pro-am events like this throughout Northern California. Kielhofer and his group used to play in a similar tournament near Lake Tahoe, but after winning it four years in a row they decided it would be wise to move along -- before they were run out of town.
"They have more fun than anyone in the [Baywood] tournament," Hosley says. Their traditions include a trip to horse races at the county fair, visits to the nearby Bear River Casino, a lively gin game and raucous group dinners. They all love needling Nick (The Kook) Christensen, a teetotaling liquor distributor who specializes in malapropisms -- like exclaiming "crochet" when he means "touché" or describing how he saw a "germatologist" about his blotchy skin. "We've been through 12 pros in 19 years," says group historian Bill Salmina, 70. "I blame The Kook."
Christensen, 68, smiles and tucks into his dinner. He might not have a witty comeback, but he has a Handicap Index of 24.1 and can break 100. On a buddies trip like this, that assures he'll always have the last laugh.