The Loop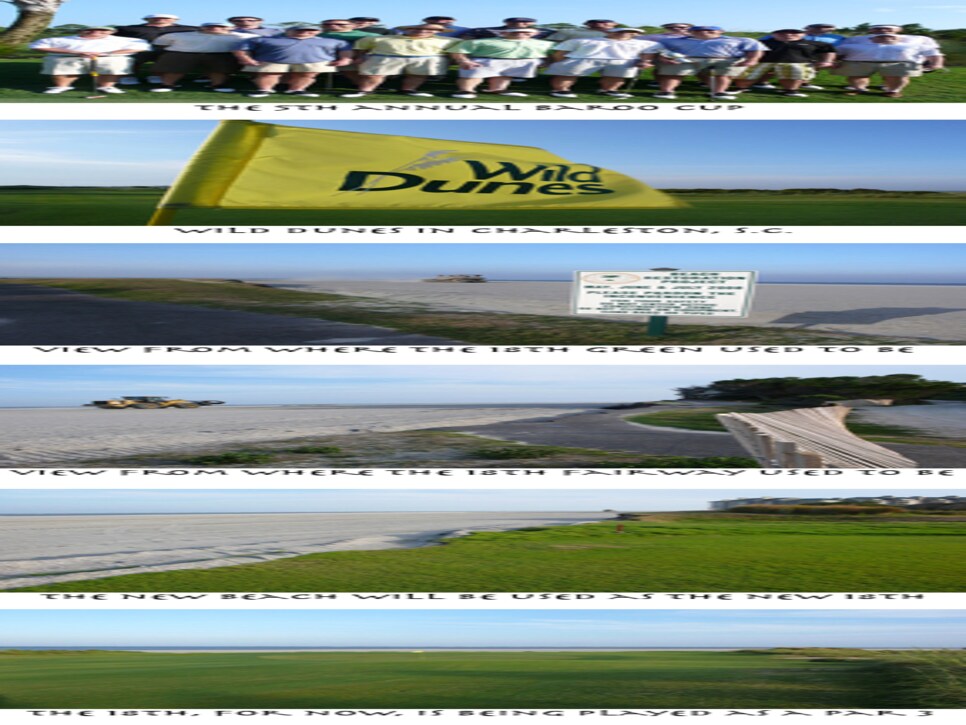 Last week I ambushed the Baroo Cup. Named for the putter Judge Smails uses to make a long putt at the end of Caddyshack, 20 guys fought it out for three days in a 10-on-10 modified Ryder Cup format at the two courses at Wild Dunes near Charleston, S.C. You can read their story in the September issue of Golf Digest, which comes out the first week of August. Their Ambush video will appear on golfdigest.com.
Next year they are looking into Torrey Pines. For groups over 16, you get a personal tournament specialist to help plan and customize your outing. You can book your trip 18 months in advance. On this trip to Wild Dunes, they preferred the Links course to the Harbor course.
The only thing wild about Wild Dunes, a tranquil resort in Isle of Palms, South Carolina, is it lost 300 yards of their par 5 finishing hole of the Links course to the Atlantic Ocean in October of 2007. The dogleg right lost its leg. It's now being played as a par 3.
Mother Nature took it--man, machine and money put it back. It only took an earth moving company 30 days to transplant 900,000 cubic-yards of sand from two-and-a half miles off the coast by way of large pipes running along the bottom of the ocean. The "nourishment project" cost the city and the resort a combined $9 million--they finished the new beach last week. It's two miles long, 150-yards wide, and part of it will be used as the base of the new 18th hole. The course is one of Tom Fazio's first solo designs, built in 1979. The designer sent his team to South Carolina last Thursday to talk about options with Jeff Minton, Director of Golf and Sports at Wild Dunes.
"We'll start construction on the hole in mid-July," said Minton. "And if everything goes as planned, we will be playing the new par 5, which will only have slight tweaks to the original design, by late fall or early winter." Until then, it will stay a par 3.