News
Amateur Linn Grant of Sweden continues stellar play she exhibited at winning her U.S. Women's Open qualifier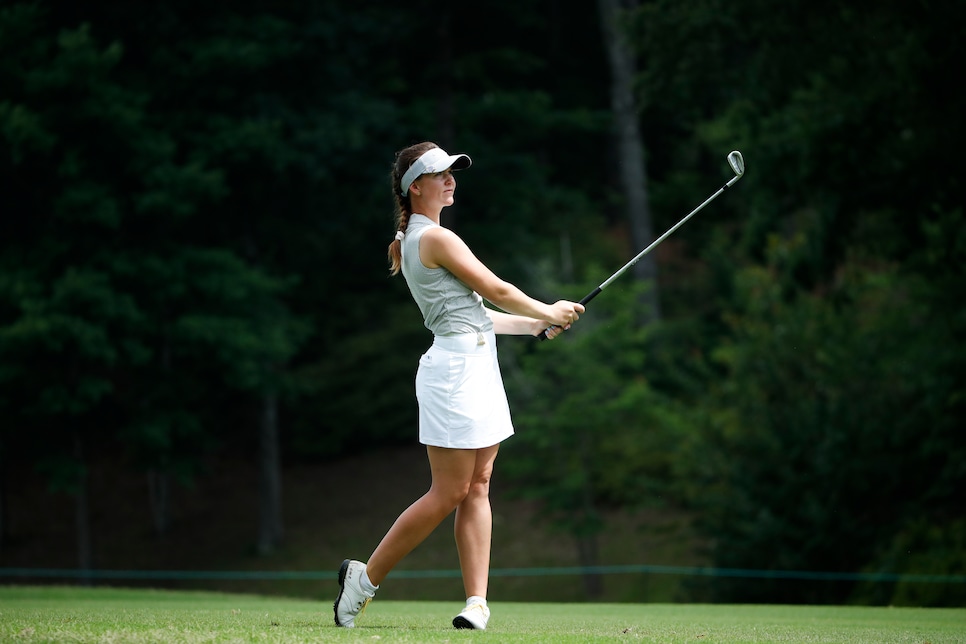 BIRMINGHAM, Ala. — The beauty of the field at the U.S. Women's Open is that there's a bit of randomness to it. Open qualifying results in players you'd usually not see at a normal LPGA Tour event teeing it up at Shoal Creek. That always includes amateurs. The amateur highest up on the leader board halfway through the second round is Linn Grant of Sweden.
"I expected to be a lot more nervous than I am and was. I'm actually fine," said Grant after a second-round 72 on Friday. She shot 69 in the first round and sits T-4 on the leader board at three under, seven shots back of leader Sarah Jane Smith.
The 18-year-old, who has verbally committed to Arizona State University, qualified at England's Buckinghamshire Golf Club in dominant fashion. Grant was seven under in the 36-hole qualifier. Conditions had been difficult. The next-closest competitor was Catriona Matthew, who was even over the two rounds.
After winning the qualifier, she had to quickly catch a flight back home: She had a math exam at 8 a.m.
Grant is ranked 61st in the World Amateur Golf Rankings; in 2017 she won the Ladies British Amateur Stroke Play Championship. Good golfers run in her family. Her grandfather James Grant of Inverness, who passed away when she was 6, won the Scottish Boys Championship 50 years ago.
In her first U.S. Women's Open, Grant has had to deal with an odd week. With the nearly five inches of rain that fell between Sunday and Wednesday, Shoal Creek was closed for much of the days leading up to the event. But the shake-up didn't bother Grant.
"I just kind of accepted the weather and practiced the time I got to practice," Grant said. "Got the hours I needed and then just focused on what I could do to get a good score and that's pretty much what I did."
As play continued Friday after a long weather delay, Grant is preparing for the weekend.
"I wanted to see how the other players play and to compare my own game to theirs," said Grant of the opportunity to play at the U.S. Women's Open. "Today was a tougher day for me, but I feel like I can get some good scores to end with."