The Loop
All The Action Isn't At The Golf Course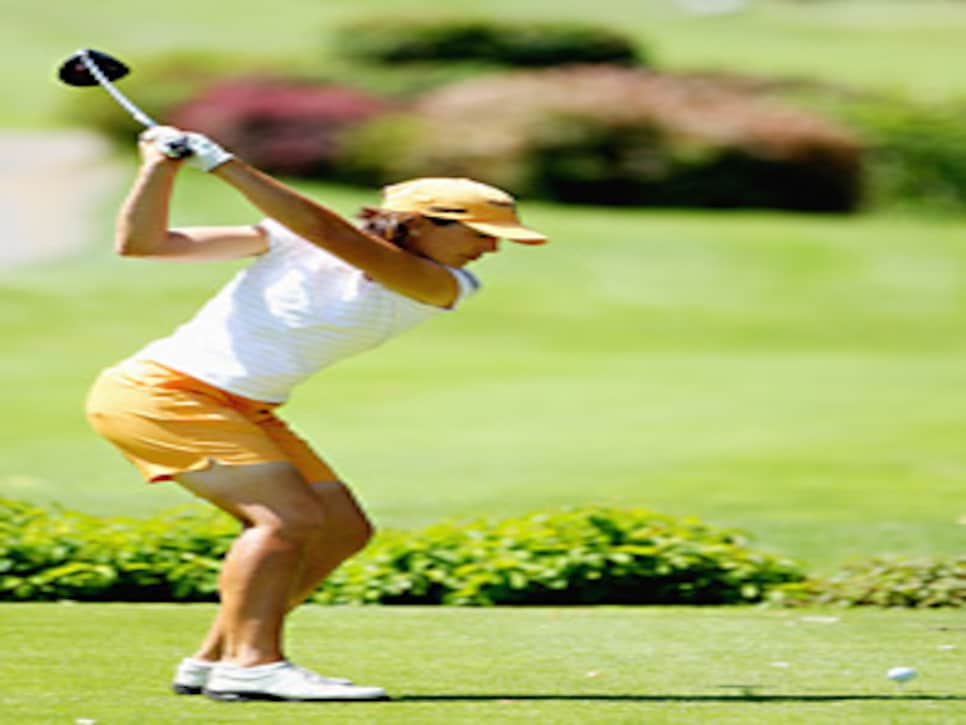 EVIANS-LES-BAINS, France - The Rue Nationale is one of those quaint European streets wide enough for about a car and a half and, mercifully, closed to all motor traffic, except for those people who happen to decide they are going to drive across it anyway which, with the aid of the horn, occurs more often than it should. Caddies, who stay in the tiny, air-condition-less hotels that line the street above the bars and restaurants that spill out onto the cobblestones, refer to the rue as "The Alley." Hang out long enough at one of the outdoor pubs on Rue Nationale the week of the Evian Masters and you'll see just about everyone.
Juli Inkster (above right) is doing some shopping with her younger daughter, 13-year-old Cori while Hayley, 17, is off and about exploring on her own. Annika Sorenstam and her boyfriend Mike McGee are out looking for pizza. Former LPGA commissioner and current PGA Tour executive VP Ty Votaw and his wife, LPGA player Sophie Gustafson, are out to dinner with Helen Alfredsson and her husband, former NHL player Kent Nilsson. Being out with three Swedes is a good test for those Rosetta Stone language lessons Gustafson got Votaw for Christmas. Test results? Not so much.
And stopping at a hole-in-a-wall kebab shop for a sandwich of tasty lamb is Heather Drew, the 47-year-old former LPGA player who was diagnosed with relapsing-remitting multiple sclerosis in 1996. Drew, who is caddying for Heather Young at the Evian Masters this week and next week at the Ricoh Women's British Open, controls her MS with daily injections of Copaxone and says she has had no relapses in seven years. "If I can't play this is the next best thing," Drew says cheerily. "I'm really looking forward to St. Andrews, and Heather is the best to work for." Drew's only complaint is that her hotel room is right over the outdoor pub where the caddies hang out. "I hear everything they say," she says laughing. "And a lot of it you don't want to hear."
Speaking of caddies, one interesting sight at the Evian Masters was seeing veteran looper Worth Blackwelder and Cristie Kerr, with whom he split on less-than-amicable terms, sharing a pint along with Cristie's husband Erik Stevens. Blackwelder left Kerr after the 2005 season and began working for Inkster, who needed a caddie because her man of 12 years, Greg Johnston, had left to work for Michelle Wie, who fired him after last year's Women's British Open. Wie now uses David Clarke, who came over after a stint with Justin Rose on the men's tour via her swing coach David Leadbetter. And that's pretty much how the caddie carousel works. Probably the longest tenure going is Terry McNamara, who has been with Sorenstam since September of 1999 -- and has cashed a lot of checks.
One of the more amusing highlights of the day was being stopped while walking the course and asked -- en Francais -- the time. Figuring it was easier to show than to tell, I held up my watch and saw a totally bewildered look spread across the man's face. Then I remembered I always leave my watch on New York time because those are the deadlines that matter to me.
(Photo: Andrew Reddington/Getty Images)