Local Knowledge
The Open no longer tolerates all-male golf clubs, but the thorny issue endures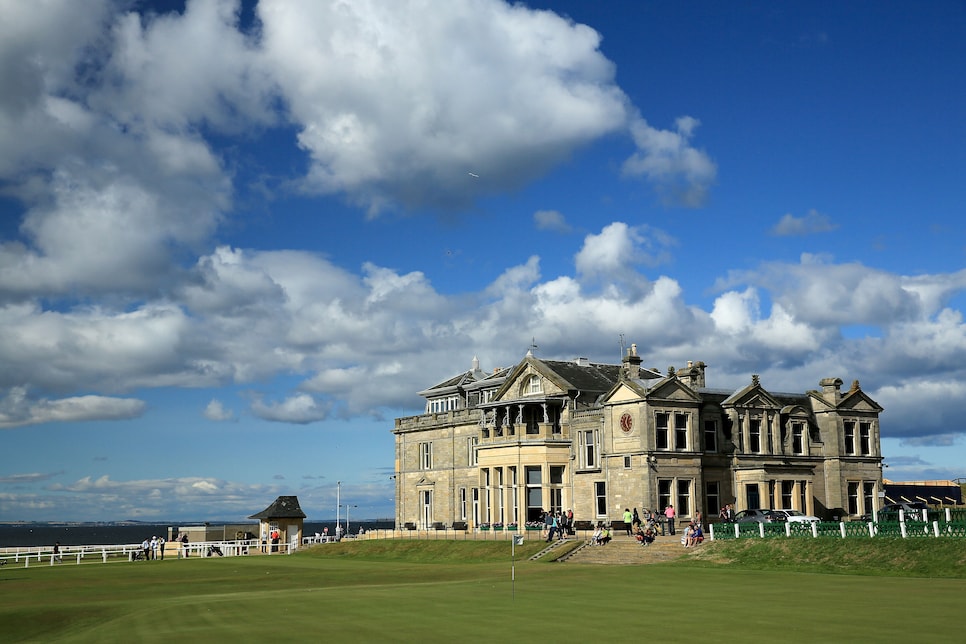 David Cannon/Getty Images
Hootie Johnson knew precisely what he wanted to convey but couldn't summon the words. This wasn't the first time a journalist had asked the membership question, the gosh-darn membership question, and sitting in front of a now-dated looking backdrop, the Augusta National chairman's face betrayed exasperation.
"It's just a natural thing, and I don't know how to articulate that," Johnson explained in his syrupy drawl at the 2002 Masters. "It's just been going on for centuries and centuries—men like to get together with men every now and then, and women like to get together with women every now and then. That's just a simple fact of life in America."
As the leader of the most famous golf club in the United States, Johnson spoke on behalf not only of Augusta National, but an insular ecosystem of all-male golf clubs that sensed a growing disdain for their practices.
"The golf course has always been the refuge of the bro, the dude, the hardworking business man, the overtaxed husband," says Alan Shipnuck, whose book The Battle for Augusta National: Hootie, Martha and the Masters of the Universe explores the scandal that rocked Augusta in the early 2000s. "It's always had that connotation. Some courses and clubs codified it and restricted access to women. Some went all the way and just went for all-male memberships."
At the time of Johnson's comments, there were 24 all-male golf clubs in the U.S.. That was far less than 1 percent of all golf courses in America, but included in those 24 were two of the country's truly iconic venues: Augusta National, host of the world's premier golf tournament, and Pine Valley, considered by many (including Golf Digest) to be the finest golf course in America. The practice also extended overseas, where multiple Open Championship venues—including Royal St. George's, site of this week's Open—did not permit women to join as members.
The U.K. courses have since shifted their policies, but a couple handfuls of all-male clubs still remain in the United States. That 24 number has shrunk by at least two, though, for Augusta and Pine Valley have both opened their doors to female members. In 2012, nine years after Johnson—in the midst of a bitter media back-and-forth with women's rights activist Martha Burk—famously proclaimed the diversification of his club would not happen "at the point of a bayonet," his successor Billy Payne extended invitations to Augusta's first two female members.
While Augusta's hands were tied somewhat by the Masters, a distinctly global sporting event that is very much open to the public, Pine Valley's decision struck a markedly different tone. It was voluntary in nature, and that letter served as a tacit acknowledgement of rapidly shifting attitudes toward entities that keep people out.
"Golf put up a stop sign," says USA Today columnist Christine Brennan, whose writings played a critical role in the eventual shift in Augusta National's policy. "Certainly 50 years ago, but even up until 10 years ago, there was this neon red stop sign just blaring out to the world: 'Do not play golf, women. Do not play golf, girls.'"
Our latest episode of Local Knowledge, Golf Digest's narrative podcast, takes a deep dive into this hot-bed issue. We discuss the history of all-male clubs, how they fit into golf culture, the scandals that thrusted golf's exclusionary practices into the spotlight, the growing momentum against them—and whether the ones that remain can survive.
In 1988, the best female amateurs from the U.S., Great Britain and Ireland arrived to Royal St. George's for the bi-annual Curtis Cup. They were greeted by a sign that read, "No Women, No Dogs in the Clubhouse." The sign was removed ahead of the 2011 Open Championship at Royal St. George's but the all-male membership policy stood firm, and the thorny issue bubbled up again in headlines.
"I think I've been asked this question so often now that I really have nothing new to say," Peter Dawson, then the chief executive R&A, said in his pre-tournament press conference. "And from what I have read in the papers, nor has anyone else. So I think it's best left—I have nothing to add to things I've said over the years."
Despite being the oldest governing body in golf and overseeing women's tournaments, the Royal and Ancient Golf Club of St. Andrews only admitted men as members for the first 260 years of its history. That changed in 2014, two years after Augusta's change of heart and one year before the Open would return to St. Andrews, where the R&A's headquarters sits behind the first tee and 18th green.
"I think the level of embarrassment was growing," says Golf Digest's European correspondent John Huggan. "The R&A were making the rules for everybody, and couldn't be seen to be discriminating against half the world's population. It was long overdue for them to do it."
Attention quickly shifted to the two other Open venues that had all-male memberships: Royal St. George's and Muirfield. Less than six months later, a decisive 90 percent of Royal St. George's members voted to allow women. All eyes, then, were on Muirfield and its Honourable Company of Edinburgh Golfers. The Scottish club had hosted the Open 15 times, the most of any current rota course other than St. Andrews, but had not yet been granted a future Open. In 2016, ostensibly with eyes toward getting back in the Open mix, the club held a vote that failed to reach the two-thirds majority necessary to change the rules. Scotland's first minister called the vote "simply indefensible," and the R&A weighed in on the development that very same day.
"The R&A has considered today's decision with respect to the Open Championship," the R&A said in a statement. "The Open is one of the world's great sporting events and going forward we will not stage the Championship at a venue that does not admit women as members."
Line, meet sand. Less than a year later, the club convened for a second vote. This time, 80.2 percent voted in favor of reversing a 273-year-old stance.
"It is extremely important for us in staging one of the world's great sporting events that women can become members at all our host clubs," said Martin Slumbers, who succeeded Dawson as R&A chief. "Muirfield is a truly outstanding Open venue, and we very much look forward to taking the championship there in future."
While golf clubs on both sides of the Atlantic have taken steps toward inclusion in recent years—either because of outside pressure or an evolving internal sense of fairness—all-male golf clubs still exist. There's Butler National and Bob O'Link and Old Elm and Black Sheep Golf Club near Chicago, Preston Trail in Dallas, Lochinvar in Texas, Burning Tree in Maryland, Garden City in New York, and The Plantation in California, to name a few.
As our Local Knowledge episode explains, clubs like Augusta National, Royal St. George's and Pine Valley seem to have concluded that their clubs carry too much significance to be defined by who they don't let in the door. But these others hold firm to the idea that a private club has the right to make its own rules, whether the outside world approves or not.