Korn Ferry Tour
This tour pro/turned caddie/turned tour pro again hopes to make good on his original dream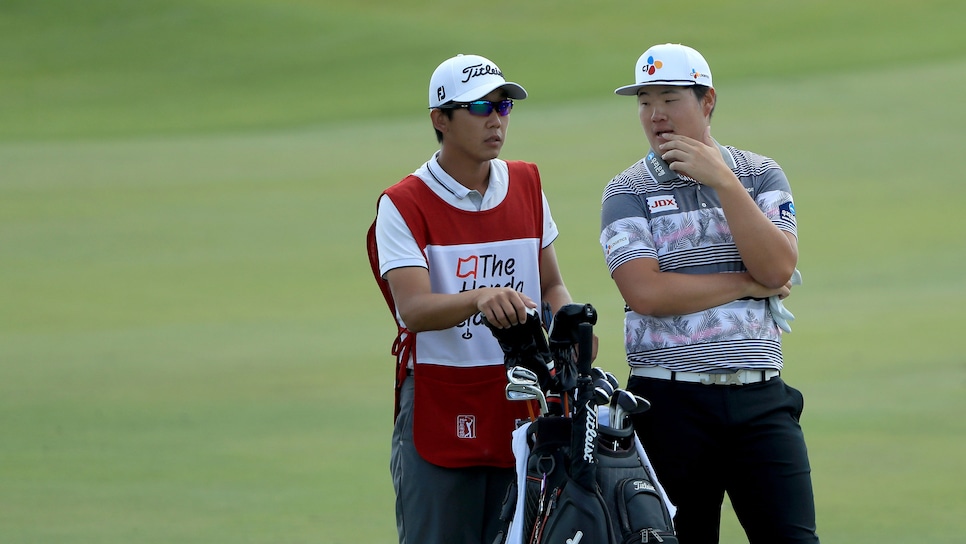 Many of the world's top players are teeing it up this week in the shadow of Hollywood at Riviera Country Club for the Genesis Invitational. Surprisingly, Sungjae Im isn't one of them. It's a rare week off for the PGA Tour's resident road warrior who last year played in all but six tournaments on the schedule and the year before missed even fewer than that. Currently ranked 17th in the world, Im can afford the time off.
Meanwhile, on the other side of the country, at the Korn Ferry Tour's LECOM Suncoast Classic in Lakewood Ranch, Fla., Albin Choi, a man intriguingly tied to Im, is getting his playing career started. Again.
It was nearly a year ago that Im and Choi authored an unlikely fairytale story. The short version is that Im, without caddie Ki Taek Lee available to loop for him at the Honda Classic because Lee was attending Jon Rahm's wedding, asked Choi to fill in on the bag. Im and Choi had met in 2018 on the Korn Ferry Tour and forged a fast friendship. But while Im's career soon took off, Choi's sank—he hadn't played in months, was caddieing six days a week at Old Palm Golf Club in Palm Beach Gardens and broke to the point where there were days he couldn't afford to eat when Im called him asking to work that week at PGA National.
The victory was the first of the young South Korean's career. It was also the biggest payday of Choi's. At that point, the former standout from N.C. State—where he won nine times and was an All-American but also had endured the tragic loss of his mother to suicide in 2011—had netted less than $250,000 in earnings over five seasons on the KFT, the last of which came in 2019. From Im's $1.26 million winner's check, Choi took home 10 percent, plus a base rate for the week and a little more on top.
The money allowed Choi to pay off debts that he'd racked up, and after the victory, he agreed to stay on Im's bag through the end of the season. When the COVID-19 pandemic shut down the tour a couple of weeks later, Choi spent much of the next three months crashing at Im's temporary home at Saddlebrook Resort outside Tampa, where he occasionally worked on his own game as well. When the season resumed in June, so did his duties as Im's caddie.
But Im never recaptured the form he had at the Honda, missing four cuts in 10 starts with only one finish inside the top 30 during that span. So Im parted ways with Choi after the BMW Championship in August and hired veteran Bobby Brown for the Tour Championship and beyond. "That's golf," Choi said. "I completely understood just because being on that side [as a player before] sometimes you just need a fresh face. I wish him the best of luck, and I'm still rooting for him."
Given his struggles plenty of people are rooting for Choi, too.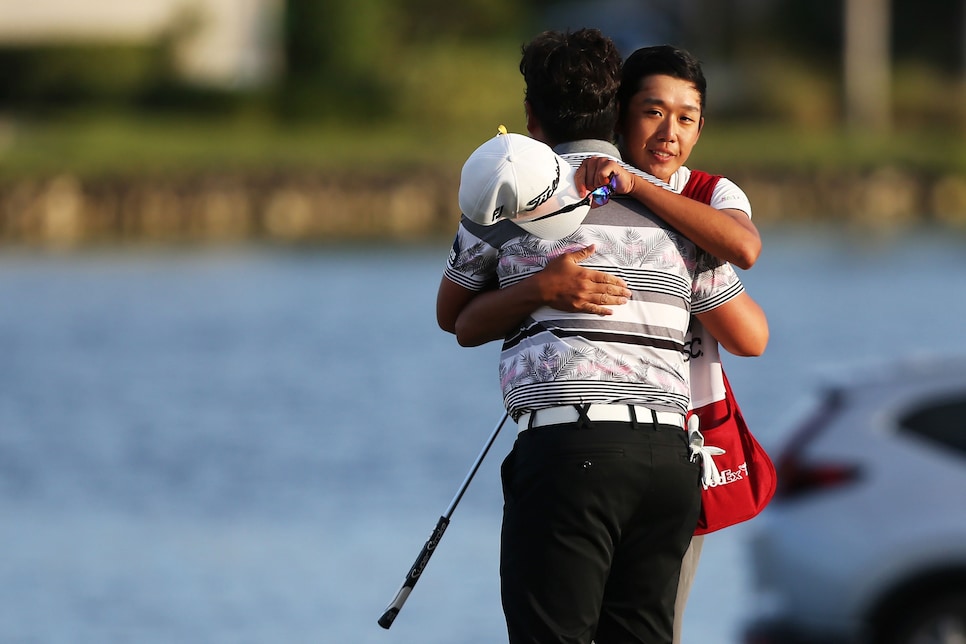 By caddieing for Sungjae Im in 2020, Choi received a lifeline after struggling financially when he lost his Korn Ferry Tour card the previous year.
Matt Sullivan
Once a top-10 amateur in the world and considered one of the best to come out of Canada in the last 50 years, Choi was broken and empty after the unexpected death of his mother. After turning pro in 2013, he was hard on himself when he failed to break through to the PGA Tour. Then there were the financial struggles and at times a lack of dedication if not direction. The connection with Im provided a momentary lifeline, but when the 28-year-old split with Im last fall his options were limited. He was without status on any tour for the first time in his career and the 2020 Korn Ferry Q School had been canceled because of the pandemic.
Enter David Storch. Behind every successful player on tour is someone who believed in them, financially and otherwise, along the way. The retired CEO of an aviation company, Storch first met Choi when Choi caddied for him at Old Palm in December 2019. Nine months later, the two reconnected over lunch and golf at Michael Jordan's Grove XXIII, where Storch is also a member.
"Aside from the fact that he played a beautiful round of golf, I was just very impressed with him as a young man," Storch said. "Then I read up on his story that night, so I called him the next morning. I wanted to do whatever I could to help him succeed not just in golf but in life. He's had some ups and downs but handles himself beautifully, and everyone I know who has been around him has the same sentiments."
So Storch set Choi up with longtime trainer David Donatucci, who also runs the gym that Storch owns in the area, and connected him with veteran swing coach Darren May, the co-founder of Every Ball Counts, a goal-based training methodology used by a number of tour players and Olympic athletes for three decades, and the director of golf at Grove XXIII.
Still, the time on Im's bag and layoff from competitive golf had left Choi rusty. "My game was in awful shape when I came back," he said. "It took me a lot longer than I thought it would to get it back. But a lot of hard work and, you know, persevering through a lot of tough times."
Choi's first steps involved a handful of mini-tour events. Then came the Monday qualifier for this week's Korn Ferry Tour event. Choi birdied the first hole and sprinkled in four more on the front nine to turn in 31. He stayed steady on the back, even as the wind picked up, and shot 66 to nab one of the four spots in the field.
"It's a great confidence booster," Choi said of the performance.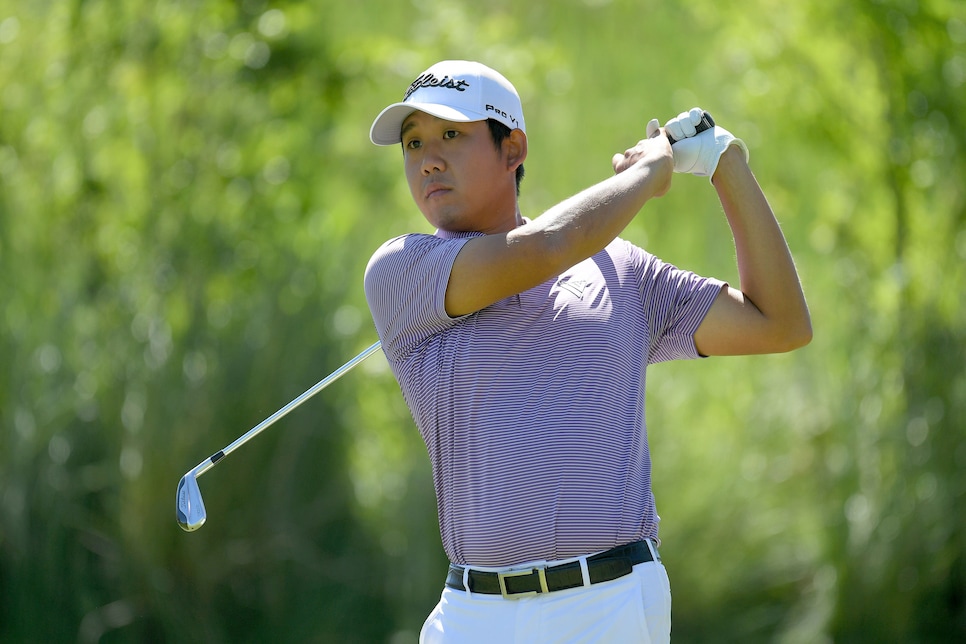 Choi is playing in his first Korn Ferrry Tour event since August 2019 after Monday qualifying at this week's stop in Florida.
Stan Badz
His solid play continued into Thursday's first round at Lakewood National G.C., where Choi finished the day tied for first at eight under par through 17 holes before darkness suspended the round. It was quite the performance considering his last round on the Korn Ferry Tour was in August 2019.
Choi knows this is all just the beginning and that the road to the PGA Tour remains long and fraught with pitfalls. Having a small team of supporters around him helps ease the burden. The experience he gained being alongside Im as he blossomed into one of the game's best young stars was beneficial, too.
"That experience is something you can't buy or teach," he said. "I learned a lot about the golf courses and how these guys play them, how they practice.
"But we've been working really hard trying not to overthink or over complicate things too much. If you have the game, then everything will kind of solve itself. If I just keep pushing through and keep doing what I'm doing, I know good things will happen down the road."
A road that Choi is once again able to take.