The Loop
Alabama basketball team forced to play final 10 minutes of game with just 3 players on the court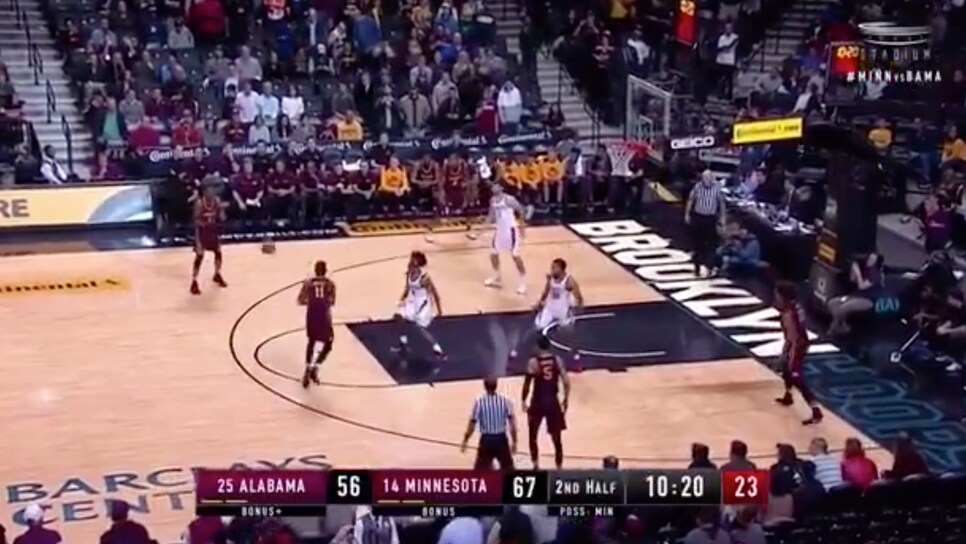 This probably wasn't the Alabama game everyone expected to be talking about on Saturday night, yet here we are.
Even after a huge loss at the hands of arch-rival Auburn by the Crimson Tide football team in the Iron Bowl, improbably, it's the Alabama basketball team that earned a ton of attention Saturday, thanks to one of the stranger situations you'll ever see.
A skirmish between Alabama and Minnesota in the second half of the Barclays Center Classic brought Bama's bench onto the floor, which meant those players were ejected -- leaving the Crimson Tide with four players left. Yep, they tried to finish the game. And it got really close with 1:30 left in the game.
Here's how we got there. Minnesota guard Nate Mason and Alabama guard Collin Sexton exchanged words and each received technicals, but Mason wasn't done -- continuing to trash talk and receiving another technical, which got him tossed. Minnesota coach Richard Pitino took exception and was hit with a technical as well. After multiple Alabama free throws, there was another scuffle on the floor, leading to Alabama's entire bench coming onto the court:
As any New York Knicks fan knows, leaving the bench is a no-no in basketball. Because of this, officials had no choice but to remove the entire Alabama bench, leaving the Tide with just five active players. Minutes later, Alabama guard Dazon Ingram committed his fifth foul, ending his night early, which left Alabama with just four players with over 11 minutes remaining. Somehow, it got worse.
Less than 60 seconds later, Alabama freshman guard John Petty suffered an ankle injury, forcing him out of the game:
With more than 10 minutes to play and trailing by 13, the Tide had to finish the game with just three players on the court, giving Minnesota an unheard of two-man advantage. Pretty common in hockey, but not basketball.
Incredibly, Alabama went on a 26-16 run (!), cutting the deficit to just three points with under two minutes to play:
Though the Tide couldn't complete what would have been a miraculous, shorthanded comeback, they still had a chance to tie or get within one point of Minnesota. Unbelievable job by Sexton, Galin Smith and Riley Norris to keep fighting until the final whistle blew.
As for the Golden Gophers, they narrowly avoided what would have been one of the most embarrassing losses in recent memory. Phew.