Course Strategy
There's a simple gameplan for success at the AIG Women's Open. Too bad it's not so simple to pull off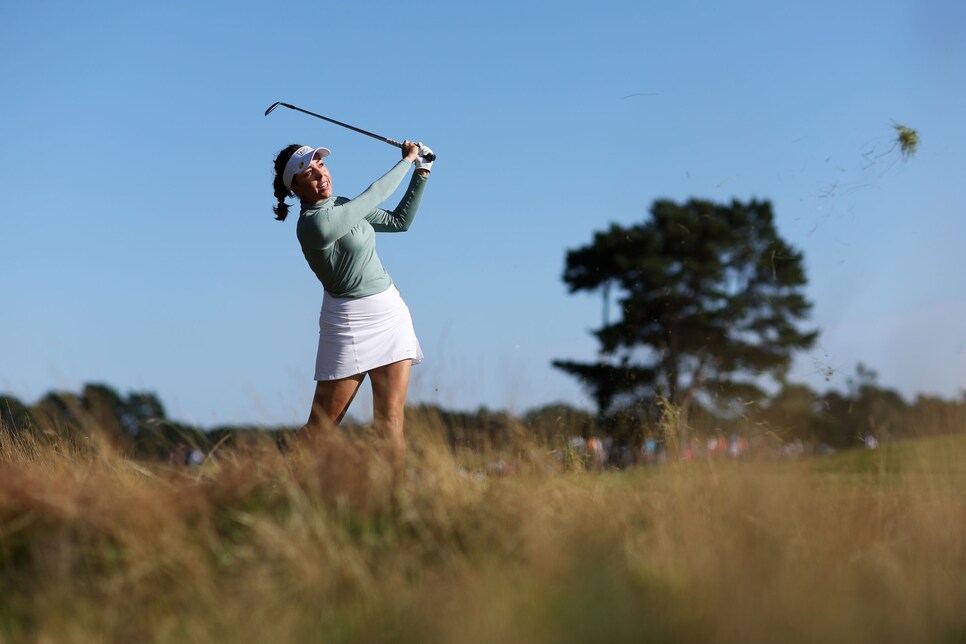 Georgia Hall was among a host of players who said avoiding the heather at Walton Heath is a must if you want to shoot any kind of low score.
Richard Heathcote/R&A
TADWORTH, England — Perhaps only the pot bunkers on the Old Course at St. Andrews are comparable. Or the rough at what used to be called a "traditional" U.S. Open. But maybe nowhere in golf is the penalty for missing fairways more severe than at Walton Heath.
It's the heather. Or calluna vulgaris, to give it its more official title. Or, to put it another way, "the chief vegetation on many wastelands of northern and western Europe."

Heather may look pretty, inviting even, but attempting to extricate a golf ball from its depths is all but impossible. Little wonder then that the best score in the opening round of the AIG Women's Open was no better than the four-under-par 68, which sees American Ally Ewing hold a one-shot edge over a five-strong pack.
Still, it wasn't the tightly packed leaderboard after 18 holes that was the talk of the range on Day 1. While reactions varied depending on just how many shots it had taken to get round the 6,881-yard lay-out, there was a popular (or not) consensus.
"I can't think of a course anywhere in the world where finding short grass from the tee is more important," said Sweden's Caroline Hedwall after a commendable 71.
Former Women's Open champion, Georgia Hall, put it even more succinctly. "It's terrible," said the three-time Solheim Cup player.
Others had more to offer, although Amy Yang brought new meaning to the phrase "ignorance is bliss" after completing a nifty round of 69.
"What do you mean, the flowers?" asked the Korean. "Heather? Is that what you call it? It is very hard to get out of that. So the tee shot is the key to playing well here. I've never seen anything as tough anywhere. Even in practice I stayed away and only looked at it from a distance."
Others were equally respectful, most notably Jodi Ewart-Shadoff.
"In terms of being penal, this course is up there with anything else I've ever played," said the Florida-based Englishwoman. "The only thing that comes close to this is the rough you sometimes see on a British seaside links. The fairways are not that narrow, but this heather is brutal. I'm lucky that I drove it well today and was never in there, which is great. I did have a couple of goes in my practice rounds. And that was enough. It would be easy to injure yourself from some of the lies you can get. It's just about getting back into play."
Still, in the search for a comparable level of punishment Angel Yin did come up with one example.
"This is actually typical of majors," said the American after signing for a 72. "I'm thinking of the Olympic Club when we played the U.S. Open there [in 2021]. Miss the fairway and you were chipping out. It was so severe and as penalizing as it is here. Whatever, it definitely affects the way I approach a course. I'm not as aggressive as I normally am."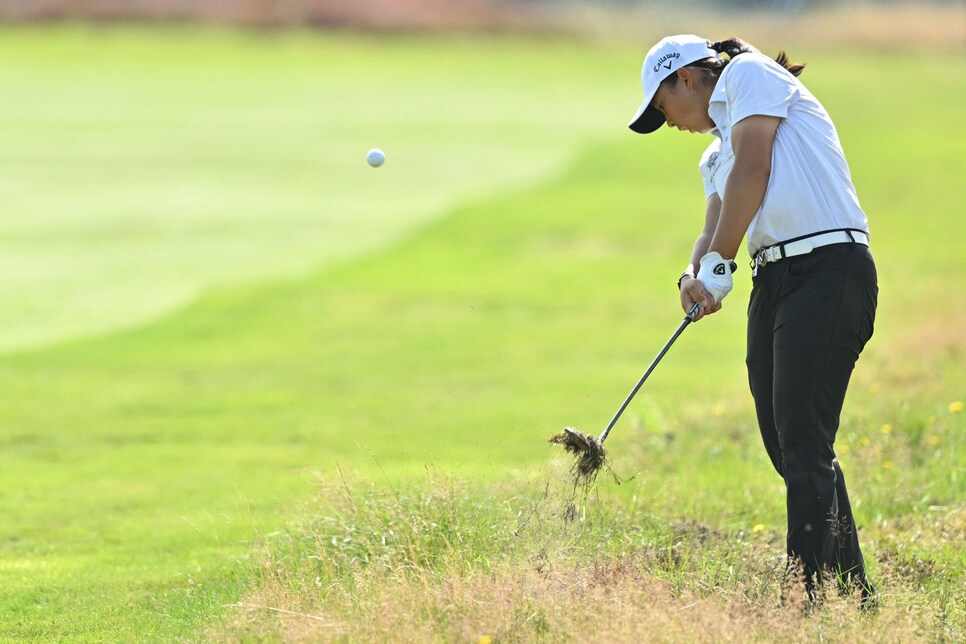 China's Ruoning Yin plays from the thick stuff on Thursday. The reigning KPMG Women's PGA champ shot an even-par 72 in her opening round at Walton Heath.
GLYN KIRK
Another comparison arrived via Australia's Hannah Green, who likened the heather to the ice plant found in her homeland.
"On tree-lined courses you can get something of a good kick back into play," said the former Women's PGA champion. "But that doesn't happen here. The ball isn't bouncing out of the heather. It's so penal. Even if you do get what looks like a good lie, you probably aren't getting out too far. It tempts you though, which is part of the problem. It just looks so pretty you can be lulled into thinking it's fine. But it never is."
So what's to be done, other than driving the ball well? The ever-thoughtful Meghan MacLaren has a theory.
"In practice my caddie told me to treat the heather as a hazard, which is good advice," says the Englishwoman. "Knowing it is there puts you under pressure, even more than a deep fairway bunker. It gets into your head. You can make birdies, but you aren't doing that from the heather, trust me."
On that and all other things heather, the feeling is clearly unanimous.