The Loop
Age (and Golf Scores) are Just Numbers
It's a perfect late-February morning in Florida. I'm 20 minutes from the Miami airport and I've just played 18 holes in less than two hours as a single at Country Club of Miami's West Course. I was lucky to get out early--the tee sheet is full from 10 a.m. to 1 p.m. with a golf group in town from Canada.
A man approaches the starter shed and asks if anyone turned in two clubs.
"They're right here," says the starter, and points to two clubs in the corner of the wooden shed he's using for air traffic control.
Another man asks about getting a bucket of balls for the driving range.
"Take as many as you want," says the starter, while pointing to the stack of empty baskets and a large bucket of range balls.
Another man is missing a jacket and sunglasses.
"Someone will turn them in," says the starter.
This starter retired from being a steamfitter and plumber in Philadelphia over 30 years ago, but he still works on Mondays to pay for his golf three days a week. He's an inspiration and he's anxious to tell you how and why, so listen closely.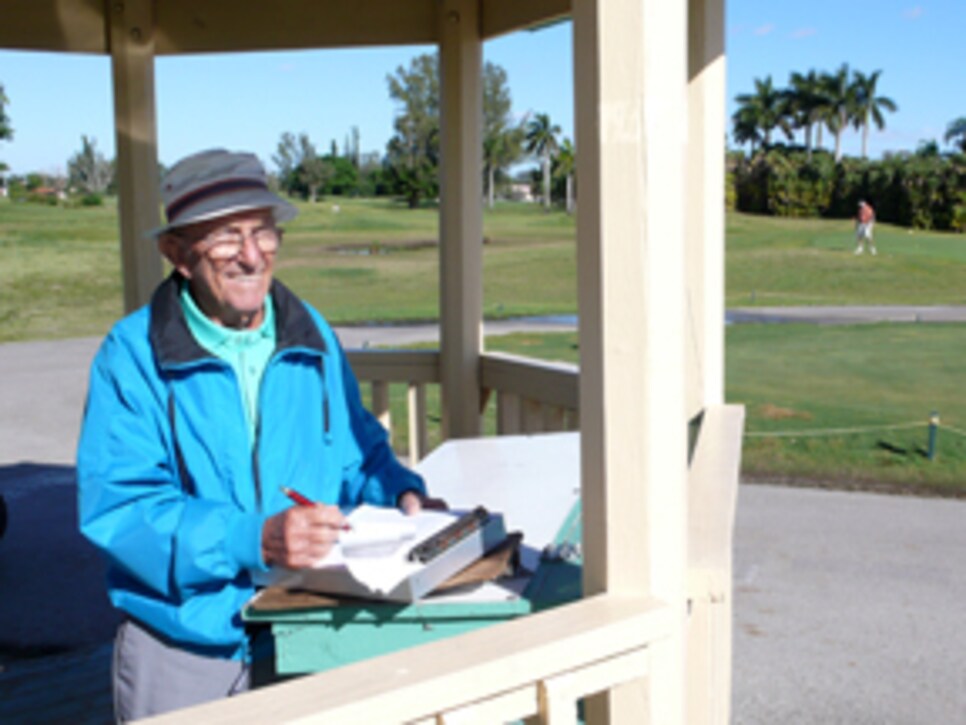 "My name is Carl. Last name is B-U-B-E-C-K." He spelled it for me because he wanted to make sure I got it right. "I can't believe no other golf magazines have been here to see me yet."
Bubeck will be 95 on July 4th. "AARP Magazine had an article in there because I've never taken any medication--never did."
Bubeck (pictured) moved down to Ft. Lauderdale with his wife of 69 years in the early '70s. Her name is Margaret but she goes by Betty--she'll be 90 in May. Betty had to stop playing golf two years ago because of complications with her feet. When they first moved down here she had a group of 62 women she played golf with. Now, only three are still alive.
"If you play here you better bring a lot of golf balls," said Bubeck. "There's water somewhere on all 36 holes."
C.C.of Miami has a West Course and an East Course. It used to have 54 holes and it used to be private. Jackie Gleason was a member. He'd bring friends such as Bob Hope and Bing Crosby. This was where Jack Nicklaus played in his first professional tournament and it's where Lee Trevino won his fourth tour event--the National Airlines Open in 1970.
C.C. of Miami is now public. During peak season you can play for $40, which is great value, and it's in decent shape. The greens and fairways are good, but the tee boxes could use some work. Come here in the summer and you can play for $20.
Bubeck plays with his friend, Ray, who's a marshal at C.C. of Miami. They coordinate a group called the Eastern Shores Golf Association. "I play here because I play for free. It saves me almost $150 a week."
Bubeck likes the East Course better than the West Course because it's shorter. "Right now I'm shooting about a hundred."
He's not satisfied with that. He's working with C.C. of Miami's instructor, Larry Levow, on hitting it straighter and farther. If you have five minutes, look at the online video of Bubeck on the driving range fixing his alignment.
I left that starter's shed inspired by Bubeck and with some advice on how to have a successful marriage.
"Take care of your wife," he says. "Make sure she's happy when you're out playing golf. Sometimes, take her with you."
I asked if she's ever beaten him on the links. "No. But she has a hole-in-one," he said, laughing. "I have six."