The Loop
After Masters appearance, Mike McCoy continues the amateur good life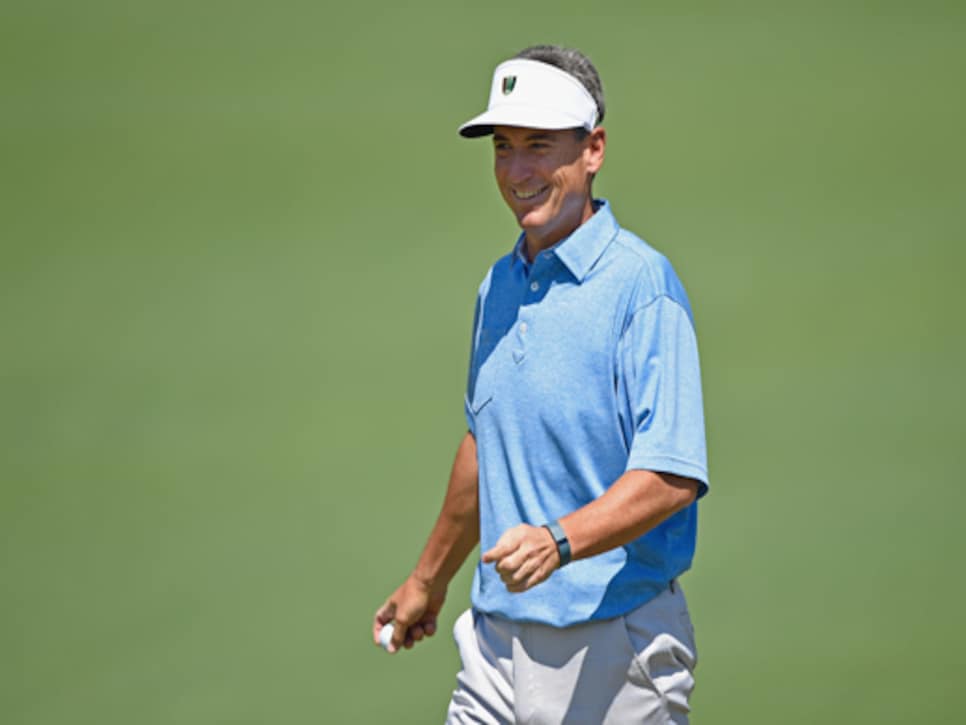 "I never played Walker Cup. So this is big. I'm excited," said McCoy, 51, of West Des Moines, Iowa. "It's great to be with all these great players who have done so much in the game. It's a really neat opportunity to play a different kind of golf, and represent your country. I don't want to let these guys down. I want to pull my weight."
The timing of the Concession Cup was ideal for McCoy, who missed the cut at Augusta National GC. Playing with former Masters champion Larry Mize and Branden Grace, McCoy struggled, shooting 78-83 for a 17-over 161 total. Ordinarily, the Coleman Invitational, a mid-amateur only tournament held each April at Seminole GC in Jupiter, Fla., (which McCoy won in 2013) signals the start of his season.
"The Masters moved that all up quite a bit. But that turned out to be perfect with what we're doing this week," McCoy says. "I feel prepared. Nervous but excited. It's a whole new chapter in my career in amateur golf. You don't get to do that very often."
Jim Holtgrieve, captain of the winning U.S. team at last year's Walker Cup, said the Concession Cup is a boon to all players of mid-amateur age and older, but particularly to ones like McCoy.
"The fact that some good men had the vision to put together a mid-amateur and senior event with a Walker Cup-type format is something special," Holtgrieve said. "I've done my research on what George Herbert Walker started, and this is something just as important to keep the game going and keep all of us more active. But I get especially emotional just thinking about guys who never had an opportunity to play for their country getting that opportunity. Like Mike McCoy. Or like Doug Hanziel. It's really cool, and I'm proud to be a part of it."
McCoy couldn't have enjoyed his maiden team match any better. He teamed with Chip Lutz of Reading, Pa., another newcomer to international team golf, to post a 5-and-3 victory over Richard Partridge and Martin Young in the opening foursomes match. Lutz and McCoy won the last five holes.
"It was a wonderful experience, something really that sort of fills out my amateur record a little more fully," said Lutz, a two-time Senior British Open Amateur winner. "I can't thing of anything better than representing my country in this kind of a competition."
"I was definitely more nervous at the Masters, but this was just as much fun, and we got the result we wanted," McCoy said. "Chip is a great friend, and I was telling him that we're in the first match, we want to get that first point. And we did it. We're part of history. Can't beat that."