KORN FERRY TOUR
After overcoming myriad injuries, David Lingmerth wins on Korn Ferry Tour, earns trip back to PGA Tour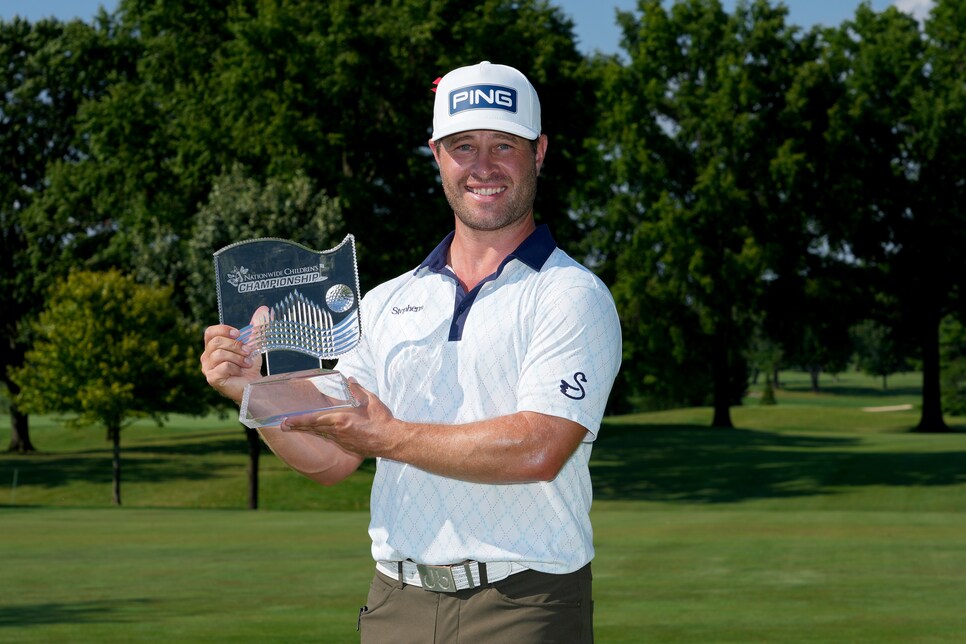 David Lingmerth poses with the trophy after winning the Nationwide Children's Hospital Championship on the Korn Ferry Tour.
Dylan Buell
COLUMBUS, Ohio — David Lingmerth earned a victory, validation and a certain ticket to the PGA Tour—something he hasn't enjoyed since 2018—when he sank a 13-foot birdie putt on the 72nd hole on Sunday to break a tie with Paul Haley II and win the Nationwide Children's Hospital Championship.
The 35-year-old native of Sweden, who has battled a series of injuries the last five years, completed a wire-to-wire win in the second Korn Ferry Tour Finals event to beat Haley by two strokes for his first top-10 finish anywhere since the 2017 Quicken Loans National, a span of 117 starts combined on the PGA Tour and Korn Ferry Tour.
"Yeah, to get that putt to go in for birdie on 18 was a feeling I've been wanting to have for a long, long time," said Lingmerth, who closed with a three-under 68 on the Scarlet Course at Ohio State University Golf Club and tied the tournament record with a 17-under 267 total. "So much relief, a lot of joy, a lot of pride that I was able to do it, you know, because it's been a little rough go for a while for me."
Neck, back, knee and wrist injuries have plagued Lingmerth, and he has struggled to get PGA Tour starts playing out of the past champion category from his victory at the 2015 Memorial at nearby Muirfield Village Golf Club. He finished this season 208th on the FedEx Cup standings but was one of the players who slid into a KFT Finals berth by being inside the top 200 on the points list because of the suspension of tour members who have defected to the LIV Golf series.
Last year, Lingmerth got into the Finals by finishing 199th in FedEx Cup points.
"It's all about taking advantage of an opportunity," he said with a smile after pocketing $180,000.
Whether he won was immaterial as he made his way down the final hole, knowing he was going to earn a card, but he admitted he was intent on finishing off the victory after opening with a course-record 62 on Thursday. "I was trying really hard not to focus on the PGA Tour aspect of things," said Lingmerth, No. 2 in the Finals standings behind Will Gordon. "It's really hard to win golf tournaments on the Korn Ferry Tour or on the PGA Tour or anywhere really. To be able to knock a win off is a much, much better feeling."
Lingmerth and Haley were tied going to the par-4 home hole after Lingmerth bogeyed from a greenside bunker and Haley made an 18-foot birdie putt for a two-shot swing. But Lingmerth, after an 8-iron from the fairway from 154 yards, was able to guide home the left-to-right slider and responded with a fist pump.
Haley ended up two back when he missed a short par putt that didn't change his runner-up finish. He also shot 68. The native Texan was among six players who already have earned PGA Tour cards by finishing in the top 25 in the KFT regular season to post T-9 or better at OSU, leaving the overall race for the 25 PGA Tour cards available in the Finals more wide open heading into next week's Korn Ferry Tour Championship. Those players do not count in the Finals standings, but they continue to accumulate points toward the competition for the No. 1 overall seed, which is worth a berth in the U.S. Open, the Players Championship plus full exempt status, meaning he would not be subject to a reshuffle on the KFT priority list in midseason.
Haley, third in the regular season, leapfrogged into the top spot overall, overtaking regular-season leader Carl Yuan.
Among the 2021-22 PGA Tour members who locked up their return on Sunday were Michael Gligic of Canada, Henrik Norlander of Sweden and Joseph Bramlett. Gligic finished fourth at 272 after a closing 69 and he secured fourth on the Finals list, while Norlander and Bramlett were in a share of sixth at 10-under 274. Norlander shot 67 to move to eighth in the Finals and Bramlett had a 68 after playing his first four holes in two over par. He stands fifth in the Finals standings.
"It's stressful, really stressful, but it feels really good," said an emotional Bramlett, 34, who finished his PGA Tour season 174th in the FedEx Cup standings. "I've worked very hard, and I take this seriously and I never quit. Two over par to start on this golf course is not great, but I just had to suck it up and keep playing and keep competing."
Two players won cards despite finishing down the leaderboard.
Thanks to their T-4 finishes the week before at the Albertson's Boise Open, Austin Cook and Dean Burmester also sewed up berths on the PGA Tour by finishing T-34 and T-46, respectively, after closing 69s. Cook is sixth in the Finals and Burmester seventh after he birdied his final hole to earn his first tour card at age 33.
"Man, it's a long road from where I've come from, a junior taking the game up fairly late," said Burmester, who was contemplating a trip with his wife and kids to Chuck E. Cheese for a celebratory dinner. "Always played when I was younger, my parents just dragged me to the golf course on holidays playing 72 holes a day," he said. "Now I get goosebumps thinking about where I'm heading to: No. 1 tour in the world and best job in the world."