News
After another disappointing showing, Rory McIlroy admits he's having trouble 'inspiring myself'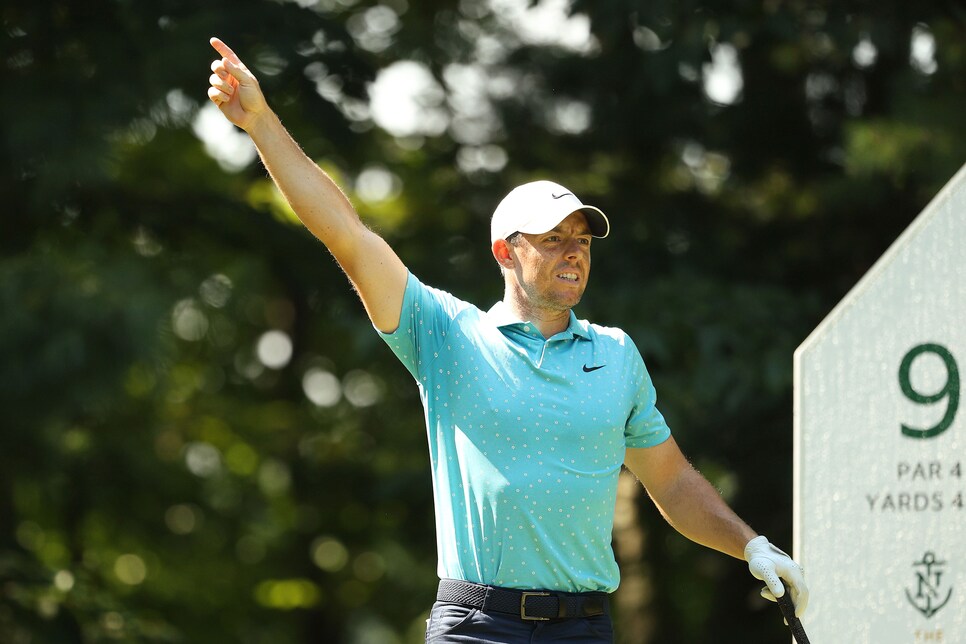 Rory McIlroy reacts to a wayward shot from the ninth tee during the final round of The Northern Trust.
Maddie Meyer
NORTON, Mass. — Rory McIlroy is struggling. After his T-65 at The Northern Trust this week, the defending FedEx Cup champion has now played seven tournaments since the PGA Tour's restart in June and has no top-10 finishes to show for it. He's lost his world No. 1 ranking, fallen outside the top 10 in the FedEx Cup standings and failed to even semi-contend in the year's lone major championship.
It's a puzzling run of play for someone of his talent, particularly given his form prior to the tour's COVID hiatus, when he posted seven straight finishes inside the top five.
So, what his prevailing emotion? Anger? Frustration?
On Sunday, McIlroy was asked his thoughts about something his countryman, Graeme McDowell, said—that with the absence of fans, McDowell felt a bit like a "golfing zombie."
"This is going to sound really bad," McIlroy said before saying something that did not, in fact, sound really bad. Just honest. "I feel like the last few weeks, I've just been going through the motions. I want to get an intensity and some sort of fire, but I just haven't been able to. And look, that's partly to do with the atmosphere and partly to do with how I'm playing. I'm not inspiring myself, and I'm trying to get inspiration from outside sources to get something going."
The most obvious byproduct of having no fans in attendance at tournaments is the lack of any reactions to players' shots, both good ones and bad ones. Under normal circumstances, the difference between a birdie and a double bogey goes well beyond scores on a leader board.
A birdie sparks joy, from both the player and the fans. There are cheers and high fives. The player waves to the fans. Maybe he tosses his ball to a kid. Things are good. And a double bogey brings frustration and awkwardness, and those hushed groans. The player puts his head down and ignores kids lining the ropes, clamoring for a high-five. The highs are heightened, the lows exacerbated.
In a fanless atmosphere, however, from a distance it's nearly impossible to tell whether a player made a 3 or a 7. And it doesn't feel all that different for McIlroy, either.
"Sometimes I come off a green and make a birdie, and I'm sort of—you know, you're sort of laughing coming off a hole that you've just messed up, and you make a birdie and it's sort of almost a more negative emotion in some ways. It's weird. It's very strange."
McIlroy tossed around ideas as to what he can do to spark that inspiration. Maybe some time on YouTube, watching highlights of his pudgier self—winning the game's biggest tournaments. Maybe he'll have to adopt a version of his practice-round strategy—making bets with his caddie, Harry Diamond—into competition. Not everyone is struggling with the silence, after all. It's not impossible.
"It helps the young guys coming out that maybe haven't dealt with the crowds that you deal with week-to-week," McIlroy said. "You know, college guys coming out that really aren't used to it. They can—it's no different, right? It's not different than playing in the NCAAs."
McIlroy never played in an NCAA Championship. Maybe that's why all this feels so … strange.