News
Breaking down why Rory McIlroy's PGA Tour restart has been so sluggish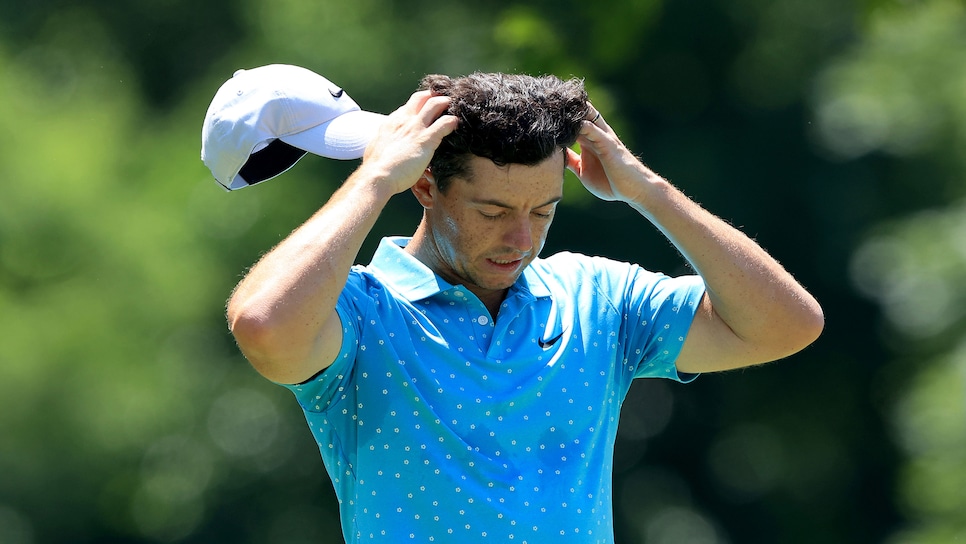 It's not easy for someone like Rory McIlroy to fly under the radar for any length of time, but since the PGA Tour resumed its 2020 season last month at the Charles Schwab Challenge, that's kind of what's happened. Rack your brain for anything to do with him—beyond tournaments promoting how they have had the (now former) World No. 1 in their fields whenever he's played—and the only thing that comes immediately to mind is his quote from Colonial: "I mean, if you really care about your career and care about moving forward, you should be here."
By his standards, that's a fairly tepid opinion, and we didn't really hear his name again until this past weekend, when he was overtaken by Jon Rahm for the World No. 1 spot. The Rory Story genre is suffering, and it illustrates an overarching point: He hasn't been making news for his actual play.
The results, mind you, haven't been bad—there are no missed cuts in his four appearances since the tour's restart—simply indifferent. With a T-32 at Colonial, T-41 at the RBC Heritage, T-11 at Travelers and T-32 at Memorial, he's putting up finishes that would be fine for your rank-and-file player, but are distinctly below McIlroy's standard. Consider his 2020 finishes before the pandemic: T-3, T-5, 5, T-5. Or go back to 2019, where he played 24 events and had 16 top 10s. In fact, to find a time when he played three straight tournaments without a top 10, you have to go to the fall of 2018. To find four in a row, the journey takes you to February 2018.
Which means that, in the admittedly small sample size of the post-COVID re-start, McIlroy is playing some of his worst golf in two years.
First, let's hear from McIlroy himself and see if we can discern any pattern. Looking at the transcripts from his four events, here's what he had to say tournament by tournament.
Charles Schwab: On Thursday, he identified his wedge play and his putting as inconsistent, but thought he had turned it around with a Saturday 63, which was tied for the best round he's played since returning. Yet after that round, he said he hit some "loose irons," and admitted that he was having trouble reading green speed. In a brief statement after a Sunday 74, he spoke about poor approach shots in the wind. Later he summed it up succinctly: "I played crap."
RBC Heritage: Thursday, the problem was errant tee shots, especially pulling his 3-wood left and missing the driver right. When asked what he needed to improve, he said, "my overall comfort level." He corrected that on Friday with another great second round (65), and again on Saturday (66), saying he'd become more comfortable with the intimidating look of the Pete Dye-designed tee shots. On Sunday, slipping down the leader board with a 70, he rued his inability to make birdie putts.
Travelers: A Thursday 63 got him off to a fast start; he hit his new 3-wood well and clearly made his share of putts. When asked specifically about his relative struggles the two weeks before, he spoke about the unfamiliarity of the golf courses, where he hadn't played often, and the "flat" feeling of the weekends with no spectators. The Travelers was his best showing yet, finishing at T-11, but on Saturday he complained about his uneven play that let the field overtake him without singling out any specific part of his game. It was worse on Sunday, when he complained about "dumb" mistakes and "terrible" decision-making for a closing 67. He was open about his frustration, and his eagerness for some time off.
Memorial: McIlroy took two weeks off and met with his coach to tune up before coming to Muirfield Village. He spoke about his inability to stay focused without fans, and his annoyance with the easy courses, where mistakes weren't punished and every week was a shootout. He also got as specific as he's been, saying, "If I'm getting technical, my club face was getting a little shut going on, my right arm was getting a little too much on top of the shaft instead of letting my right elbow fold and getting a little bit of external rotation in my shoulder." But again, the Memorial was disappointing, and his poor wedge play was highlighted after Friday's round. He didn't speak to the press after his Sunday 78.
In summary, Rory singled out many parts of his game, from wedge play to putting to driving, with perhaps the biggest focus on his short approaches. There's also a big psychological component at play, where for various reasons—the course, the lack of fans, the layoff—he didn't feel comfortable in himself or his game. Aside from the Travelers, he also played poorly on Sundays, at least by comparison to earlier rounds.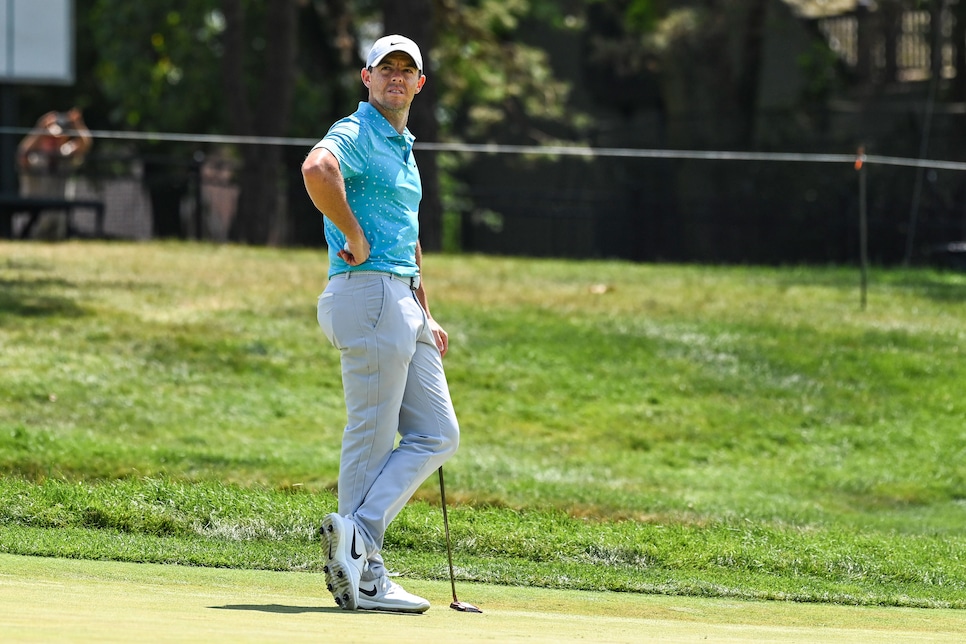 McIlroy hasn't missed a cut in his four starts since the PGA Tour restart, but he hasn't posted a top 10 either after having four straight top-five finishes just prior to the shutdown.
Keyur Khamar
That's the word from the horse's mouth, but what do the stats say? The PGA Tour keeps detailed statistics by tournament, and by looking at McIlroy's performance in several strokes gained categories week by week, we can attempt to see where he's been struggling. In each statistic that follows, the numbers represent his final ranking, relative to the field, in each tournament. It goes chronologically, so that the first number is the Colonial, next is Heritage, then Travelers, then Memorial. And keep in mind that these cumulative rankings are only for players who made the cut. So when you read 58th or 60th, that's out of roughly 75 people, not 150.
Strokes gained/off the tee: 4, 17, 2, 5, average = 7
Strokes gained/tee-to-green: 18, 31, 16, 44, average = 27.25
Strokes gained/approach: 36, 41, 57, 26, average = 40
Strokes gained/around the green: T-35, 36, 4, 74, average = 37.25
Strokes gained/putting: 58, 60, 33, 18, average = 42.25
There are a few things we can glean here, and a few that remain a little confusing. First off, even in this time of relative struggle, he's fantastic off the tee—top five in three of the four events. Second, the idea that he's weak on his approach shots is backed up by the numbers. On that topic, it's worth noting that low finishes, from 40 and above, would probably be worse when compared to the entire field, while high finishes would suffer less. In other words, the gap between his great driving and his sub-par approach shots is actually bigger than it looks here. The same is true with putting, although he's improved measurably in the last two events. He's been inconsistent around the green, a stat which compiles shots from 30 yards and closer, but compared to the other stats, this isn't quite as important.
But the big note, as Rory himself pointed out, is inconsistency. On a given day in any of these tournaments, he might be among the best in the field. But in a game predicated on consistency … well, that and a dollar will get you a cup of coffee. It might be instructive then to compare his recent play to the four PGA Tour events before the pandemic, when he finished in the top five every time (I'm multiplying the WGC-Mexico numbers by 1.5 to account for the smaller but superior field). Those numbers:
SG/off the tee: 58, 6, 8, 16, average = 22
SG/tee to green: 5, 4, 5, 6, average = 5
SG/approach: 3, 19, 15, 6, average = 10.75
SG/around the green: 11, 9, 51, 29, average = 25
SG/putting: 42, 44, 33, 45, average = 41
If I were the James Carville of golf, I'd sum it up like so: It's the approaches, stupid.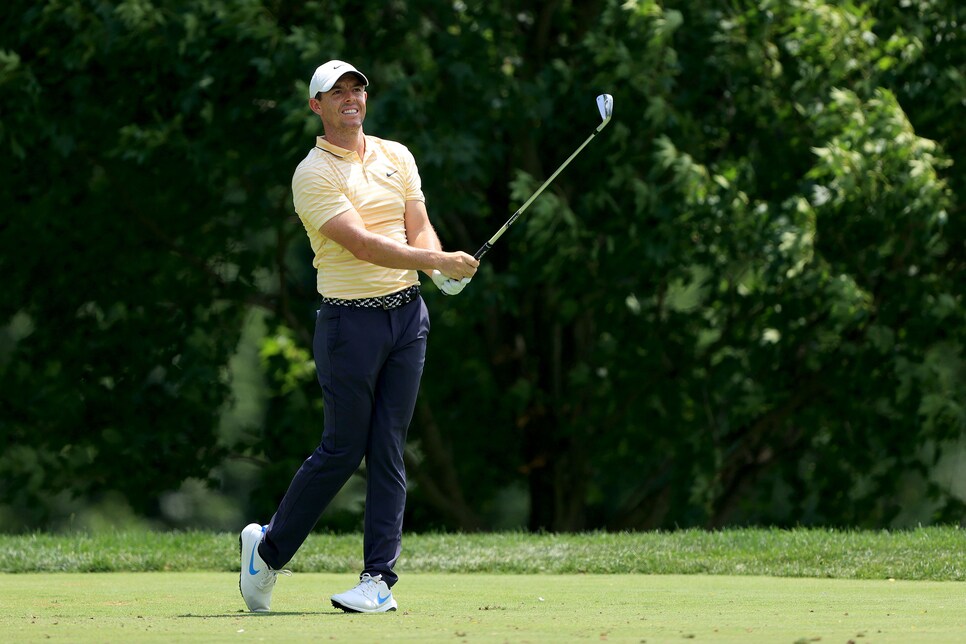 The stats suggest that McIlroy's approach shots have been the biggest area of weakness for him during the restart compared to earlier in the season.
Sam Greenwood
That's the only statistically notable difference. In his wins, McIlroy was terrific off the tee (that 58 at the Farmers comes with an asterisk since they couldn't keep stats all four days), mediocre to below average on the green, and so-so around the green. Those numbers remained basically the same after the restart. Only one thing changed: He went from being one of the 15 best in the field on approach shots to being squarely in the bottom half of those who made the weekend.
That's the rub. If you want to know why Rory has found himself in a "slump", you can borrow a phrase from the seedy world of pick-up artists: It's all about the approach.