The Loop
Aerosmith's original tour van found rusting away in Massachusetts woods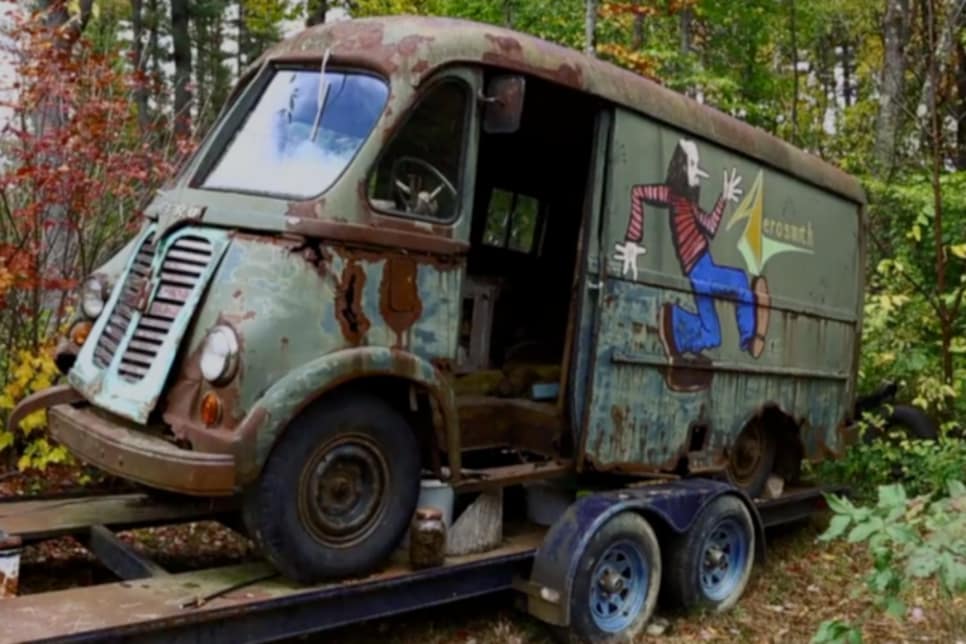 We hope you're ready to feel some sweet, sweet emotions, because Aerosmith's original tour van/hotel/STD clinic has apparently been found deep in the backwoods of Chesterfield, Massachusetts. Discovered by Mike Wolfe and Frank Fritz on a recent episode American Pickers—a show that, speaking of revelations, is still on the air—the 1964 International Harvester Metro was located on the property of some dude name Phil, who said the van was already on the land when he bought it. It's missing a door, is rusted clean through in places, and probably needs some new spark plugs, but thankfully the important components, like the custom Aerosmith mural on the side, remain more or less intact. You'd think that would have tipped Phil off years ago, but the powers of deduction move a little slower in Western Mass I guess.
After coming across the van, the Picker Boys called in some help from founding Aerosmith member Ray "should probably have ridiculous nickname here, like 'Electric Cat' or something" Tabano, who was found in nearby Stockbridge, where he spends his summers scalping James Taylor tickets. Electric Cat confirmed that the van was indeed the real deal, and the Picker Boys took the rust heap off Phil—the guy who didn't even know it was there until 20 minutes ago—for a cool $25,000.
Steven Tyler was off-planet at the time of the discovery and has not been reached for comment.