Apparel
Collin Morikawa explains why style is a 'huge' factor in boosting his confidence at major championships
*All products featured on Golf Digest are independently selected by our editors. However, when you buy something through our retail links, we may earn an affiliate commission.*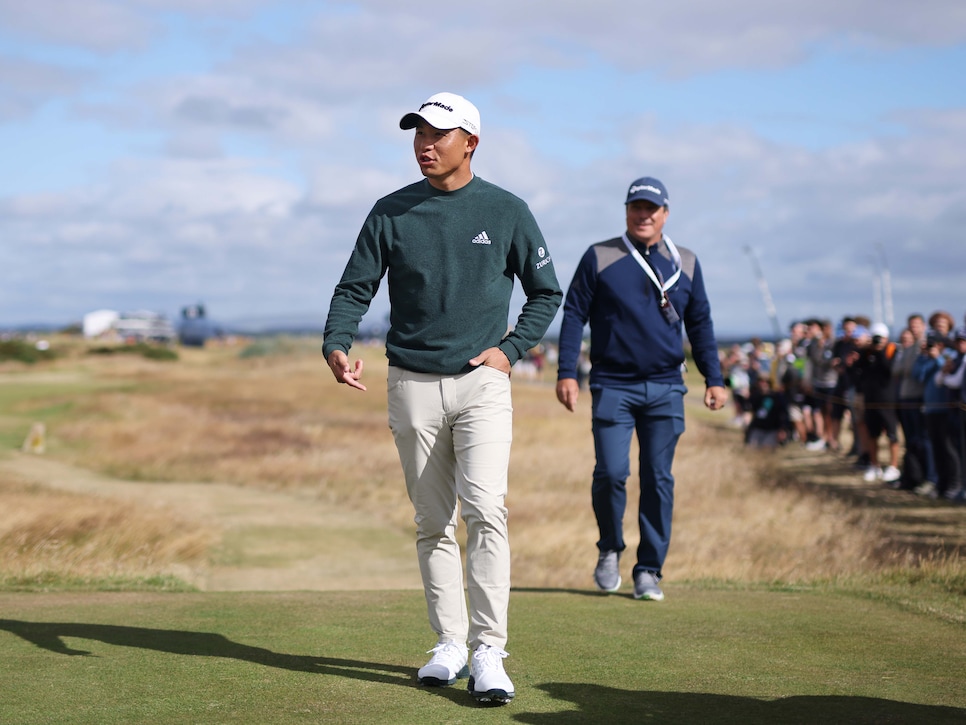 ST. ANDREWS, Scotland — Look good, feel good: It's a phrase we've heard many times, but its meaning continues to prevail in golf both at the professional and local level with so many golfers finding truth in it. Including a two-time major champion.
Collin Morikawa, the defending Open champion, credits his Adidas apparel and footwear as a jumping off point for his success in majors—the claret jug being his second win to go with the 2020 PGA. Morikawa felt comfortable and confident in his scripting at last year's Open at Royal St. George's, and it paid off. This week at St. Andrews, Morikawa says he is even more excited about his looks than his winning week last July and hopes that formula may work out for him again defending the trophy.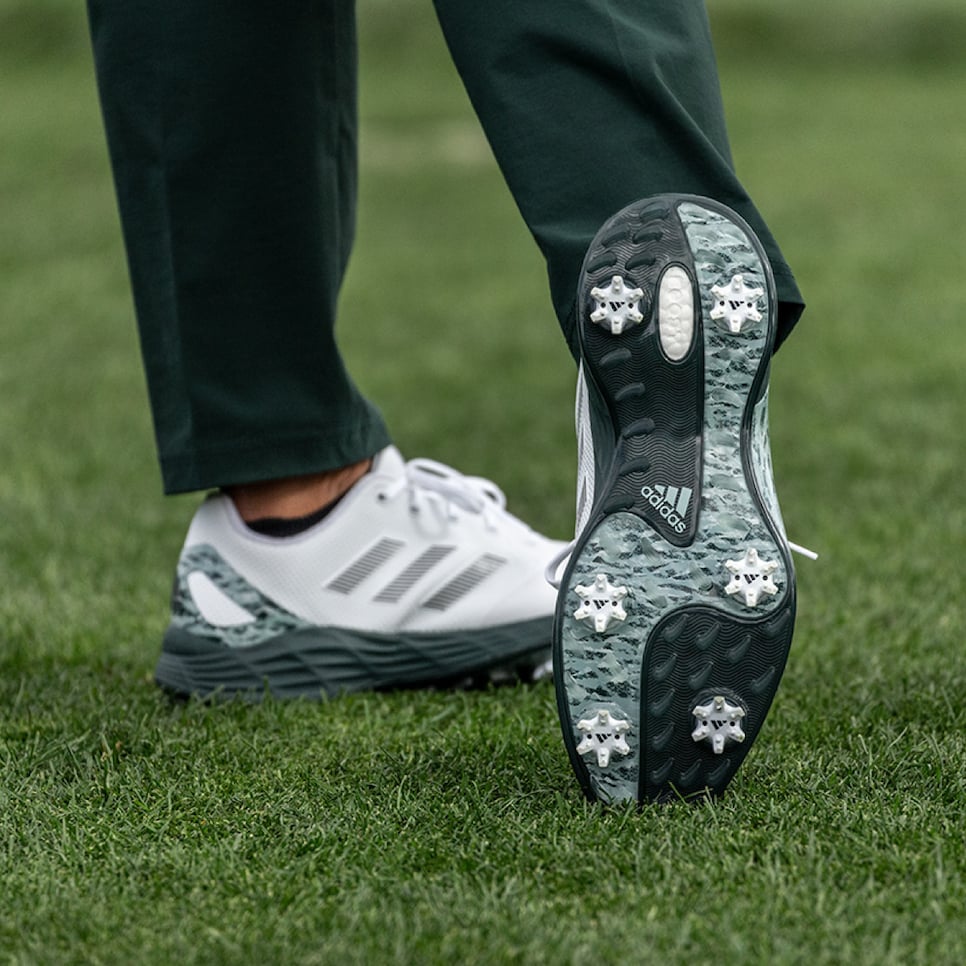 That's in part because the 25-year-old will be sporting a special player edition of the Adidas ZG21 golf shoe. The model, which will release on Thursday, July 14, commemorates Morikawa's 2021 victory with a design that uniquely ties into the colors he'll be sporting in his apparel the week. It's the first time Adidas has released a player's edition shoe thematically tied to scripting.

The special edition ZG21 design features a white outsole complemented by a camo pattern lining the outsole and the bottom of the shoe. The colors within the camouflage are meant to reflect the green, gray and sage tones that define links golf in Scotland. The pattern will similarly appear on Morikawa's Sunday polo shirt: the Go-To Camo Print Polo. There are other key details hiding within the design that honor the defending champion. On the insole of one shoe, there's a graphic of five golf tees, because Morikawa carries five tees in his pocket at all times during competition. On the other shoe's insole is "150," a nod to this year's playing of the Open at St. Andrews.
The ZG21 shoe's lightweight stabilizing technology and traction zones enhance a golfer's grip on the course, according to the company. With a spiked design, the model is heavy-duty and equipped for a variety of playing conditions.
We caught up with Morikawa at the Home of Golf to pick his brain about the special edition ZG21 that will pair with his Open Championship scripting, as well as his personal style preferences on and off the course.
What was your first reaction to Adidas coming to you with this shoe idea?
I loved it. It's an honor, it really is. I'm really grateful that Adidas was able to do this and commemorate my win and match the design with my full outfits all week. You know, I like to look amazing head to toe, and we were able to pull that off.
Talk about the design of the shoe from your perspective. What do you like about it?
I'm a huge fan of plain white shoes. The Adidas ZG 21 Golf Shoes this year are solid white, and I wanted that clean look. I like that I can look down when I'm playing and not get too distracted or overwhelmed by a bright color or pattern. But then we added a lot of cool small details. On the insole, we've got five tees with my initials. That's exactly how I start my rounds, with five tees in my pocket.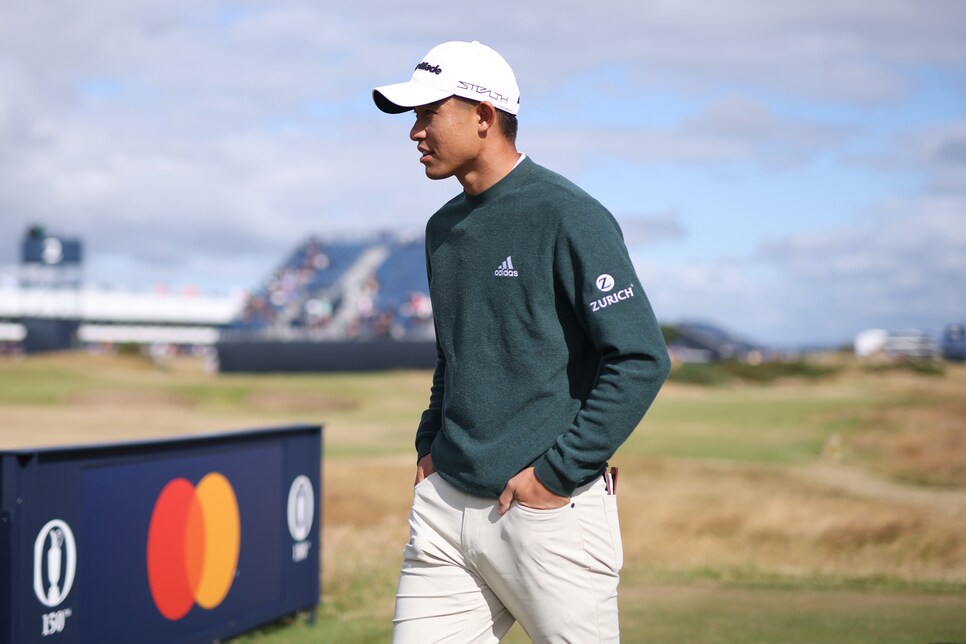 When did your five tees superstition start?
It's my routine. I'm not sure when it started. Five is my favorite number, and I think I just started putting five tees in my pocket. Now I grab five tees on the range, and if I break one or two, I'll refill the exact number before the first tee.
We see you were able to stick with your white shoe preference for this shoe, but can you talk about the pattern?
After adding those details, then we just kind of matched the colors to the colors you see on a links course. The first ZGs that came out kind of had that gray and yellow color wave and two-tone print. I wanted to match that, but also tie in a little bit of what we're wearing this week with the camo and the green.
How important are the performance elements in a golf shoe during a week like The Open with such firm and slippery grass conditions?
You obviously want stability, you want your shoe to feel lightweight, but the biggest thing is feeling comfortable. Trusting the shoe, that it's not going to slip is so important–especially when you have really firm and dry ground like out here in Scotland. That's the last thing you want to worry about: Is my left foot or right foot going to slip as I really go after a shot?
Shop Morikawa's scripting:
How would you describe your on-course style in general?
I like to keep it pretty simple-ish. With Adidas, I like to wear printed shirts. But I also love wearing black on black. My fiancée Kat got me started on the black-on-black outfits, which I'm literally wearing right now. We kind of started the black-on-black look when I first turned pro, and it's been a cool thing to wear that consistently throughout my career and have a couple wins with it on. I like the simple, clean look.
How important is it to feel good about your apparel and accessories going into a major championship? How do your looks impact how you feel on the course?
To be honest, I think it's huge. Last year at the Open, I loved every single piece we had, and I said that even as I was getting the clothes before the tournament. I somehow think I manifested that into a win. I truly believe this year's scripting and this year's four days look even better than last year, so hopefully we can do the same.
What are your aspirations for getting involved with more Adidas designs in the future?
I want any design I'm involved with to fit who I am as a person. You asked what my style is, and I want to just keep going down that line. I want to make things that are accessible and can be worn not just on the golf course, but everywhere. I think that's the biggest thing. I'm a fairly casual person. I love T-shirts and shorts wherever I go, growing up in LA. If we can bring that, but elevate it just enough so that it passes on the golf course, but looks sleek and casual still, I'm all for that with Adidas.