WILMINGTON, Del. — He is one of those players, with his sweet swing and good looks and forever cool temper, that can make this ridiculous game look ridiculously easy. Through 34 holes that's what Adam Scott was doing to Wilmington Country Club, building a three-stroke lead over the field as he stood on the tee at the par-4 17th.
Except Scott blew his drive right, and his attempted superhero shot forgot its cape and speed and strength, failing to make it out of the rough, the final damage being a double-bogey 6. And Scott, with that even-keeled disposition, looked a bit distraught on the ensuing tee shot at the 18th as he watched his ball find a bunker, leaving an approach from the beach that had to battle tree limbs to find an elevated, two-tiered green with a pin in one of those spots where anything less than right is punished. As Scott shook his head en route to his ball, it was a reminder that this sport can only be made to look so easy for so long.
Yet the true test of a good player is how he answers when the game barks back. Scott kept his ball away from those tree limbs and guided it to the correct tier of the green, and though his birdie putt didn't fall, his final hole did what he needed to do, which is get him to the clubhouse without further punishment. Yes, Scott was impressive over his first 34 holes, but how he finished keeps him in the mix for the final 36.
"I felt really in control today," Scott said after a two-under 69, good enough for a two-day eight-under total and a one-shot lead at the BMW Championship. "When you're playing that way, it always could be a couple better, and a poor shot on 17 was quite costly. It's a good reminder for the weekend that I've really got to keep it under control and don't want to have too many get off the map and get out of position around here. But I kept it in position really well all day and had so many good looks and was cruising there for a while. I'm in great shape going into the weekend. I don't even know when the last time I led a tournament was."
It has been a while for Scott. His last win came pre-pandemic at Riviera in February 2020, and though he hasn't been bad since, he hasn't been that good. He's managed just one top-three finish in that span and has been a non-factor in the majors—a T-14 at this year's U.S. Open his best showing.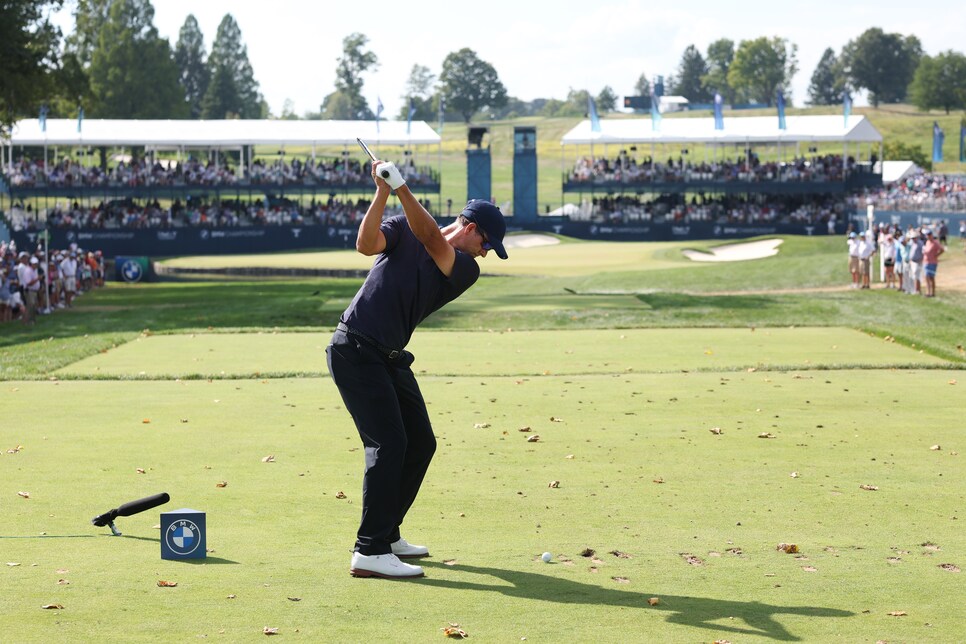 Adam Scott plays his shot from the 15th tee during the second round of the BMW Championship.
Rob Carr
The results could be argued not as dwindling performance but a byproduct of rising age. Scott turned 42 in July, and though careers have been prolonged thanks to equipment gains and fitness buy-ins, today's tour is not so much inundated with youth as it is dominated by it. Scott isn't considered washed up; reaching the playoffs testifies as much to that. In that same breath, the curly hair that escapes from his cap has specks of gray. He remains long off the tee but many are longer, and his approach game—once one of the best on tour—isn't as crisp. As Scott conceded Friday afternoon, he's also at the stage when golf isn't the only thing but one of many things that need to be prioritized, and sometimes the priority isn't as high as fans may think.
"I think there's points in your life that there's different levels of focus on different things, and it's not for lack of trying, but trying to manage myself has been challenging the last couple years," Scott said.
In short, it's been reasonable to assume his time as a relevant player had passed.
Only the tour is in its postseason, and few have had postseason success like Scott. He and Matt Kuchar are the only players to make the FedEx Cup in each of its 16 years, and just Dustin Johnson has more playoff rounds in the 60s than the Aussie. Three of those rounds came last week at the FedEx Cup opener in Memphis, a T-5 finish pushing Scott from 82nd to 46th in the standings to advance him to the second leg of this rodeo.
Moreover, Scott is not content just to be here; as he said after Round 1, he's been around long enough to understand the volatility in the system allows for chaos. "You can have a couple good weeks and get yourself right in the mix," Scott said on Thursday. "No matter where, if I was at East Lake starting 10 back or five back or six back, I'd be there thinking I've got a chance to win the whole lot. I think that's a fun thing to think about."
Also making things fun: His irons have awakened from their year-long slumber. Through two days Scott has missed just six greens, and he's made the most of said opportunities, rolling in putt after putt to gain a whopping 3.7 strokes over the field on the dance floors. He's also (save for Friday's 17th) keeping the big numbers at bay, making just one bogey thus far.
"This week it feels like the game is taking shape a bit, which is a nice position, and I played very free and was able to let go a little bit today and swing freely and rolled a few in," Scott said.
There is still work to do, both at this tournament and to reach Atlanta. Four players sit a shot back of Scott, another five are just two behind. Those chasing him double as the game's best. One of those names is Scottie Scheffler, who will play with Scott in Saturday's final pairing. Like Scott, Scheffler is a Masters champ. Like Scott, Scheffler has reached the World No. 1 ranking. Like Scott, Scheffler can make this ridiculous game look ridiculously easy. But Scheffler is expected to be here, whereas Scott … well, like he said, it's been a minute.
"The competition is tough out here, and I certainly haven't had my best stuff for quite a while," Scott said. "It's been a battle for sure. But that's how this game is."
Scott said it as a man who's experienced his share of battles and sounds excited for what awaits. Perhaps it's embracing the arbitrary nature of the playoffs, or playing with the freedom that comes from no one expecting you to be here, that explains why Scott is doing what he has done through two days in Delaware. That his putter is sinking everything he sees doesn't hurt.

Or maybe it's simply a veteran realizing his game is coming together at the right time—and knowing it can fall apart just as quickly—and doing what he can to ride this feeling as long as it goes.

"That's a nice feeling," Scott said. "I'd like that kind of feeling over the weekend."