Takeaways
Scheffler hunts for No. 1, Spieth's mojo rises, Rory goes electric, Young trying to seal rookie award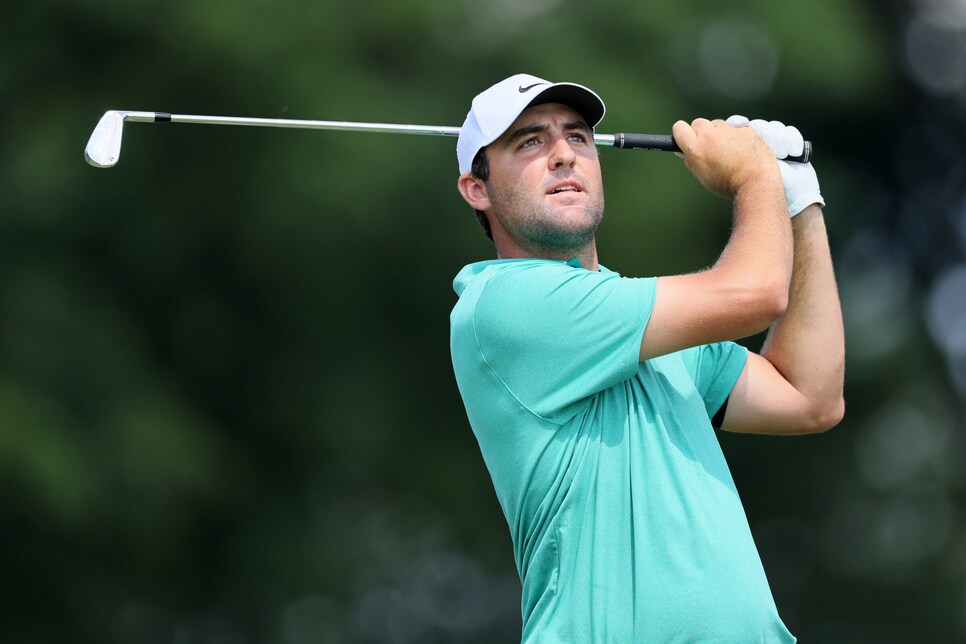 Scottie Scheffler plays his shot from the seventh tee during the second round of the BMW Championship.
Andy Lyons
How often have you heard the cliché half-sentence "if the season ended today …"? Probably more than a thousand times if you're a sports fan of a certain age, and we're about to hit you with it again, because cliché or not, we're very much at the precipice of a few big outcomes, and with just six rounds of golf to go in the PGA Tour playoffs, there's nothing wrong with going full Kornacki and indulging in a few projections.
So! If the season ended today, Scottie Scheffler would win the FedEx Cup and the $18 million first prize. He ceded that position to FedEx St. Jude Championship winner Will Zalatoris with a missed cut at the first leg of the playoffs last week in Memphis, but after a 67 on Friday at the BMW Championship that tied him for the second-best round of the day and left him T-2 for the tournament behind Adam Scott, he's back on track and has re-inherited the No. 1 ranking in the projected standings.
Scheffler did most of his damage on the front nine, and in fact had reached his end-of-round score by the sixth hole. Three straight birdies to start his round required less than 10 feet of putts, such was the strength of his ball striking, and he put the cherry on the top of the birdie sundae with another laser-like approach on six:
After that, it was a bogey, a birdie, and a ton of pars to close out his day—a 13-hole stretch he called "mediocre." Just like Thursday, though, Scheffler was right back on the range when his round concluded, grinding away in pursuit of that last big goal before the 2021-22 season comes to an end. It's small wonder that he wants it so bad; the difference between first place and second place in the bonus pool is $11.5 million.
"I think I just took advantage of my opportunities," he said afterward. "It's not easy to hit a ton of fairways, but when I did early in the round, I hit it close. … I wasn't able to do that as much on the back nine, but I had a few really good putts that I thought were going in and didn't. Overall, I'm pleased."
Meanwhile, his playing partner Zalatoris shot a 69 after an opening 70 and sits in a tie for 23rd. The two Texans enjoy playing with each other, but Scheffler made it clear that their normal teasing relationship is very much on hold with so much at stake.
"We've worked really hard for many years to get to this point, so any sort of needling on the golf course I don't think would be in the greatest of taste for both of us," he said. "I don't want to hurt his feelings and he doesn't want to hurt mine. It's a lot different when you're outside of the golf course and we're at home and you can poke a little bit more fun. I would say out here it's a bit more serious."
That said, they did share a few jokes about wearing the same color of shirt. For the record, it was an accident.
Cam Young Gets Closer to Rookie of the Year
If the season ended today ... it's safe to say Cameron Young would win Rookie of the Year. He was the heavy frontrunner as of a few weeks ago, but the torrid summer of Joonhyung "Tom" Kim, culminating with a win at the Wyndham Championship, and Sahith Theegala's strong play at the start of last week, seemed to make things more complicated. Young doesn't yet have a win on the PGA Tour, and while his two top-fives in majors and his standing in the FedEx Cup made him the obvious frontrunner, things felt a lot less obvious heading into Memphis.
After two days at the BMW, though, they're starting to feel a bit obvious again. After a wild, volatile round that included seven birdies and four bogeys, he sits with Scheffler and others at seven under, tied for second place and well ahead of Kim and Theegala (not to mention Mito Pereira, who has limped to a five-over start and will be quite glad there's no cut this week).
"I think it was a little bit messy," Young said. "Obviously I hit some very good shots and thankfully today they all ended up close to the hole. Sometimes I feel like you hit a bunch of good shots and have a lot of 20-footers, and today I was able to hit some close, and I think pretty much all my birdies came from hitting a wedge to inside of eight or nine feet."
On 11, he did even better than that, using spin to set up his easiest birdie putt of the day:
Rory is once more doing Rory things
Following a patently absurd 371-yard drive on Thursday, Rory McIlroy decided to wow us on Friday with his irons and wedges. Watch this heat-seeking dart on 15, from 205 yards:
Jordan Spieth takes the lead, gives it back, but scrambles like a champ
How do we feel about the nickname "Scramblin' Jordan Spieth"? Yay? Nay? Definitely nay? Anyway, coming into the final hole on Friday, Spieth was tied for the lead with Scott at eight under and was one birdie away from posting the best round of the day. Instead, he got caught in the rough behind the hole after an approach from the rough, and for the first time in his six attempts of the day, he failed to go up and down to save par.
That set him back among the seven-under chase pack with Scheffler and Young.
It's been a so-so summer for Spieth, who followed up his win at the RBC Heritage with a solo second at the Byron Nelson, but then slipped back a bit before posting top-10s at the Scottish Open and Open Championship. That was the last we heard of him until his missed cut last week at Memphis, but now we're seeing Spieth back in top form. With him and Rory both clicking, it promises to be an invigorating weekend in Delaware.