Arnold Palmer Invitational
Our apologies to Adam Scott for his riches-to-rags round at Bay Hill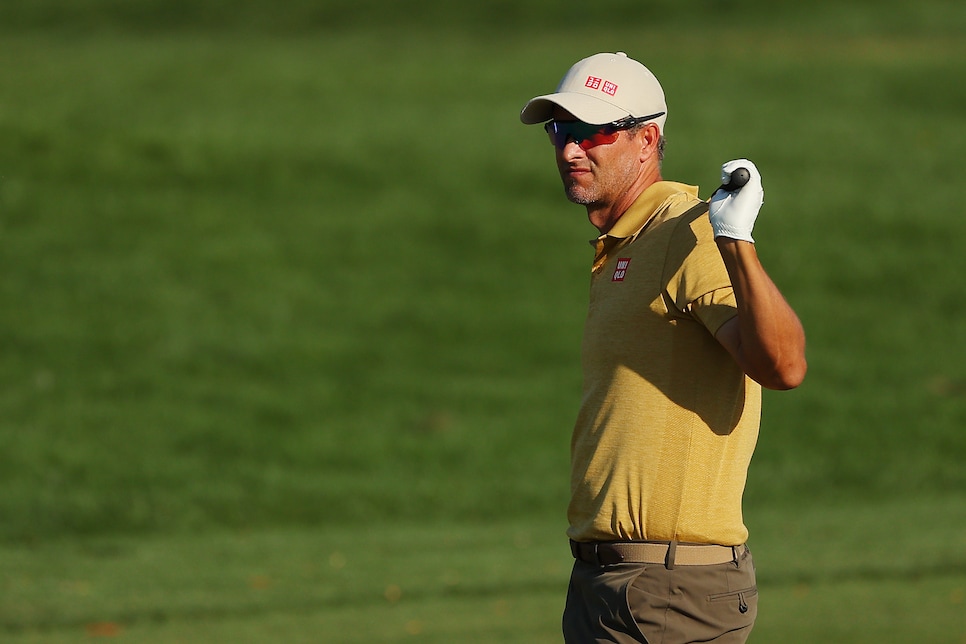 ORLANDO — You may not believe in hexes and you may not believe in voodoo and that is fine. Just know your beliefs are wrong. For there is a curse that is all too real, a curse golf writers wield that we wish we did not. And it is the concept that whenever we chase a player's story rather than watch his story play out we accidentally damn that poor soul something fierce. It is the journalistic equivalent of Medusa; those in our sights see their scorecards turn to stone.

Which is an extended way of saying … our bad, Adam Scott.

Like Ben Affleck playing Batman or letting Aaron Rodgers host "Jeopardy!" this all seemed like a good idea. For one, Scott is a man from another time. His manners and civility recall a past far kinder than the present. He uses a long putter, a tool most left for dead after the anchoring ban went into effect. He still rocks saddle golf shoes and wraparound sunglasses, both vestiges of another generation, and his clothes are an earthy tone that evoke motel wallpaper from the '70s.

There's also the fact that Scott is staring down time. He turns 42 this summer, an age where players begin to fight off the pangs of the purgatory between competing on the PGA Tour and their arrival on the Champions circuit. But he is fighting that good fight. After watching his game go south following the tour's pandemic sabbatical in 2020, Scott has answered with vigor, entering this week's Arnold Palmer Invitational with three top-10s in his last four starts. That streak continued Thursday, only four players beating his opening-round 68 at Bay Hill.
Then, well, there's the uncomfortable notion that Scott's time on tour could come to a close by his own volition. The former Masters champ was far from coy about his discussions with the proposed Super Golf League, alluding to a possible NDA when asked about the matter two weeks back at the Genesis Invitational. It appears Phil Mickelson's mouth may have torpedoed that proposal, if only pushing it back a year. In any case, Scott seems interested in a breakaway's circuit's shorter schedule, and PGA Tour Commissioner Jay Monahan has promised those who jump will be banned, and … you get the picture.

So, recognizing there is no time better than the present, one reporter ventured out to follow Scott as he made his way to the back nine at Bay Hill, five under for the tournament and inside the top five as he teed off on No. 10. Unfortunately for Scott, when we jumped inside the ropes, he was thrown out.

A pretty little fade off the box left just 100 yards and change to an accessible pin at the 10th. But Scott misjudged the wind, his wedge falling short and ending up even shorter, rolling off the front some 30 yards away from the pin. His third shot was true to five feet. The five-footer was not. Bogey, down to four under.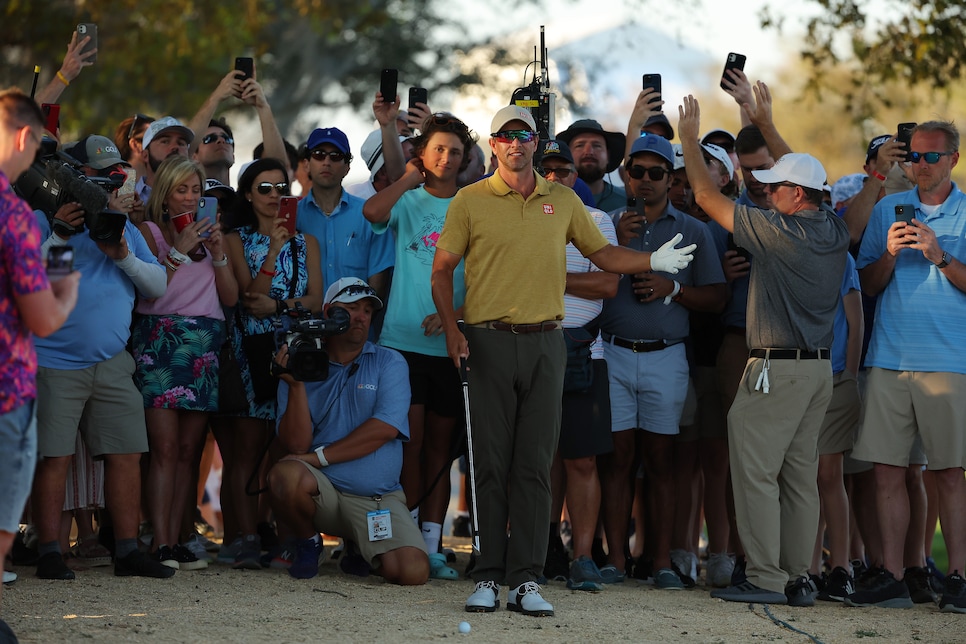 Adam Scott prepares to play a shot on the 16th hole during the second round of the Arnold Palmer Invitational.
Kevin C. Cox
From the 11th fairway, Scott again did not give the breeze blowing through Bay Hill enough credit, his second well short, but he had a nifty third to tap-in range. Worries about residual damage were momentarily put to bed, especially after Scott went full send with his drive at the par-5 12th, his ball well past partner Rory McIlroy. Take that, curse.

Only Scott was in between clubs, and whatever club he chose he chose poorly. From 220 yards he hit a capital-letter Fade into deep rough some 40 yards short and right, causing the normally stoic Scott to grimace, his iron sitting on his shoulders and between his arms as if he was about to neck-press that bad boy into the heavens. His third failed to find the putting surface, and though he managed to save par it was giving one back to the field on the second-easiest hole of the day. In a notebook one reporter wrote, "Whatever you do, do not make eye contact."

To those who think this is hyperbole, that this is just performance art and not genuine bad juju, we present the 13th. Despite hitting an iron off the tee to a fairway with runway dimensions, Scott found the high stuff. He used all of his muscles, which are many, to muscle his second toward the green. However, be it the mighty wind or mighty rough or mighty hex, Scott's ball did not find safety, finishing in the greenside pond. Because it initially cleared the hazard he was allowed to drop on the fringe, but it took him three shots to get in for a double-bogey 6. Scott gazed into the distance, wondering what had befallen him. The reporter stared into the distance, wondering if these dastardly powers could one day be used for good.

At this point you'd think there would be mercy, but these eyes unfortunately caught his tee ball at the par-3 14th, a ball that landed in the sand. No visual on what happened next; didn't need one, as groans from the crowd filled us in. Bogey–four over his last five holes.
Why does this curse exist? Perhaps it's punishment for hubris, or for focusing on one instead of the 100-plus others in the field. Maybe the golf gods just have an appetite for chaos.

Let the record state that in the walk from the 14th to the media center Scott birdied the 15th. Let the record also state when looking up at a TV monitor to see Scott's approach at the 16th—and seeing said approach find the water again—a reporter's editor messaged, in all sincerity: "What did you do to him?" The final damage: a five-over 41 on the back for a four-over 76, dropping some 25 spots down the board and nine shots behind the lead.

Should Scott happen upon this story, the reporter would like to point out Scott is a Masters champion, has made almost $60 million in his tour career and off the course, he looks like what we imagine angels look like if angels played golf in mahogany sweaters. Life remains good. Plus, next week is the Players Championship, where Scott is a former winner. Given his form, he should be a formidable contender at TPC Sawgrass. Assuming, you know, we don't jinx the damn thing.