News
What happens when the leader loses all control on Sunday? Adam Long explains after Corales collapse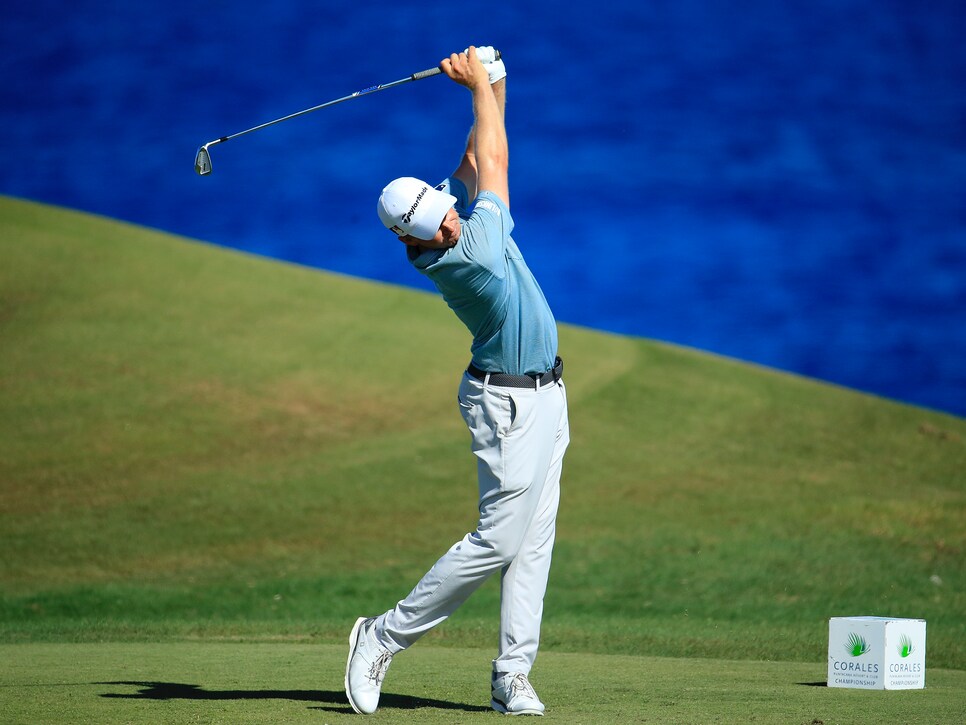 Adam Long plays his shot from the ninth tee during the final round of the Corales Puntacana Resort & Club Championship.
Andy Lyons
The words in the tweet were simple but insightful, and the emotion behind them raw. "Golf is hard," Adam Long pecked out on Sunday night, a few hours after the conclusion of the final round of the Corales Puntacana Resort & Club Championship. "And it's really difficult to win on the @PGATOUR."
Especially when you suddenly just don't have it.
Earlier that afternoon, the 33-year-old, one-time PGA Tour winner began the final round in the Dominican Republic with a two-stroke lead over Hudson Swafford after a sizzling 64 the day before (and a 65 before that). He ended it having blown a chance at adding to that singular victory, stumbling to a mistake-laden, three-over 75, wondering how it went so wrong so fast. Only six players scored worse on the day.
Twenty-four hours and one hotel in Mississippi for this week's PGA Tour stop later, he'd started to process it. Kind of.
"I never expected it to be a struggle," Long said. "I thought I would play the same golf that I had been playing. Some things didn't go my way, and I hit a few shots that ended up in tough spots, and I missed a few putts where I have no idea what happened. I gave up the lead quick. Everything happened fast."
That included his desire to move on. Probably for the best. Another week begets another opportunity. Dwelling is usually not the best way forward.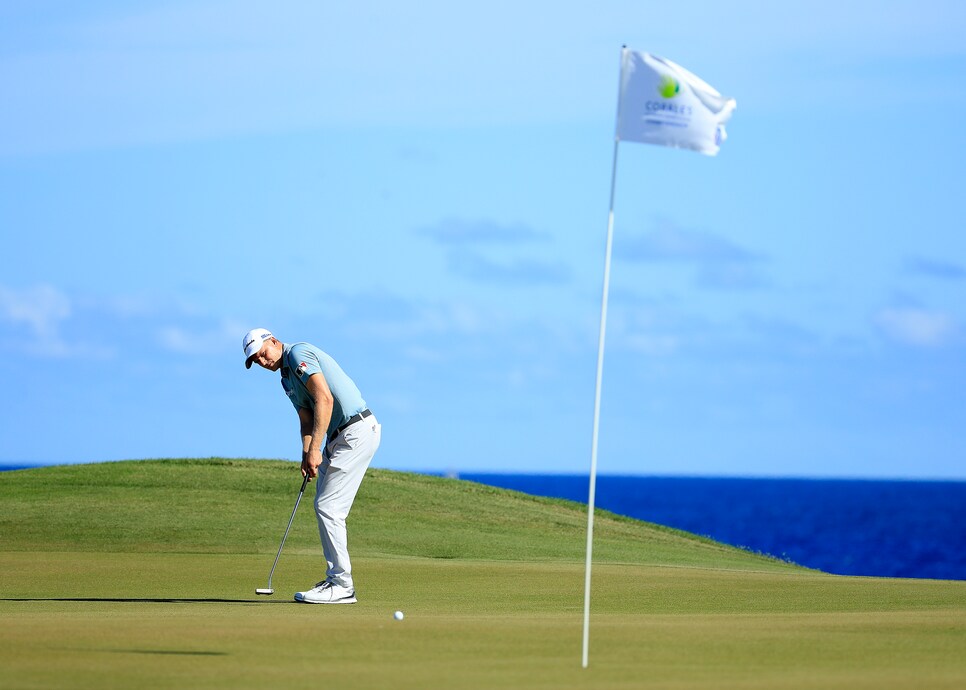 Adam Long putts on the ninth green during the final round of the Corales Puntacana Resort & Club Championship.
Andy Lyons
But for the sake of indulging the rest of us, what exactly is it like to have a tournament slipping through one's fingers and being seemingly powerless to stop it with one error compounding another?
Mind you, Long was never thinking that way on Sunday, even as he missed a short birdie putt on the second hole on a day when he knew he couldn't afford to miss a short birdie putt. No problem, he thought, as he bounced back with a birdie at the fourth.
"I knew I was in it," said Long, whose lone PGA Tour victory came when he birdied the final hole to capture the 2019 Desert Classic. "At the same time, I knew the back nine was tough, the wind was picking up. But I was fine."
Not for, well, long. With a wedge in his hand on the sixth, he made a messy bogey. On the par-5 seventh, another, after a bad chip left him in another bad spot.
"It crashed right about there," Long said. "I was walking from seven to eight … and all of sudden I was on 18. It felt like no time had gone by. That was the low point of the round."
It was among the many high points for Swafford, who sped through the front with three birdies and an eagle in his first eight holes to leave Long in his dust and go on to win. It was his first victory in three years and second of his career, instead of Long's.
In all of that was a lesson, one that Long and every player on tour is familiar with: The most common experience in golf is to manage one's misses and turn a bad score into a good one, or even a decent number, when things aren't going so great, and to seize on the opportunity when they are.
"Every one of us can shoot really low when everything is clicking," Long said. "Those days are really rare. Sometimes you have one or two in a week, sometimes you have one or two in 10 weeks. How good is your bad? How good are your misses? You have to control your ball-striking and miss in the right spots and aim at conservative targets when you don't have best stuff. You have to rely on your short game a lot. In order to compete out here, you have to chip, putt, save par from the bunker. Without all that you'll never survive."
It was like Long was playing shrink right there on the phone, talking to himself on the other end and cathartically working his way through what had happened.
He also knew about close calls. Earlier this year, Long missed out on qualifying for the lucrative Tour Championship by less than three points, with Billy Horschel snagging the 30th and final spot in the season finale.
"It was tough for me," Long conceded.
Understandably. Reaching East Lake is a gateway to riches. In addition to the opportunity to win $15 million (or other six- to seven-figure sums from the FedEx bonus pool money), players automatically earn a spot in three majors (Masters, U.S. Open, Open Championship), a variety of invitation-only events and other perks.
And coming down the stretch of the season, Long was in the top 30 in points for much of it. Until he wasn't.
The good news? There wasn't time to sulk after not reaching East Lake. Long's first U.S. Open—at Winged Foot, no less—loomed two weeks later. He tied for 13th in what was just his fifth career major and easily his best result.
"It was one of those days golf was really hard," Long said. "And I don't think I'll even try to explain it."
He didn't know it, but he already did.