The Loop
Aaron Donald had an absolutely excellent (and NSFW) response to sacking Alex Smith on Sunday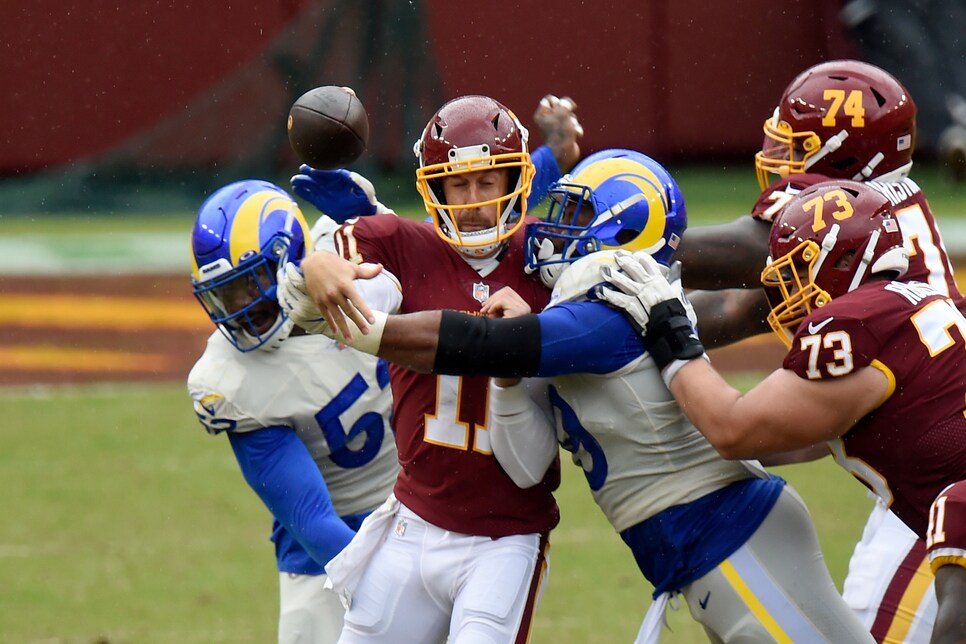 Sunday was a weird break even for legs in the NFL. One step forward, one step backward, you might say. In the four o'clock block, Dak Prescott went down with a gruesome ankle injury—a compound fracture and dislocation requiring day-of surgery—that shook the NFL to its core in much the way Alex Smith's horrific leg injury did back in 2018. But in a funny twist of fate, Smith had just completed his long, circuitous comeback hours earlier, replacing Washington Football Team backup Kyle Allen (replacing exiled Washington Football Team starter Dwayne Haskins Jr.) late in the first half of the team's matchup with the Los Angeles Rams. The universe giveth, and the universe taketh away, if you believe in such things.
But it wasn't all hopes and dreams and storybook endings for Smith, who, shielded by the same offensive line that just let Allen get blasted to mars and facing one of the best pass rushers in NFL history in Aaron Donald, immediately started taking shot after increasingly alarming shot. In the end, Smith was sacked six times, including this piggyback takedown from 99 that had the football world holding its collective breath.
But everytime Smith got knocked down, he got back up (sort of his "thing" these days, it would seem), prompting Donald to respond in just about the best way we could have possibly hoped for given the circumstances. Earmuffs on for all the lip-reading kiddos out there.
Indeed it is, Aaron. Indeed it is. They say what doesn't kill you makes you stronger, and the fact that Smith's injury and subsequent infection nearly did and now he's out there taking Aaron Donald for a ride less than two years later, is testament to the truth in that cliche. The heroics weren't enough to give the Football Team the win, but at the moment 1-4 is still good enough for 2nd place in the NFC Least, so anything is possible. Just ask Smith.