Boo This Man
Insufferable no-name media guy not voting Aaron Rodgers MVP because that's what insufferable no-name media guys do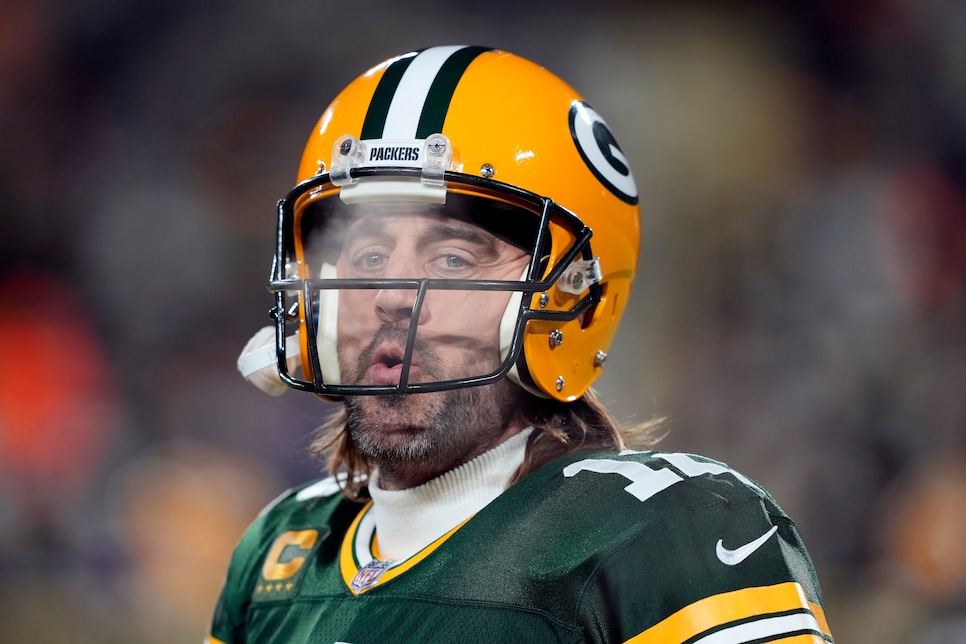 Prior to today, had you ever heard the name Hub Arkush before? Well, you're hearing it now, and that's exactly how Hub Arkush wants it.
To his credit, Arkush appears to be a strong writer and reporter, earning the titles of Executive Editor at Pro Football Weekly and NFL insider for 670 The Score, a Chicago-based radio station. Arkush also covers the Bears for the Daily Herald, which means he likely has some disdain for the Green Bay Packers and one Aaron Rodgers, who literally owns the Bears as he told them to their face earlier in the season.
That theory was emphatically confirmed on Tuesday, when Arkush, who is one of the 50 members of the media with a vote for the NFL MVP award, joined 670 The Score and said that Rodgers would not be getting his vote despite the legendary quarterback currently sitting as a -400 favorite to claim the award. His reasoning? Rodgers is a big meanie.
"I don't think you can be the biggest jerk in the league and punish your team, and your organization and your fan base the way he did and be the Most Valuable Player," Arkush said with a straight face.
"Has he been the most valuable on the field? Yeah, you could make that argument, but I don't think he is clearly that much more valuable than Jonathan Taylor or Cooper Kupp or maybe even Tom Brady. So from where I sit, the rest of it is why he's not gonna be my choice. Do I think he's gonna win it? Probably. A lot of voters don't approach it the way I do, but others do, who I've spoken to. But one of the ways we get to keep being voters is we're not allowed to say who we are voting for until after the award has been announced. I'm probably pushing the envelope by saying who I'm not voting for. But we're not really supposed to reveal our votes."
The key quote here is - "Has he been the most valuable on the field? Yeah, you could make that argument." Laugh out loud funny. It's not an argument, it's a fact, and one could argue he's been the most valuable player on an NFL field every time he's stepped on one his entire career. But, as Arkush all but lays out here, the media votes on the NFL MVP based on if they like him or not, rather than voting for ... ya know, the most valuable effing player.
Of course, the problem is that, like Outback Steakhouse, there are no rules, just right, when it comes to voting on the NFL MVP. As Arkush went on to explain, he's allowed to vote how he wants, which is probably a massive flaw in the system given Rodgers is the MVP and he (and some others, according to Arkush) are not going to vote for him to be the MVP.
"There's no guidelines," Arkush said. "We are told to pick the guy who we think is most valuable to his team. And I don't think it says anywhere, 'strictly on the field,' although I do think he hurt his team on the field by the way he acted off the field. They're gonna get the No. 1 seed anyway, but what if the difference had come down to the Chiefs game, where he lied about being vaccinated, and they ended up getting beat?"
Ahh, yes, a great way to vote is by creating "what-if" situations in your brain. Let's be honest, Hub, you hate the Packers, you hate Aaron Rodgers. Don't pee on our leg and tell us it's raining.
"Some people will think I'm a Packer-hater," he added. "I can guarantee you I will not be the only one not voting for him."
If Hub is telling the truth here, shut the whole thing down. Also, notice how he says "they're gonna get the No. 1 seed anyway." Ummm, they already did, bud. Are you paying attention?
Without Rodgers, the Packers would be lucky to crack five wins, as opposed to their current number of 13, which earned them home field throughout the playoffs. But hey, No. 12 is a big JERK, so, no MVP vote for you. Sadly, Hub got all the attention he ordered. He's not the first insufferable no-name media guy to pull a stunt like this, and he certainly will not be the last.