The Grind
Aaron Rodgers' 'crap' handicap, Bubba Watson's clownish quote and the most clutch double bogey putt of all time
Welcome to another edition of the Grind, where we are an absolute mess of emotions after watching that third episode of "The Last of Us" as well as the entire final season of "After Life" in the same week. Letting the waterworks flow is exhausting. How do guys like Steve Stricker and Bubba Watson do it all the time? Anyway, speaking of exhausting, how about this last week in golf? I feel like there was more action packed into the past seven days than a typical episode of "Yellowstone." Just a crazy busy week, so let's get cracking.
Justin Rose: Remember him? Well, after four years he's back in the winner's circle after claiming the title at the AT&T Pebble Beach Pro-Am, and of course, it happened the week that I had a nice bet on 75-to-1 longshot Brendon Todd, who finished runner-up. Thanks a lot, Justin. But seriously, good for this former World No. 1, who unlike most of his fellow aging European stars didn't take the LIV money and instead worked hard to get back in top form against the top tour in the world.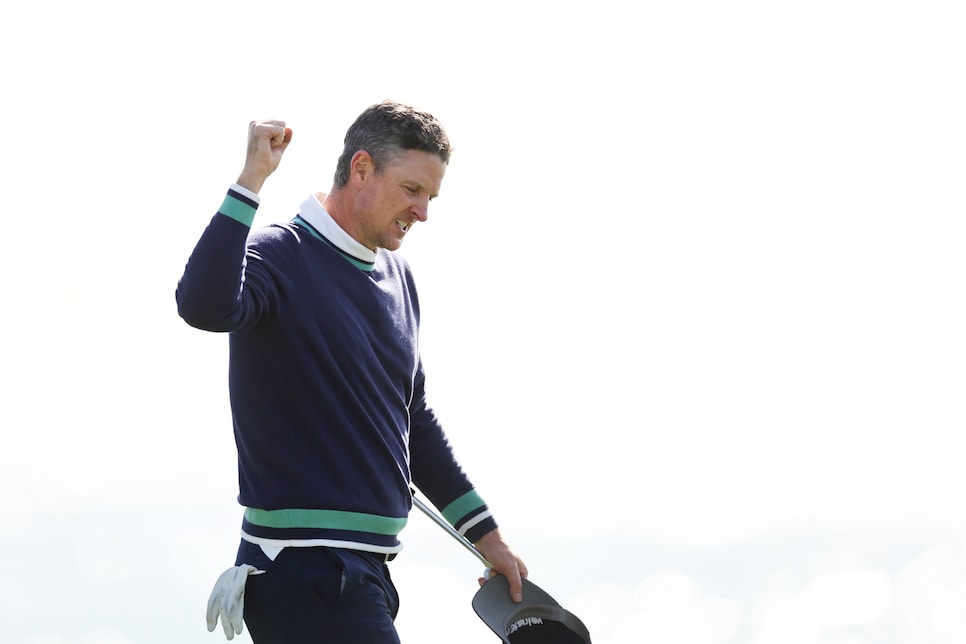 Sure, it wasn't the strongest field, but it was still an impressive performance as he ran away from everyone—including the Toddfather—during a Monday finish. Crazy enough, Rose also became the first European player to win at Pebble! Well, other than Graeme McDowell, who won the 2010 U.S. Open there. And who is now playing on the LIV Tour. Again, good for you, Justin.
Abraham Ancer: One of the younger guys to go to LIV, the native of Mexico was moonlighting on the Asian Tour this past week where he beat a stout field, including reigning PGA Tour Rookie of the Year Cameron Young, at the Saudi International.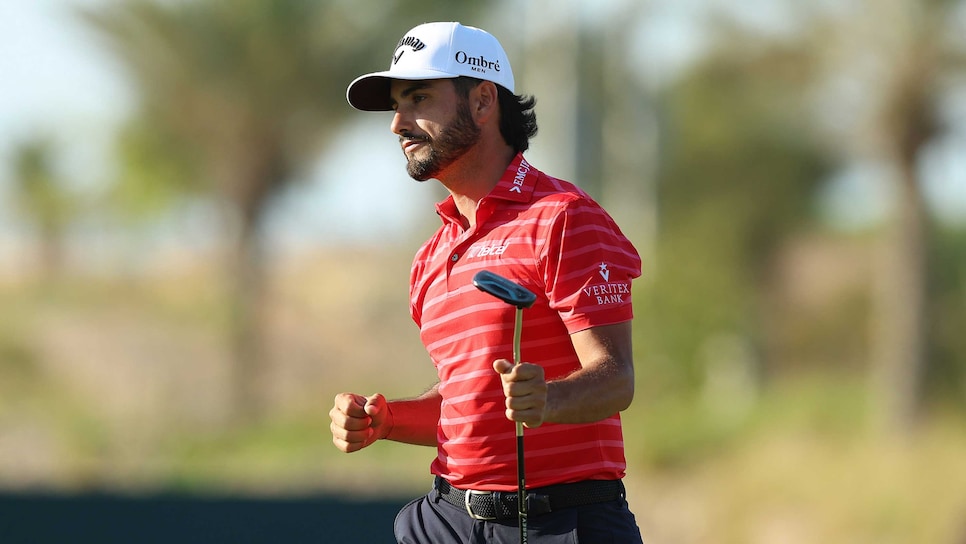 Ancer, 31, now has four pro wins on four different tours. And that doesn't even count LIV because he hasn't won on that tour yet. "Although I don't have a ton of wins, I find it really cool that I've been able to win in different tours," Ancer said. "I really, really enjoy that." Gary Player must be proud.
Daniel Gavins: The Brit earned his second career DP World Tour win thanks to what has to be the most dramatic—and clutch—double-bogey putt ever holed. Of course, he would rather have not had it come to this, but after rinsing two shots in the water on 18, Gavins drained a 28-footer for double and the win:
Golf! What a sport! And what a great tweet by Gavins the following day:
We're guessing he would have gotten a lot less sleep had he not won the tournament.
Aaron Rodgers' handicap: Look, we hate playing the handicap police, but this was truly bizarre. You've got the Green Bay Packers (for now) QB who we've seen win twice in different iterations of THE MATCH and who holds a 3.0 handicap index in Wisconsin (go look it up). And yet, there he was playing Pebble Beach as a 10? WTF?
Of course, no one would care, but Rodgers wound up winning the AM portion of the Pro-Am, and with little help from tour pro partner Ben Silverman, who shot one over and missed the cut. Yet somehow the duo managed a 26(!) under total to win. And Keith Mitchell, who teamed up with another NFL star in Josh Allen to finish fourth, did NOT seem pleased about it:
By the way, Allen was bumped up to a 9 from an 8, which is typical for this event. But a 3 to a 10? Imagine if Rodgers' teams got a free touchdown every playoff game throughout his career? He might actually have more than one Super Bowl title. Not surprisingly, Allen also made his opinion on the matter pretty clear: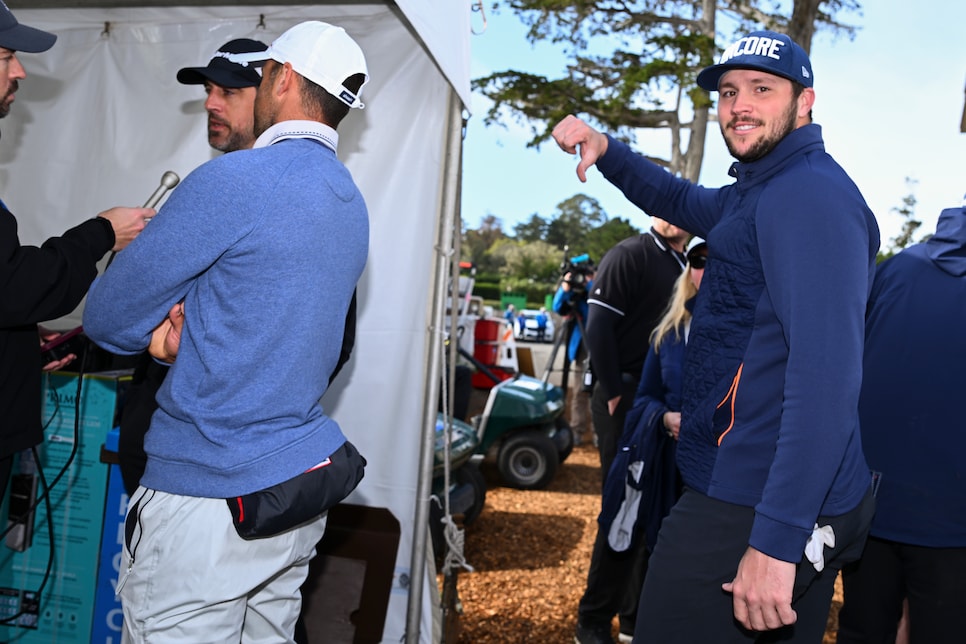 Look, you're always going to take some crap when you win a golf tournament that's using a handicap, but that was a pretty hard "CRAP" from Mitchell. And this was way, way worse than the Larry Fitzgerald situation a few years back. Rodgers recently said that under the right circumstances he could still win MVP, and he was certainly the MVP this week. Or, rather MVS for most valuable sandbagger. If he does wind up changing teams this off-season, his new teammates should be aware they don't have to give him that many shots.
The Swilcan Bridge fiasco: What a wild sequence of events at the Old Course, beginning with the addition of a stone "patio" around one of the most famous—and historic—landmarks in golf:
The backlash was so severe, though, that the St. Andrews Links Trust tore down the new feature—which was added to combat the problem of too much foot traffic near the bridge—a couple days later.
So golf fans can breathe again. The reaction was probably a bit much, but it's hard not to be proud of Golf Twitter for banding together to create change. Or, rather, keep things the same. And we also got some gems like this from Tim Herron:
Good work, everyone. Now let's keep hammering the networks about too many commercials during golf coverage.
Phil's bold claim: Phil Mickelson is back on Twitter stirring stuff up, but he went a bit far with this one:
Phil can't actually believe that … right, Phil? But in case he does, we put together a potential lineup of singles matches between the two tours, and, well, it would be blowout city:
I'm also selling people like Greg Norman chiming in and insinuating the PGA Tour is too scared to actually do something like this. As if this wouldn't be some sort of cheap publicity stunt for LIV. How would the PGA Tour benefit by legitimizing LIV more with such a huge platform? It's a no-win situation for Jay Monahan and Co. In fact, it's ridiculous that we're even talking about th—OK, I see what you did there, Phil. Well played.
The PGA Tour heads to Scottsdale for the Waste Management Phoenix Open, AKA "The Loudest Show On Turf," AKA that one that produces the most viral videos of public drunkenness. There will be very little drinking on the players part, however, with this being the tour's second designated—or, as we prefer, ELEVATED—event. The Super Bowl may be on Sunday, but this figures to be a super tournament starting Thursday with 23 of the top 24 in the Official World Golf Ranking that are eligible playing for a $20 million purse. Yeah, yeah, the OWGR is a bit off right now with all the LIV stuff, but that's still really strong.
Random tournament fact: Here's an odd one: The five winners on the PGA Tour in 2023 all have last names with four letters or less.
Wild stuff. Now excuse me while I re-check the field and start counting letters.
RANDOM PROP BETS OF THE WEEK
—This week's winner will have four letters in his last name: 5-to-1 odds
—This week's winner will make a double bogey on the final hole: 100-to-1 odds
—This week's tournament will somehow cut into the Super Bowl: LOCK
How about Michael Lorenzo-Vera not holding back on the latest Patrick Reed rules incident!
CLUB PRO GUY TWEET(S) OF THE WEEK
Amazing how this old video interview of Rodgers looks now:
And CPG added his own twist on Bridgegate: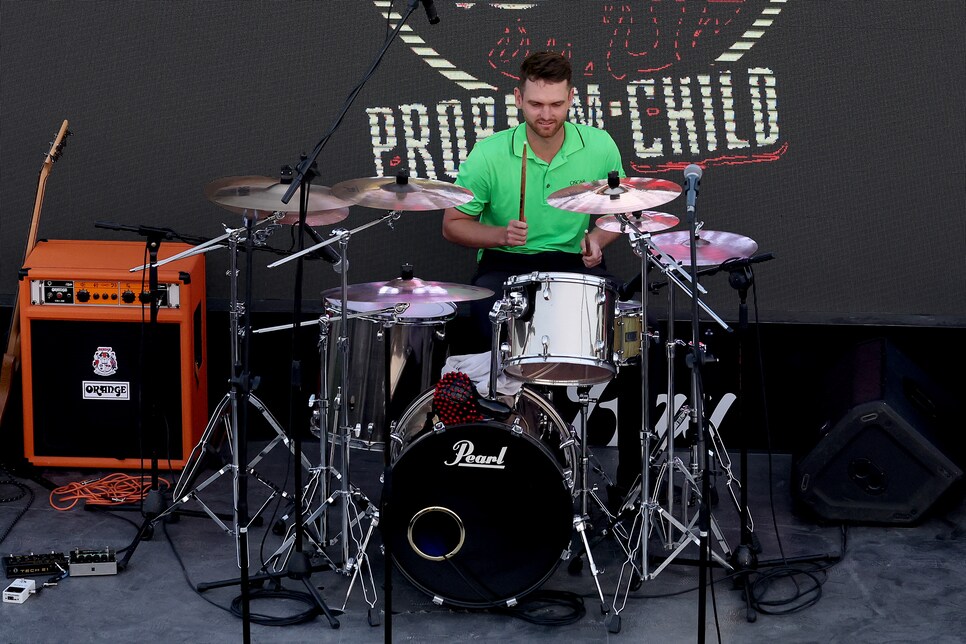 We have no clue why Daniel Gavins is behind a drum set after winning, but that seems like a good way to relieve some stress after that wild finish. Hmm. Maybe there should be a drum set at every tour event.
VIRAL VIDEO OF THE WEEK (CELEBRITY GOLFERS DIVISION)
How about this saucy chip shot off a cart path from Gareth Bale?
VIRAL VIDEO OF THE WEEK (PRO GOLFERS DIVISION)
Xander Schauffele nearly made a hole-in-one. While blindfolded.
These guys are (so) good.
VIRAL VIDEO OF THE WEEK (MUSIC DIVISION)
Has there ever been such a beautiful tune about such a sad topic?
Man, I love me some Ben Rector. Is it too late to submit that to the Grammys?
VIRAL VIDEO OF THE WEEK (MBN DIVISION)
Talk about a dude winning at life.
That snack collection looks incredible.
THIS WEEK IN PUBLIC DISPLAYS OF AFFECTION
For the game of golf, that is. A plane had to make an emergency landing on the ninth hole of Del Tura Country Club in Fort Myers, Fla. And after realizing no one was hurt, the golfers playing the hole banded together to push it off the green so they could keep playing:
"Everybody knows the Aces." —Bubba Watson with the most clownish quote yet of the LIV Era. This was part of a much longer quote in which Watson was talking about how his son knew the 4 Aces and he kind of compared the inaugural LIV champs to the New York Yankees and Dallas Cowboys (LOL). In fact, it was so clownish that it led to our buddy Sam Harrop creating his latest masterpiece:
Again, you can't beat Golf Twitter.
Spey Bay Golf Club, a beautiful-looking coastline course in Northeast Scotland, has been put on the market.
Maybe Golf Twitter should buy it together. . . . Bubba Watson is changing his LIV team name from the Niblicks to the Range Goats. With any luck, Bubba, everybody will also know the Goats soon enough. … Congrats to Brett White, who Monday qualified for this week's Waste Management Phoenix Open just five years after suffering an infection that initially paralyzed him and left him unable to talk. What an amazing achievement, and you can read his amazing story chronicled by our Joel Beall. … Speaking of Joel, shout-out to him for making an albatross at Pacific Grove during a "work" trip. And not just any albatross (not that there's any such thing), but a hole-in-one on a par 4! And not only that, but he had this accomplishment reported by the AP's Doug Ferguson:
What a feather in Joel's cap. … And, finally, shout-out to Peloton for sending me this shirt commemorating my 100th ride: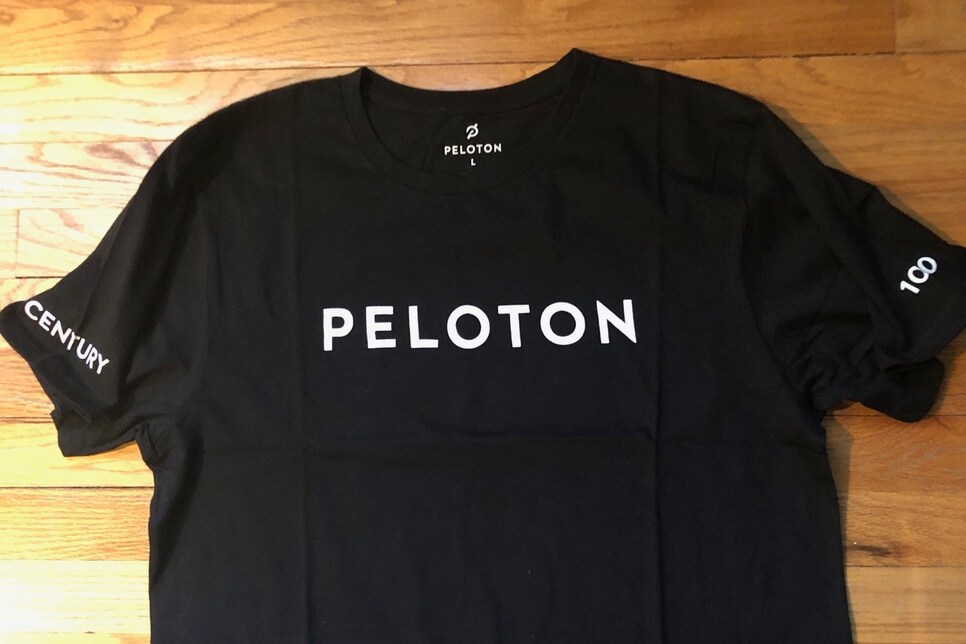 Don't act like you're not impressed. You're just obviously not as impressed as you are with Joel's albatross.
RANDOM QUESTIONS TO PONDER
Is Golf Twitter the most powerful Twitter community?
Is Ricky Gervais the TV GOAT?
Does Joel want an ALBATROSS shirt for his birthday?