PACIFIC PALISADES, Calif. — Like many golf pros, England's Aaron Rai grew up a fan of Tiger Woods. It started by watching him play on old VHS video tapes. Then he got to see him in person, at an Open Championship 10 years ago.
Once Rai won the first of his two DP World Tour titles, he then got to compete in the same event as Woods at the World Golf Championships event in Mexico in 2019. But this week's Genesis Invitational was the first chance the 27-year-old had to formally meet Woods, albeit in unusual circumstances. Rai didn't have a spot in the pro-am, so he decided to brave the morning chill and watch Tiger make his return to Riviera, eventually getting the courage to say hello to him on the par-5 11th.
"When I saw that it was really windy, and I knew I was limited what I could do in practice, I decided to [try and meet Woods] and then do a little more practice myself in the afternoon," Rai said when spotted outside the gallery ropes.
It's not often a PGA Tour player watches a colleague in a pro-am, but for 15-time major winner Woods, who is playing first official tournament since the Open Championship in July, there is an exception. Even another English star, Tommy Fleetwood, and his caddie Ian Finnis, walked over towards the large entourage following Woods to see how Woods was swinging the golf club.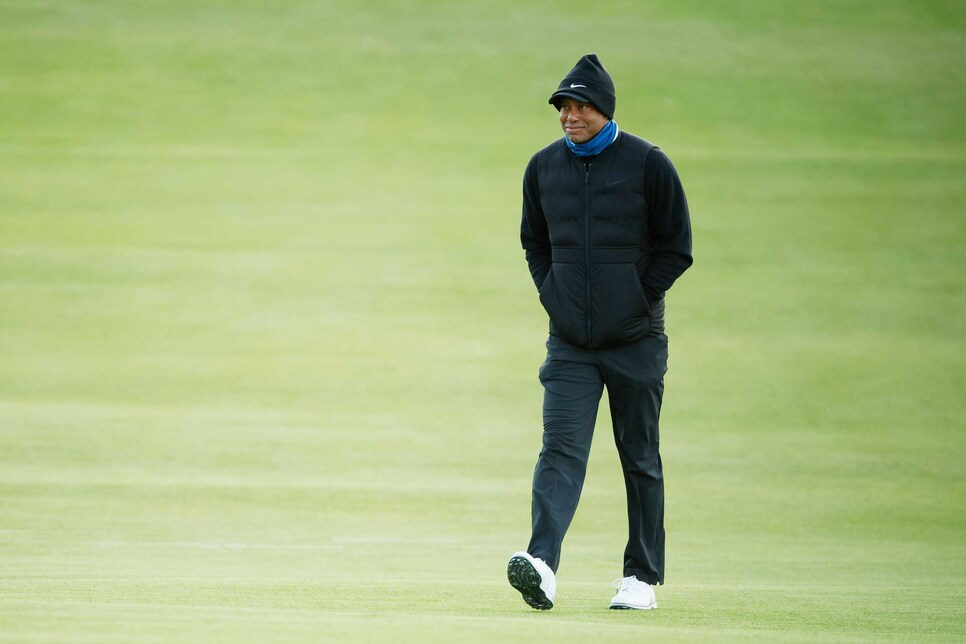 Brisk, windy conditions greeted Tiger Woods during Wednesday's Pro-Am at the Genesis Invitational.
Cliff Hawkins
After Woods ripped a low fade through the wind with a driver down the middle of the fairway on No.11, Rai approached Rob McNamara, Woods' close friend and VP of Woods' TGR foundation, and introduced himself. McNamara then introduced Rai to Woods and the pair shot spoke while Woods' amateur partners teed off on the forward tees.
"It was very conversational," Rai said. "He asked me what time I'm playing tomorrow. We spoke about Rory [McIlroy] and JT [Justin Thomas] and how they play a little bit together back home [in Jupiter, Fla.]. He told me a little bit about himself and his garden at home with his short game area. Then he wished me all the best for the rest of the week. He made me feel very welcome."
The lengthy pleasantries were no surprise; in addition to competing this week, Woods is also the tournament host.
Buzzing at the interaction, Rai decided to walk with Woods for the entire back nine. Growing up in Wolverhampton, England and taking up golf aged 4, Rai spent countless hours watching video of Woods' victories with his father, Amrik.
"Oh, mate, we watched videos of Tiger's wins at the U.S. Amateur [in 1993, '94 and '95] and his major championship wins, probably every three or four days. I loved watching those major wins around that 2000 period," Rai said. "He's been my idol since a very young age. He's probably the biggest reason I play golf and I'm sure that's the case for a lot of a lot of guys of my generation.
It was the 2013 Open at Muirfield that Rai finally got to see Tiger in person. "My dad and I drove up in the early hours and got there at half 6 to watch a practice round. There was no one there, but by his final few holes there was a massive gallery."
Rai was too nervous to approach Woods when they both played the 2019 WGC-Mexico Championship in Mexico City. That was just two months before Woods' fifth Masters victory at Augusta National.
But this week is different. Rai now also plays on the PGA Tour, having transitioned from the DP World Tour through the PGA Tour's Korn Ferry Tour finals. He has three top-10 results to his name, including at the Houston Open last fall.
Woods is also different nowadays, having not played on the PGA Tour in seven months since missing the cut at the Open at St. Andrews due to ongoing issues with his right leg and ankle that stem from his 2021 single-car accident.
But on a cold, windy morning, Rai said Woods looked like the Woods of old.
Tiger Woods plays his shot from the first tee during the pro-am prior to the Genesis Invitational.
Cliff Hawkins
"He's moving great; even when we were walking down No. 11, there were a couple downhill walks and pretty severe uphill slopes with some rough terrain and whilst he was talking to others, he was just breezing up those slopes," Rai said. "He played some really impressive shots into the wind"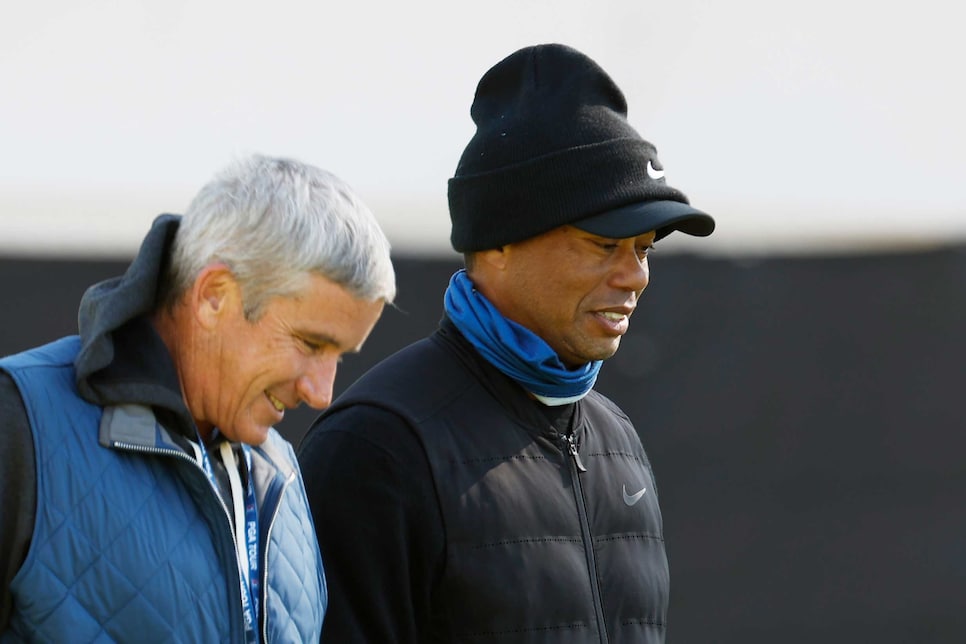 Fans following Tiger Woods on Wednesday included PGA Tour commissioner Jay Monahan.
Cliff Hawkins
Woods , now 47, did appear to drive the ball well, while his irons appeared to show some signs of rust. His chipping and pitching seemed to be sharp, perhaps courtesy of Woods' backyard short-game facility he's built.
Woods' limp, which was pronounced last year when he impressively made the cut at the Masters and the PGA Championship, appeared less severe on Woods' front nine. But on the back nine, his injured ankle looked to be bothering him more and after picking up his ball on the 16th, he didn't play the last two holes.
Rai had seen enough to be impressed. Now, he just has to focus on his own tournament. Rai is off at 8:30 a.m. local with Japanese ace and former amateur World No.1 Keita Nakajima. It's his second start in the event having tied 61st at Riviera last year.
Woods will tee off in the first round at the $20 million event alongside Rory McIlroy and Justin Thomas at 12:04 p.m. local [3:04 p.m. ET].