PLAYERS CHAMPIONSHIP
Players 2023: Aaron Rai scores second hole-in-one of the week at the 17th and celebrates appropriately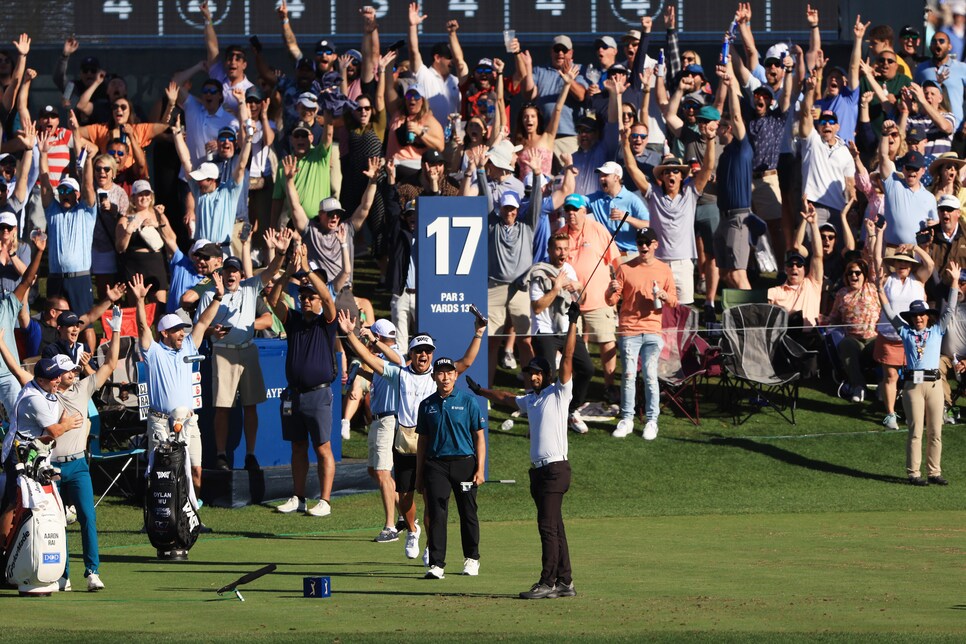 Aaron Rai celebrates his hole-in-one on the 17th tee during the third round of the Players Championship.
Sam Greenwood
PONTE VEDRA BEACH — For the second time this week we have an ace at island green at TPC Sawgrass.
Aaron Rai was already enjoying a solid round on Saturday at the Players Championship, four under on his day through 16 holes. Rai is now in the tournament mix thanks to his theatrics on the 17th hole. We suggest turning the volume up on your computer or smart device.
That is the look of pure joy, my friends.
It is the first time in Players Championship history that there have been two holes-in-one on the 17th in the same week. On Thursday Hayden Buckley made 1, only topping it with an all-time celebration.
Rai then made birdie on the last hole, after he hit his approach shot to four feet. He and Buckley are the only two players in the history of the Players to finish 1-3 on Nos. 17 and 18. Rai also birdied No. 16 to play the last three holes in four under, a first in the history of this championship.
"Hit it great, looked great in the air and very pleased to see it go in. That was an incredible moment," Rai said. "And very pleased of the way that I played 18 as well on the back end of that. It can be quite tricky to compose myself after a situation like that, so to hit a great tee shot, to hit a great second shot and to make birdie was a very pleasing way to finish."
Rai, 28, is in his second full year on the PGA Tour. He made headlines last month when he decided to follow Tiger Woods during the Wednesday pro-am at the Genesis Invitational because he was excited to be able to watch him up close and in person.