The Loop
Aaron Judge is here to save us from our sports coma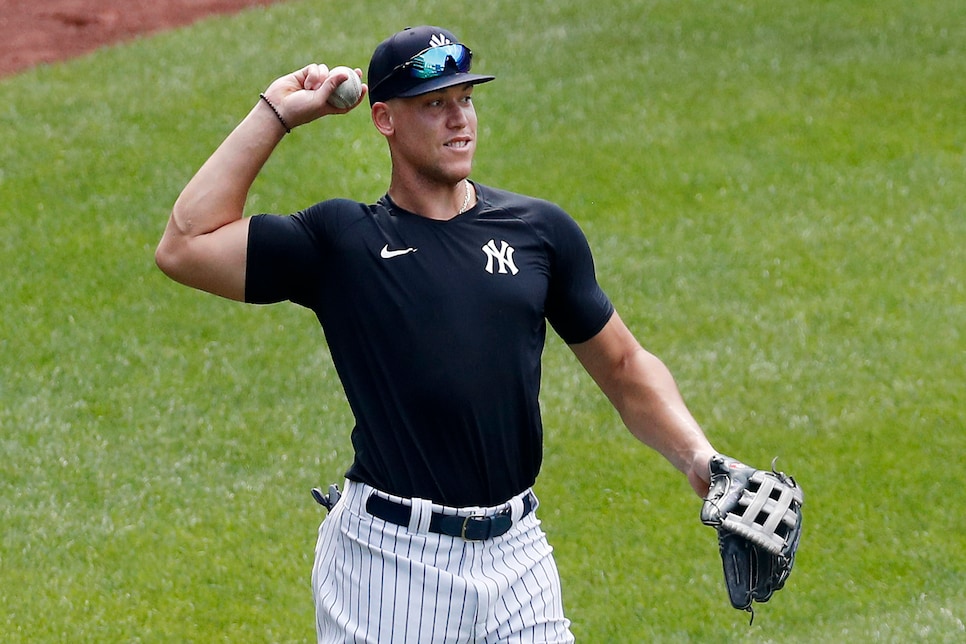 I love Aaron Judge, and—prepare to grab your pitchforks—I believe he is our country's answer to the sad, sleepy state of sports. I believe he's the next baseball superstar, and if you haven't noticed, baseball superstars who actually transcend their sport are a dying breed. No bones about it; I'm a proselytizer. I'm here today to encourage you to join the cult.
I will admit that, as a Yankees fan, I may have some *slight* bias, and that my attachments to players are basically emotional and a little bit arbitrary. I loved Derek Jeter, but for a very long time, I couldn't stand A-Rod. Why? Well, I read strength in Jeter, and despite A-Rod's extraordinary skill, I saw weakness or fear in pressure situations. If you're thinking, "that sounds like armchair psychology," you're absolutely right, and it's part of what's great about being a fan.
That same Jeter/A-Rod dynamic is playing out with the rising generation of Yankees stars. I love Gleyber Torres. I'm down on Giancarlo Stanton, who seems to fail in big moments; in my mind, he's our new A-Rod.
And, to repeat myself, I love Aaron Judge.
What is it about the big fella that appeals so? You can't distill it down to any single element. On one hand, he has that preternatural calmness that Jeter had. He seems easygoing, steady, and good-humored without being a complete Nick Swisher-style goofball. When you consider the fact that until this year he was vastly, criminally underpaid due to MLB's ridiculous salary structure, that equanimity is even more remarkable. (He's getting $8.5 million this year after arbitration, which will now be prorated due to the shortened season).
Then there's the physical side of it—this guy is a specimen at 6'7", 282 pounds, and he looks like he was cut from stone. In fact, he looks too big for baseball. He should be the kind of hitter with plenty of power, but who's easy to fool with low breaking pitches. The fact that he combines that body with such grace and skill is remarkable, and makes you think of LeBron James or Zion Williamson rather than any other baseball player. It's a size-plus-skill paradox embodied by so few athletes, even on the professional level, and it's almost unfair.
And there's so much more. The knock on him in 2017 and 2018 was that he wasn't clutch, but by Fangraph's metrics, he turned that completely around in 2019 and became one of the team's best pressure hitters. Which checks out with what we saw in last year's playoffs, most of it coming against a team that was blatantly cheating.
And what about his arm? My God, his arm...it's really something for somebody that hits this well that his defense might be the most exciting part of his game. Watch this video, which includes highlights from his teammate Aaron Hicks, and salivate:
Of course, it all pales to the home runs. There is nobody more awe-inspiring when he goes yard. MLB compiled video of his first 100 dingers, and it should be x-rated. What draws you in is the easy, easy power:
On the frivolous side, he's got a terrific fan section called the "Judge's Chambers," where fans wear black robes, and which once boasted an actual Supreme Court justice. And it comes with a terrific corny catch-phrase, used by fans and announcers: All rise!
Finally, at the risk of getting hyperbolic here, there's a sense of destiny about him. He hit a home run in his very first at-bat, and it's only gotten better from there. It feels like the next great Yankee has arrived.
In sports as a whole, there have been a few intriguing developments since the pandemic began—I'm a bit of a Bryson DeChambeau partisan—but I haven't been excited about anything as much as I'm excited just to sit back and watch him play, starting tonight with the beginning of baseball's shortened season. He's been going yard all preseason, and, as The Loop's Coleman Bentley covered, even managed to hit the weirdest homer you'll see all year.
It's hard to think of 2020 as anybody's "time," but I believe Aaron Judge is going to reach a new level this year, both as a player and as a superstar. He's built for excitement, he plays for America's most famous team, and he's going to become iconic in a way we haven't seen in baseball since players like Jeter and A-Rod. It's much harder to be a transcendent cultural figure in baseball than it is in basketball or football, but this guy's got the stuff. Get on board while you still can. All rise.