News
A year after surviving Hurricane Maria that devastated Puerto Rico, Maria Torres is tied for the lead at the Evian Championship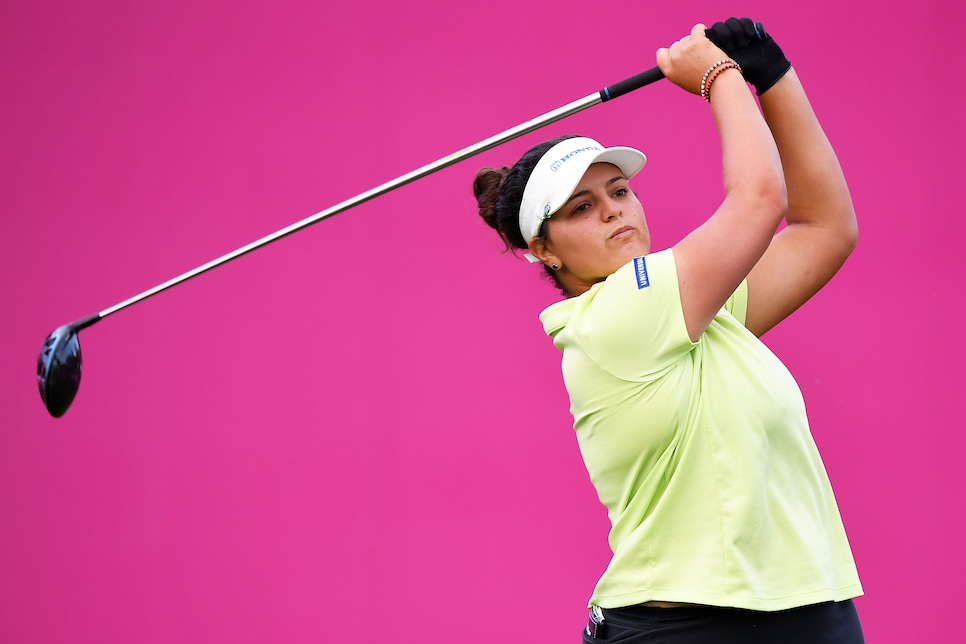 Perched atop the leader board through 36 holes of the Evian Championship, the final LPGA final major of 2018, rookie Maria Torres's view is a lot different than it was a year ago.
After advancing through the first stage of Q School in 2017, the 23-year-old returned to her home in Puerto Rico. She was there when Hurricane Maria hit the island last September. Torres told Golf Digest she spent a week with her family, enduring the hot days without electricity. With all of the golf courses ravaged by the storm, and the second stage of Q school on the horizon, Torres practiced her game by hitting balls in a children's park. She was able to get a flight out via a private plane and made it to the second stage of Q School in October. And then eventually, got her card. In doing so, she became the first woman from Puerto Rico to have an LPGA Tour card.
"We are kind of almost to normal," Torres said of Puerto Rico's current state, the one-year anniversary of the hurricane hitting land coming on Sept. 20. "We had so much stuff to repair, but I think we're moving in a good direction and hoping that hurricane season [this year] doesn't do anything to us."
Fast forward from her emotional Q-school journey, and Torres can't believe where she is, in contention in France against a field of the best female players in the world.
"It's exciting," Torres said on Thursday, after shooting an opening six-under 65. At the end of Thursday, she was tied for the lead at with Carlota Cigana. "I'm thankful. I feel like I'm grateful for all the opportunities we get—well, I get, in this moment. And I don't know, because I never thought I was going to make it to Q School, so I don't know. I'm grateful to be here."
Torres, who was the SEC player of the year while a college golfer at the University of Florida (you can occasionally hear her proudly yelling out 'Go Gators!'), maintained her lead through Friday's morning wave at Evian Resort Golf Club when she shot a two-under 69 on Friday despite starting off bogey-bogey.
Ranked No. 184 in the Rolex World Rankings, Torres has missed 11 cuts in her rookie season, but she seems to be trending in the right direction. She's had two top-10 finishes in the second half of the season, a T-7 at the Thornberry Creek LPGA Classic and more recently a T-8 at the CP Women's Canadian Open. That being said, holding the lead at a major championship is uncharted territory. After two rounds, Torres is in a four-way tie for the lead at 8-under.
"It's something new, and it's exciting," said Torres after her second round, admitting also to dealing with nerves. "After that, just go out there and just play golf. That's the only thing I can do."