The Loop
A Yank's guide to the 2017-18 Premier League season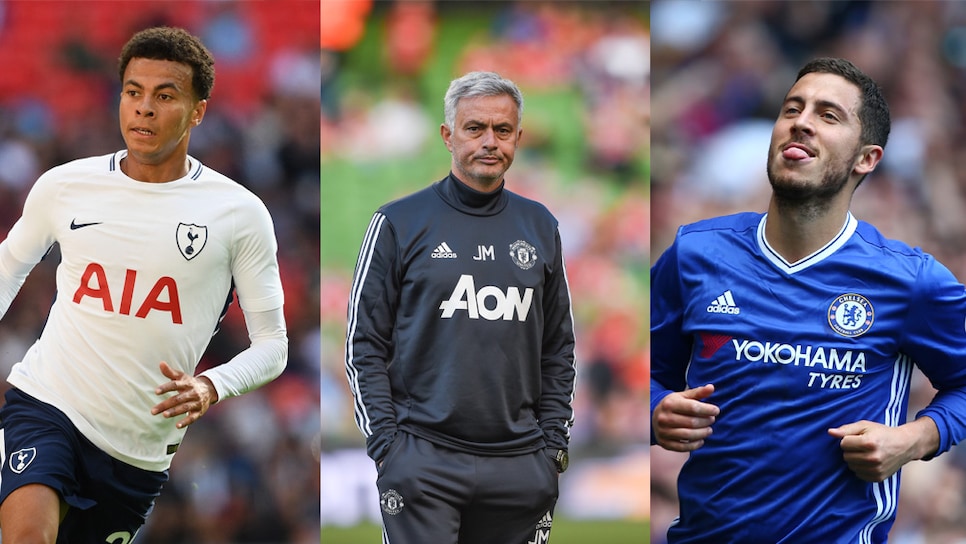 Calling all full soccer hipsters, casual footie fans, and "that ain't real football" patriots, the 2017-18 Premier League season is practically upon us and there's a metric ton of news, notes, and nuances to get caught up on. It's been three whole months without a meaningful football/soccer/British-kickball game to dig our studs into, and whether you're frothing at the mouth or just getting dragged along for the ride, we are to help you not sound like Yankee Doodle Dandy in front of your friend's British roommate who you didn't know was coming. So pull up a chair, pour yourself a pint, and pay attention—we've got a lot to get cover and would like to get some sleep before kick off.
So how did last season end up again? At the top of the table, Chelsea won the title, Tottenham was the only team that bothered to make it interesting, and Arsenal missed out on top four—and thus Champions League—for the first time since 1996. At the other end, Sunderland, Middlesbrough, and Hull City were all relegated, which, for those of you unfamiliar with a British sense of justice, means they got demoted to a lower division—the SkyBet Championship—who in turn promoted their top three finishers—Newcastle, Huddersfield Town, and Brighton & Hove Albion—to the Premier League.
In between, there are a lot of teams that are perfectly happy to be in between from now until Queen Elizabeth Quintillion abdicates the throne.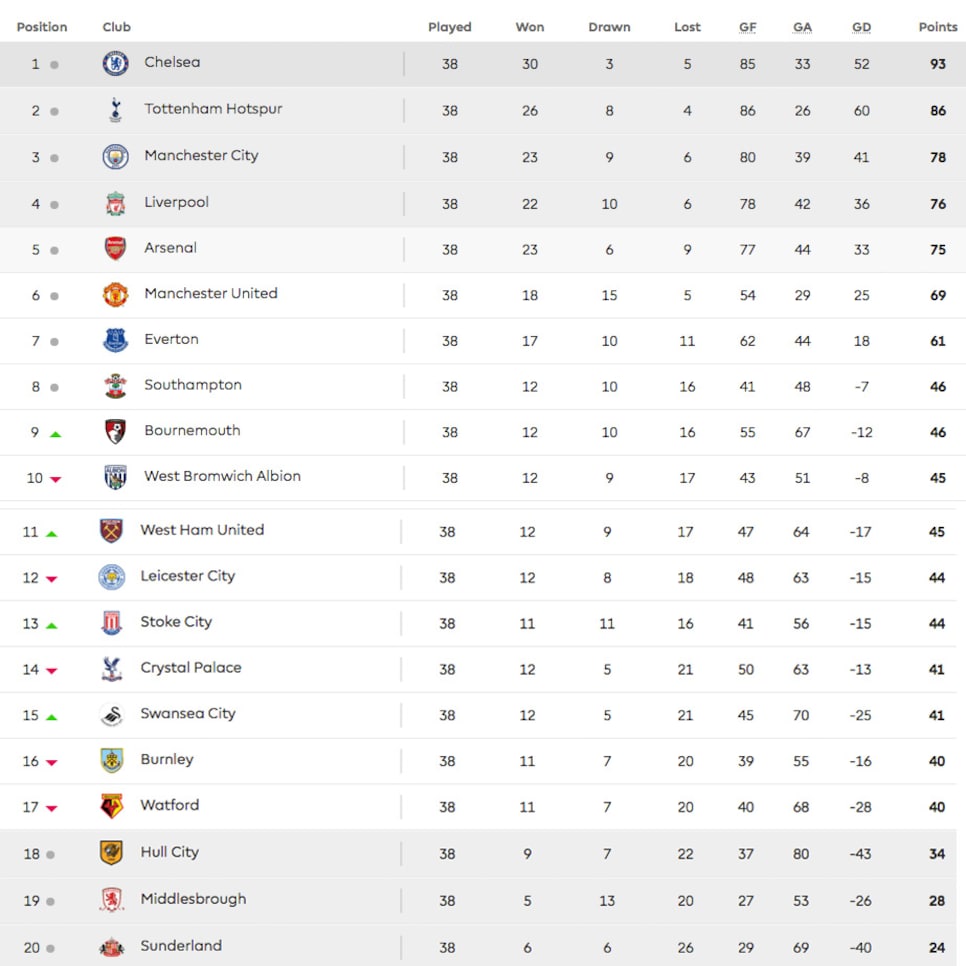 It's all coming back to me. Is there anything new this year? You mean besides those three new teams, five new managers, and 30 new jerseys? How does a seemingly non-stop parade of Bugatti-expensive players from Europe and beyond sound?
You see, in the Premier League there is no off-season—only the actual season and transfer season, which is like NBA free agency if NBA free agency was bankrolled by Saudi oil barons and covered by the British press (the journalism equivalent of fan fiction). Also, much like the NBA, the Premier League recently fell ass backward into a Scrooge McDuckian pool of TV money and now nobody knows how much players cost anymore.
The solution so far has been to pick up fistfuls of said money and throw it at anything with two legs and a pair of cleats. That means mega-money deals like Romelu Lukaku to Manchester United for over $100 million, Spanish striker Alvaro Morata to Chelsea for $77 million, and French forward Alexander Lacazette to Arsenal for a club-record fee. Elsewhere, Manchester City have spent $280 million dollars on six players while eternal mid-table also-rans Everton have dropped over $115 million on five, with $65-million-dollar Swansea man Gylfi Sigurdsson likely on the way. The Toffees even welcomed Man U legend Wayne Rooney back into the fold, which will be a strange site for those of us not old enough to remember him do this as a 16-year-old…
The only team not willing to saddle up and join the rat race? Tottenham Hotspur—the league's best team over the course of the past two seasons—who have not only not spent a penny, but are also set to play every home game at the cursed rental that is Wembley Stadium until their new joint NFL ground opens in 2018-19. Spurs fans, as you can probably imagine, are lighting riot fires on Twitter and swigging Pepto Bismol by the pint. Then again, that's just the resting state of Spurs fans...
So who are the favorites? According to the bookies—behind only gravity and the Queen in terms authority in England—Manchester City are favorites to win the league at 7/4, with Chelsea at 7/2, Manchester United at 7/2, Tottenham at 8/1, and Liverpool and Arsenal both at 10/1. But as Leicester City proved two years ago, winning the title with 5000/1 odds, the Premier League is more volatile and unpredictable (and batshit fun) than ever.
There probably won't be a Cinderella this year—Tottenham are probably your best value proposition here—but if you're looking for storylines, watch for promoted Newcastle to make a surprising mid-table push and for that just-gushed-about Everton side to underwhelm while trying to organize their carnival of new signings into a cohesive team.
Perhaps the most interesting team to watch this year, however, are Jose Mourinho's Manchester United, which is a strange thing to say, because watching Mourinho teams is typically like watching a licensed commercial truck driver try to parallel park a bus. Winning titles in his second season at Porto, Inter Milan, Real Madrid, and Chelsea (on two separate managerial stints), sophomore slumps don't seem to apply to the man they call "The Special One" and now, entering his second year at Old Trafford, the Premier League's defining question has become a simple one: Can he do it again? That remains to be seen, but either way, the press conferences are sure to be a blast.
OK cool, I just remortgaged my house and put my kids' college funds on Man U. Now what can I watch this weekend? For the second year in a row, the Premier League season kicks off on Friday afternoon, with Arsenal hosting Leicester City at the Emirates in London. Both teams have defensive question marks and shiny new strikers—the aforementioned Lacazette for Arsenal and former Man City super-sub Kelechi Iheanacho for Leicester—so this one is definitely a mandatory stream-at-work proposition.
On Saturday, the full slate kicks off with Liverpool vs. Watford in the early slot, champions Chelsea hosting Burnley mid-morning, and Man City welcoming Brighton to the top flight for the first time with a classic welcome-to-the-top-flight beatdown. Will Liverpool still have their star Brazilian—and apparent Barcelona target—Phillipe Coutinho? How will Chelsea look without bruising striker Diego Costa? Is Man City's 20-year-old forward Gabriel Jesus really the next big thing? How much you're drinking by 2:30pm EST probably has a lot to do with the answers to these questions.
On Sunday, meanwhile, Tottenham head north to Newcastle to avenge their last trip to Tyneside—a 5-1 drubbing to an already-relegated Geordie (what people from Newcastle are called for reasons even the Brits aren't sure about) side on the final day of the 2015-16 season. Tottenham is already banged up and Newcastle is sure to be rocking for their Premier League return, so expect a weird and wild match. After that, the final match-up of the opening weekend rolls around, with Manchester United hosting West Ham—and former Red Devils' striker Javier Hernandez—in a game that seems destined to be a narrow 1-nil victory for the home side (see: that messy parallel-parking a bus euphemism above).
I'm hooking up a coffee IV now. So how do I watch? Here's where things take a bit of a turn. For the past several years, NBC Sports has rolled out some truly fantastic coverage, featuring analysts who truly know the game and access to literally every single match via either traditional broadcast (NBCSN, USA, CNBC, and NBC proper) or one of their digital-only Extra Time spillover channels. But you know what they say: All good things must come to an end with the hands of a major broadcast network around their throat, and so goes America's utopian Premier League coverage.
While NBC will still be bringing you every game every weekend, if you want access to all of them, you now need BOTH cable and NBC's new $50 digital subscription Premier League Pass. Essentially, Premier League Pass replaces the Extra Time channels, featuring 130 live games per season, including a minimum of three games per Premier League team. Games on TV cannot be streamed via Premier League Pass and Premier League Pass games will not be shown on cable. Essentially, NBC has backed soccer fans into a corner and, being the generous blood-sucking corporate goons that they are, have given American Premier League fans the option of eating shit out of either their left hand or their right hand.
Wheeee. Isn't exploiting consumer loyalty fun?
Want to wait and see how the first game week goes before deciding whether to shell out for both? Totally valid, but do note that week 1's Premier League Pass exclusives are Crystal Palace vs. Huddersfield, Southampton vs. Swansea, and West Brom vs. Bournemouth, which means if you have Belgian beast Christian Benteke, Icelandic wizard Sigurdsson, or the ageless wonder Jermaine Defoe on your fantasy team—all good value picks, btw—then you're up the Thames without a paddle.
Speaking of which, fantasy… Yep, if you're new to the Premier League, you should play it. It's free, it's fun, and it's a great way to get yourself interested in wet dogs like Palace v. Huddersfield. Plus, it'll rapidly teach you the difference between a 3-4-3 and 4-2-3-1, if you're the kind of guy who likes to break down cover two zones and shout "Omaha" at his flag football team until they eventually move practice to Tuesdays without telling him.
OK, phew, practice is still on Thursdays. Anything else I should know before I turn in at 9pm on Friday night and have my girlfriend wonder if I have mono just so I can watch Watford begin their season long plummet toward relegation? Yeah: Some songs. Like college football, each Premier League side has a set of signature songs that you can use to torment your neighbors at 7:30am on a Saturday morning. We'll leave you with some of our favorites:
Liverpool – "You'll Never Walk Alone"
Southampton – "When the Saints Go Marching In"
West Brom – "The Lord's My Shepherd"
West Ham – "I'm Forever Blowing Bubbles"
Manchester United – "Glory, Glory Man United"