News
A Woods-Mickelson match is mere manufactured hype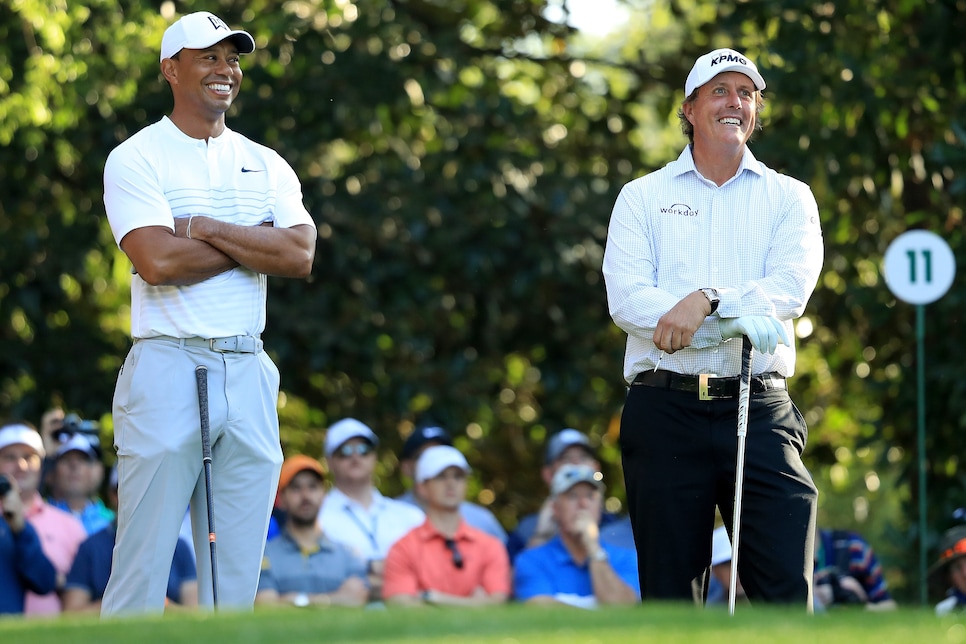 Photo By: Andrew Redington
The story broke—if you want to use that word—late last week: Tiger Woods and Phil Mickelson are negotiating to play a $10 million "winner-take-all" match. The reason "winner-take-all," is in quotation marks is because you can be sure that, if the deal comes off, both players will make money. The prize money might be winner-take-all but there will be plenty of money for both players in appearance fees and, perhaps, a percentage of the TV rights and the corporate money that would be on the table.
Here's another thing: It's meaningless, unless you think that exhibition golf is something to pant over the way one online golf writer did when he wrote this past weekend: "This will be the golf event of the year."
No, the golf event of the year will be the Ryder Cup. Right behind will be the four majors. Then the PGA Tour playoffs and all the real events on tour where there's actually something at stake.
That doesn't mean the event won't get a high TV rating—it will because sports fans love big names and because there is still a fascination with everything Woods does among most of the golf media and many golf fans.
There's nothing wrong with exhibition golf—it's been part of the landscape forever. Shell's Wonderful World of Golf—especially the old version with Jimmy Demaret and Gene Sarazen doing the announcing—was, in fact, wonderful. The old CBS Golf Classic, when the late, great Frank Chirkinian came up with the idea to mic the players, was a lot of fun to watch during the winter when there was snow on the ground outside.
Even the Skins Game was worthwhile at the beginning because of the big names who came to play. When it died though, it did so for one major reason: People realized there was really nothing at stake; corporate America was paying the players. It wasn't as if the other players were taking out their wallets to pay Fred Couples off on the 18th green.
There were also the Woods prime-time exhibitions played against guys like David Duval and Sergio Garcia when he was TIGER WOODS. Those mercifully ended after a couple of years.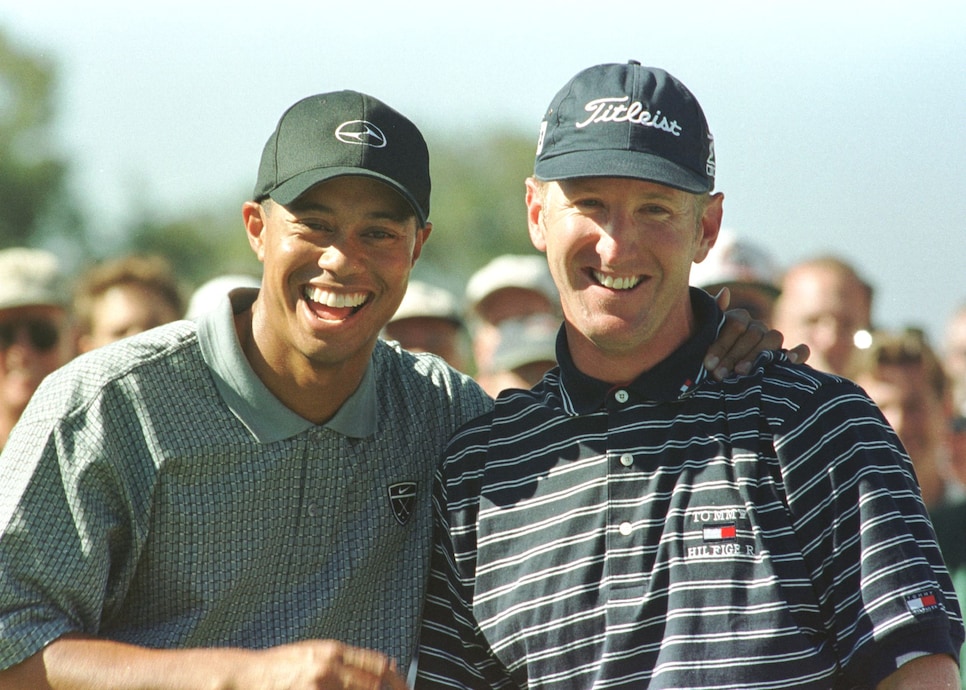 Woods and Mickelson have both said they want to play for an amount that makes the other one "uncomfortable." How is it uncomfortable if you aren't playing for YOUR OWN MONEY? Remember Lee Trevino's line about pressure? He always said real pressure was having to make a putt for $1,000 when you had about $10 in your wallet. That's pressure.
If Woods and Mickelson each put up $5 million—even though that amount wouldn't come close to breaking either one—there would be some real pressure. But they're not going to do that and both will get paid to show up.
A few things that should be pointed out: Woods and Mickelson get along much better than they did in years gone by. Both have mellowed with age and with being humbled. But their recent claims that it was the media that "created" their dislike for one another is ludicrous. They spent years sniping at one another. Only recently have they become the "trash talking" friends they claim to be now.
Both can still use some image clean-up, no doubt another reason they want this match to come off.
Woods went through his self-induced personal scandal almost nine years ago and has struggled with injuries until this year. He hasn't won a major since 2008 or a real golf tournament since 2013. He's no longer the invincible Tiger Woods.
Mickelson, who works as hard on his image as anyone, has taken hits for the way he publicly criticized Tom Watson at the conclusion of the 2014 Ryder Cup; for his whining about paying more taxes in California; and, most recently, for his remarkable meltdown at the U.S. Open that he made worse with his ludicrous post-round claim that he knew what he was doing when he ran down a wayward putt and hit the ball while it was still in motion. Only later did he apologize and admit that he'd just had a meltdown.
So, what could be better for the reputations of two tarnished legends than to hear them yucking it up and being good pals and mugging for the cameras while giving the media and fans 18 holes of "high-stakes" golf?
Of course there will be big announcements that each is going to contribute a chunk of money to charity—probably in each case to his own foundation. What would be more impressive is if they gave ALL the money—including the appearance fees, TV money, et al—to charities that don't have their names on them. There are plenty of worthy ones out there.
Exhibitions can be dangerous for a sport, especially if they are sold as somehow being more important than major championships. Back in the 1970s, some of the bigger names in men's tennis played so-called, "winner-take-all" matches in Las Vegas for $10,000. That was huge money back then, about the same as a player got for winning seven matches and a major tennis title. It turned out that both players were receiving appearance fees to show up and the exhibitions damaged the sport because they were pitched to the public as somehow being more important than the four major championships.
Golf probably isn't in danger of that happening, but if Woods and Mickelson are playing for $10 million, that's more money than the winners of all four major titles this year will make.
What's more, there's no doubt the TV ratings will be good and if they're good enough, there will be a rematch—just like in boxing—where the loser always demanded a rematch. Then, when the loser won the second fight, there was a third fight. More money for everybody, right?
Woods' return this year has been a mixed blessing for golf. His presence has certainly spiked ratings, especially in those events where he's contended on the weekends. But it has also meant that a lot of very good stories—like the two guys who have won majors this year—have been largely overlooked.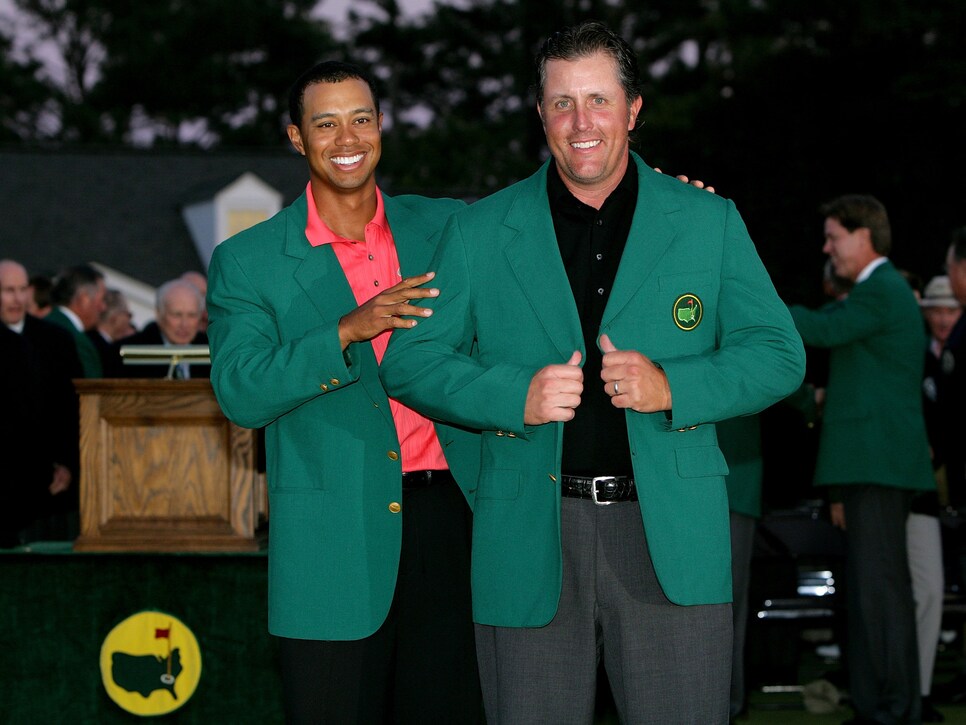 The irony in this is that if Woods and Mickelson had ever had a REAL rivalry, an exhibition like this wouldn't be looked at as that big a deal.
The fact is, Woods—who is five-and-a-half years younger than Mickelson—had already won eight of his 14 majors by the time Mickelson won his first of five. The two never really battled down the stretch man-a-mano at a major. There was never a Nicklaus-Palmer playoff like at Oakmont in 1962 or Nicklaus-Trevino at Merion in 1971 or the three classic Watson-Nicklaus duels (Masters '77; Open Championship '77; U.S. Open '82).
The rivalry was more about their differing personalities and about the very real fact that they didn't like one another. Now, they're buddies. Or, at the very least, two businessmen who get along well enough to know a gold mine when they see it.
I know most of my colleagues will line up to cover this. I know TV ratings will be high. I HOPE a lot of the money will go to charity. Meanwhile, I'll pass. I'd rather watch guys coming down the stretch at Greensboro trying to get into the playoffs and retain their playing privileges for next season. THAT'S what I call uncomfortable.