The Loop
A totally definitive power ranking of American theme parks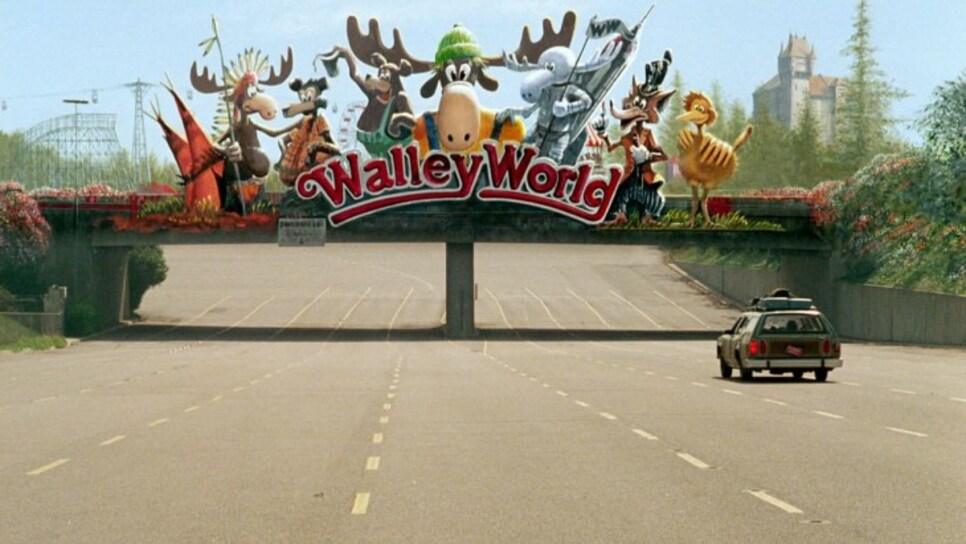 Summer is here and with it the urge to be literally anywhere other than where you currently are (chained to a desk deep within the bowels of some office dungeon, if we had to guess). Thus arrives the siren song of the theme park, an American vacation staple that, like most other inherently American things—hot dogs, baseball, the 2nd amendment—is always a little better on paper than in practice.
But long lines, lobster boil temps, and feral packs of leashed children be damned, sometimes you just have to scratch that coaster itch and get a picture with Minnie Mouse, come hell, high water, or United Airlines. In these most desperate and dire of times, The Loop are here to help, ranking the finest, funnest, freakiest theme parks in the Land of the Free and the Home of the Brave. From Coney Island to California, something tells us we have just the cotton candy binge you're looking for.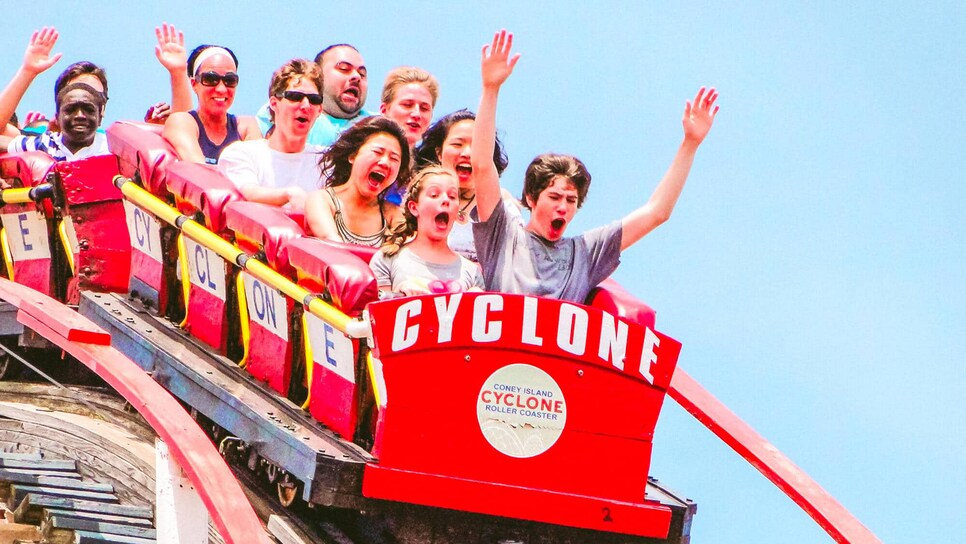 Location: Coney Island, NY
Best Ride: The Coney Island Cyclone
Where else in America can you rub elbows with Russian mobsters while watching an international hot dog eating contest and a minor league baseball game from atop one of the most famous woodie coasters on earth as the New York City skyline towers behind you? Nowhere, and therein lies the the charm of Coney Island's Luna Park, a slice of retro theme-park goodness topped with a healthy dollop of NYC, right down to the crusty, 90-minute F-train trek.
9.) Holiday World & Splashin' Safari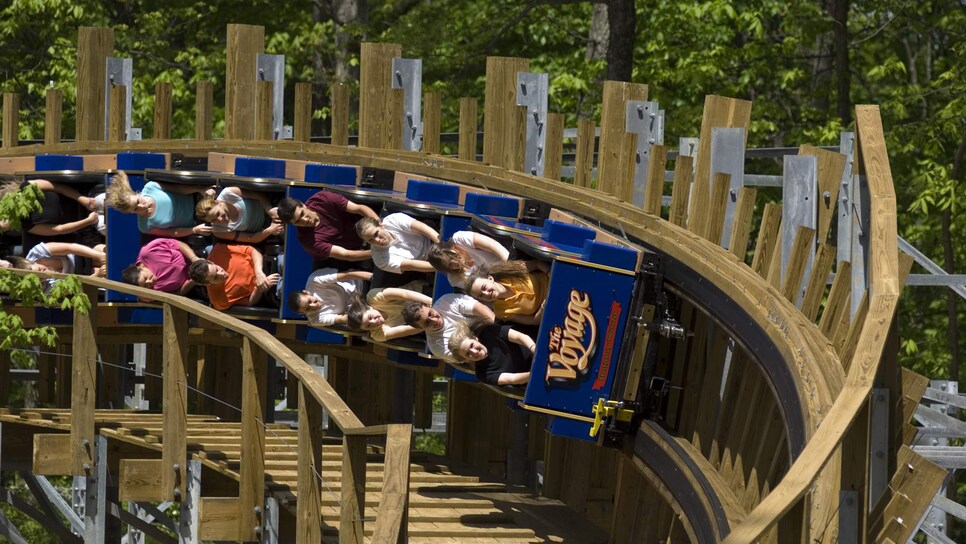 Location: Santa Claus, IN
It's going to sound like we're making this up, but we promise we're not. Holiday World & Splashin' Safari is a theme park dedicated entirely to, you guessed it, holidays. Split into four sections—Christmas, Thanksgiving, Halloween, and the 4th of July—Holiday World is a celebration of celebrations, featuring everything from the The Voyage—a 1.2 mile classic wooden coaster boasting 2.43 seconds of glorious airtime—to the Mammoth Water Coaster—a, umm, mammoth water coaster and the premier attraction of the Splashin' Safari water park. Whatever you do, however, just make sure to save the turkey and stuffing for after the rides.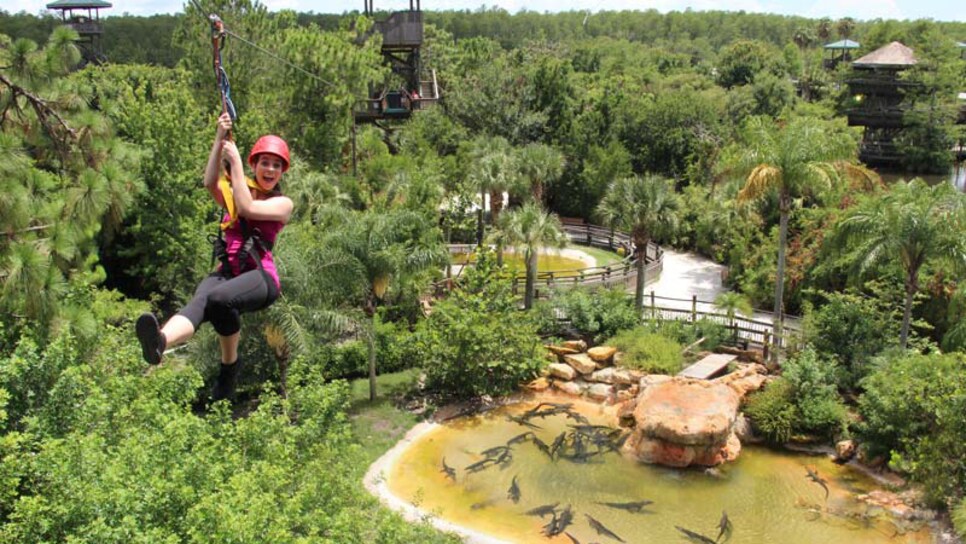 Best Ride: Screamin' Gator Zipline
While your mom is at Epcot learning exactly seven words of French, sneak over to Gatorland, which is precisely what it sounds like: Several acres of Florida swampland crawling with alligators, panthers, and other assorted apex predators. Once there you'll find professional gator wrestling matches, a 1,200-foot zipline dangling above gator breeding pools, and, perhaps the most terrifying of all, Gator Jake's Fudge Kitchen, where chef Derek Keleghan is whipping up over 10 varieties of homemade fudge. Nothing says "Florida" like giant reptiles and food poisoning, folks.
7.) Mountain Creek Waterpark (formerly Action Park)
You know that new Johnny Knoxville movie, Action Point, where he runs a rickety theme park and suffers an array of pelvis-crushing, Jackass-approved mishaps in the process? Well, it's pretty much a Hollywood version of Action Park. Long known as "America's Most Dangerous Theme Park" (and it's more creative cousin, "Class-Action Park"), Dirty Jersey's premier carnival of pain was responsible for half a dozen deaths before declaring bankruptcy in 1996 due to lawsuits. Today, Action Park is back, rebranded, and (slightly) safer than ever, but it's proud history of sketchy thrills lives on...in spirt at least.
Location: Williamsburg, VA
I'm 29 now and still catch myself whistling the Water Country jingle ("When the sun is blazing and the summer gets hot, Water Country's a very cool spot!") in my apartment like a serial killer. So maybe that misplaced nostalgia is why Water Country USA takes the sixth spot here. Or maybe it's because of insane hydro-torture contraptions like Vanish Point, where you step into a coffin perched 75 feet above the ground only to have the floor drop out, sending you speeding toward your watery grave like a human torpedo. The bad news? You now have athlete's foot. The good news? Nobody will be able to tell you wet yourself halfway down.
5.) The Wizarding World of Harry Potter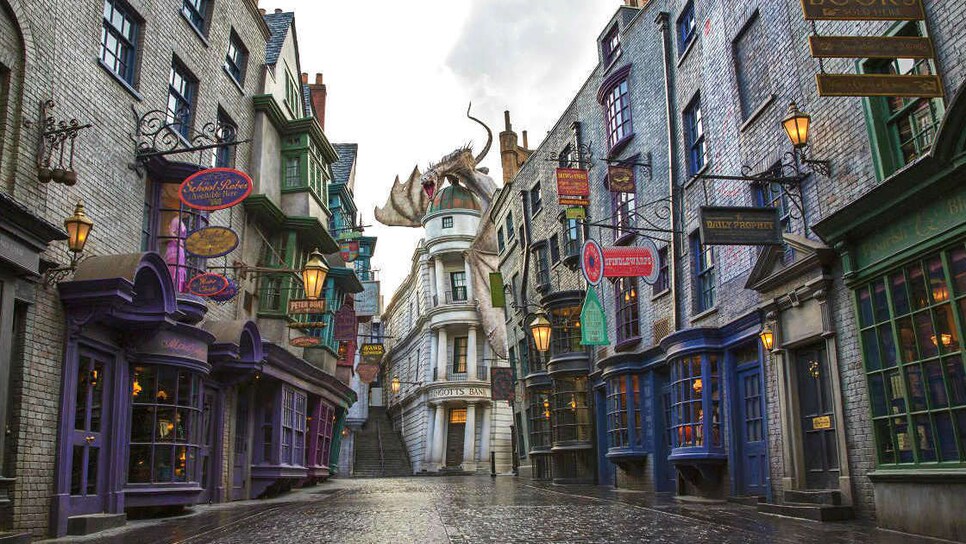 Best Ride: Getting hammered on Butterbeer at the Three Broomsticks
Technically an attraction of Universal Studios Atlanta, The Wizarding World of Harry Potter stands on its own with two separate parks—Diagon Alley and Hogsmeade—and one of the most immersive fantasy experiences you can get while standing in line for three hours in 2,000% Florida humidity. Tours of Hogwarts Castle, a ride on the Hogwarts Express, and back-to-school shopping at Diagon Alley await, even if you still can't shake the feeling that Harry Potter was really just a smug high school quarterback archetype in a robe who probably should have died but didn't because JK Rowling has the narrative spine of jellyfish.
Location: Pigeon Forge, TN (Tennessee has the BEST town names, btw)
What's not to love about an amusement park owned by Dolly Parton in the Great Smoky Mountains that hosts BBQ and bluegrass festivals and features one of the five best rollercoasters in America (according to Thrillist)? The answer is pretty much nothing. Sure, you may not have the mega-rides of Disney or the "adult" cocktail-hour vibes of Universal, but Dollyworld is as American as apple pie and embarrassing yourself on Twitter, so load up the station wagon with fireworks and set the controls (Apple Maps) for the heart of the south.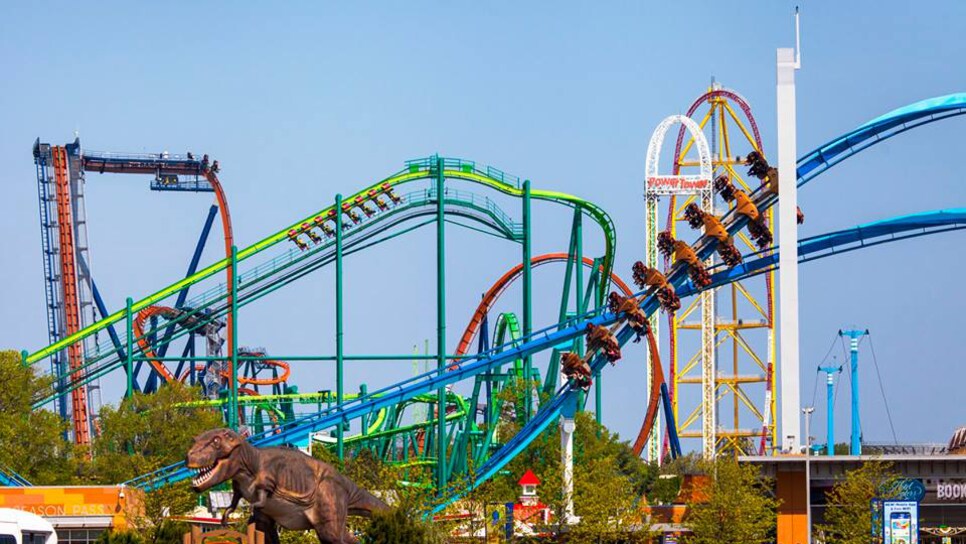 Best Ride: Millenium Force
LeBron, Jim Tressel's sweater vests, shouting "O-H" in a crowded place. These are the only things Ohioans love more than Cedar Point, the so-called "Roller Coaster Capital of the World." With 17 coasters overlooking the pristine industrial tar pit known as Lake Erie, Cedar Point—the second-oldest amusement park in America—has almost 150 years of experience inducing vertigo-related panic attacks, all of which has been funneled into the creation of Millennium Force—a 310-foot tall, 93 mph "giga-coaster" that will send you crawling back to your coastal bubble begging for mommy. Suffice to say, if adrenaline is your poison of choice, Cedar Point is waiting in the back alley with your fix.
2.) Six Flags Magic Mountain
Location: Los Angeles, CA
As you can probably tell, we here at The Loop believe that a theme park is defined by the quality of its coasters, and the only park in America with more than Cedar Point is Six Flags Magic Mountain. Twisted Colossus, Tatsu, and Lex Luthor: Drop of Doom all deserve a tip of the ol' barf bag, but it's X2, the world's first "4D" coaster, that will La La Land your brain with ridiculous gyro seats that wildly rotate 360-degrees while flinging your carcass 20 stories in the air. Wash it all down with some amusement park sushi (this is California after all), and you have a winner.
1.) Disney's Magic Kingdom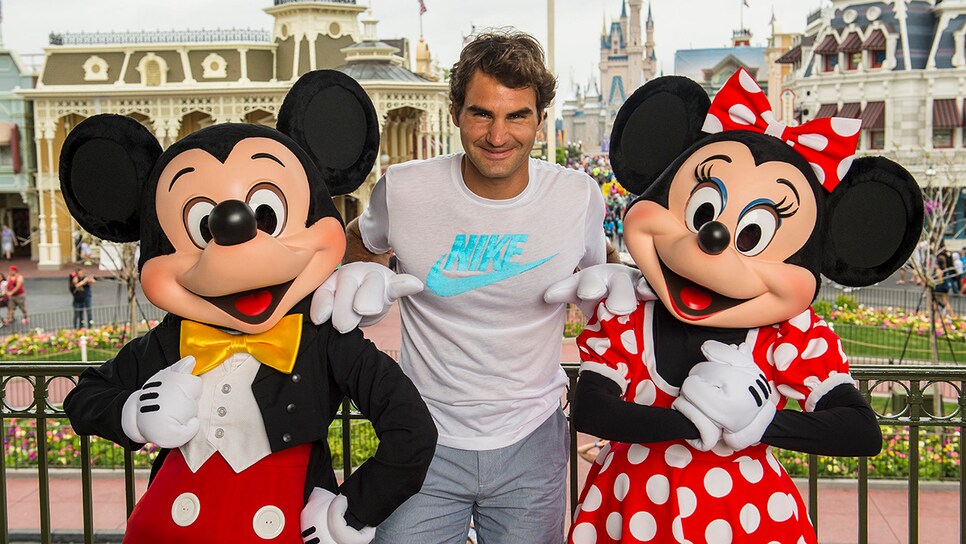 Best Ride: Space Mountain
Was there ever any doubt? The theme park by which they're all measured boasts the Van Halen Greatest Hits, Vol. 1 of ride lineups, featuring Space Mountain, Splash Mountain, Haunted Mansion, Pirates of the Caribbean, Big Thunder Railroad, It's A Small World, and The Hall of Presidents (on second thought, scratch that last one). It's not going to turn your insides upside with a pyrotechnic array of rejected NASA experiments, but if the sight of those iconic castle spires towering above Nowheresville, FL don't kindle some small flicker of childhood wonderment in your heart, you probably don't have one.