'A Round With Tiger'
Tiger Woods and Dwyane Wade talk 'GOAT status' in candid discussion on the course
While filming Episode 2 of A Round With Tiger with the basketball superstar, Woods provides a surprising assessment of his career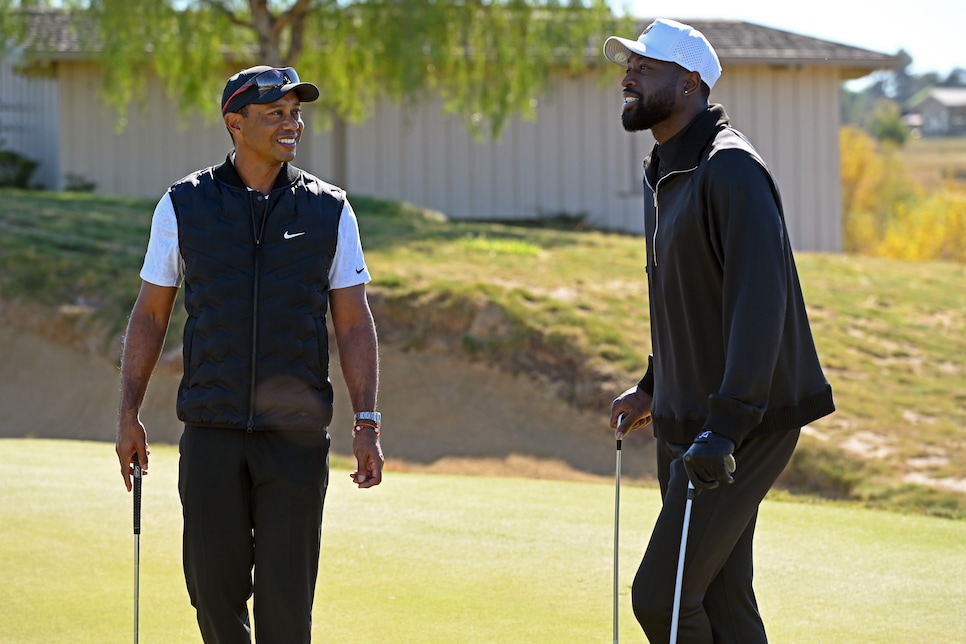 A day before a car accident derailed his latest comeback, Tiger Woods provided a fascinating insight into how he had viewed his career to that point.
Woods was, at the time, roughly two months into recovery from a microdiscectomy procedure to remove a pressurized disc fragment from his back. It was the fifth operation the golfer had on his back and the first since his career-saving spinal-fusion surgery in April 2017. As such, Woods' physical activity was limited while shooting A Round With Tiger: Celebrity Playing Lessons.
In the second episode of the series, 13-time NBA all-star Dwyane Wade broached the greatest-of-all-time topic with Woods while cruising down a fairway at Rolling Hills Country Club near Los Angeles. It's a familiar conversation for the 15-time major champion, who most consider either the best golfer of all time or the second greatest behind Jack Nicklaus.
"Are you uncomfortable with people saying that you're the GOAT?" Wade asks.
"I'm not the GOAT," Woods says matter-of-factly.
"Let's get to that. But certain people will say, the greatest of all time, right? And you would say, well, I'm not because of—you have your reasons."
"I'm not there yet," Woods replied.
"What would make you be there?"
"So, only when you're do-"
"So, you can't be be the GOAT while you still-"
Despite moving carefully throughout the episode—and just a day earlier telling CBS' Jim Nantz that he did not know whether he'd be healthy enough to play seven weeks later at the Masters—Woods clearly intended on making a full return to professional golf. When asked by Golf Digest whether he still held that goal after his accident, Woods declined to speculate and instead articulated a more modest goal: "My physical therapy has been keeping me busy. I do my routines every day and am focused on my No. 1 goal right now: walking on my own. Taking it one step at a time."