Tiger Watch
Tiger, sidelined after back surgery, on whether he'll be ready to play in the Masters: 'God, I hope so'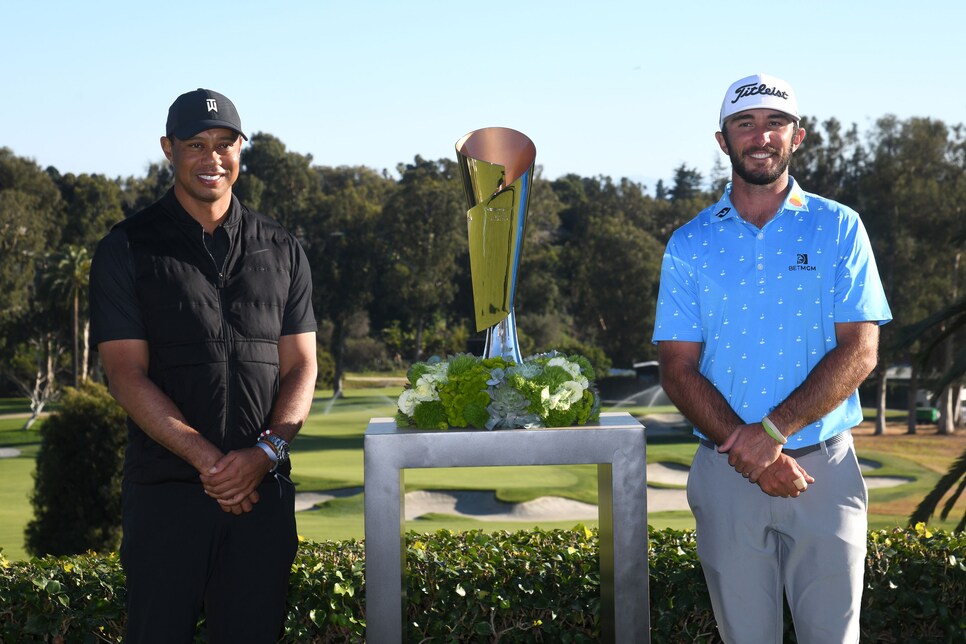 Genesis Inviational host Tiger Woods, still recovering from back surgery, presented the winner's trophy to Max Homa after play on Sunday at Riviera.
Harry How
"I'm feeling fine, little bit stiff," Woods said. "Have one more MRI scheduled to see if the annulus has scarred over finally, and then I can start doing more activities. Still in the gym, still doing the mundane stuff that you have to do for rehab, the little things before you can start gravitating towards something a little more."
Shortly after playing alongside his son at the PNC Championship last December, Woods underwent a microdiscectomy procedure to remove a pressurized disc fragment that was pinching a nerve. It was the fifth surgery Woods has had on his back and the first since his spinal fusion in 2017.
While Woods' team did not release the exact date of the surgery, Rory McIlroy said it happened Dec. 23 and that Woods was back on his feet shortly thereafter. Nantz asked Woods what he has done golf-wise since the procedure.
"I've lengthened my putter," Woods said with a laugh. "I don't have to bend over as far. I've gone to the same length as my sand wedge."
Nantz then remarked that the final round of the Masters is seven weeks from Sunday, and asked if Woods will be there.
"God, I hope so. I got to get there first. Lot of it is based off my surgeons, my doctors, my therapists and making sure I do [the recovery] correctly. This is the only back I got, and I don't have much wiggle room left there."
As always, there has been much speculation as to when Woods will return to competitive golf. The Players Championship, which begins March 11, has emerged as a potential target, at least among fans, but Woods said he did not know whether he'd play a tournament before the Masters, which begins April 8.
"I don't know what the plan is," Woods told Nantz. "Plan is to get the MRI and see if the annulus is healed, and scarred over, and then start progressing."