The Loop
A rookie caddie's experience inside the ropes at Pebble Beach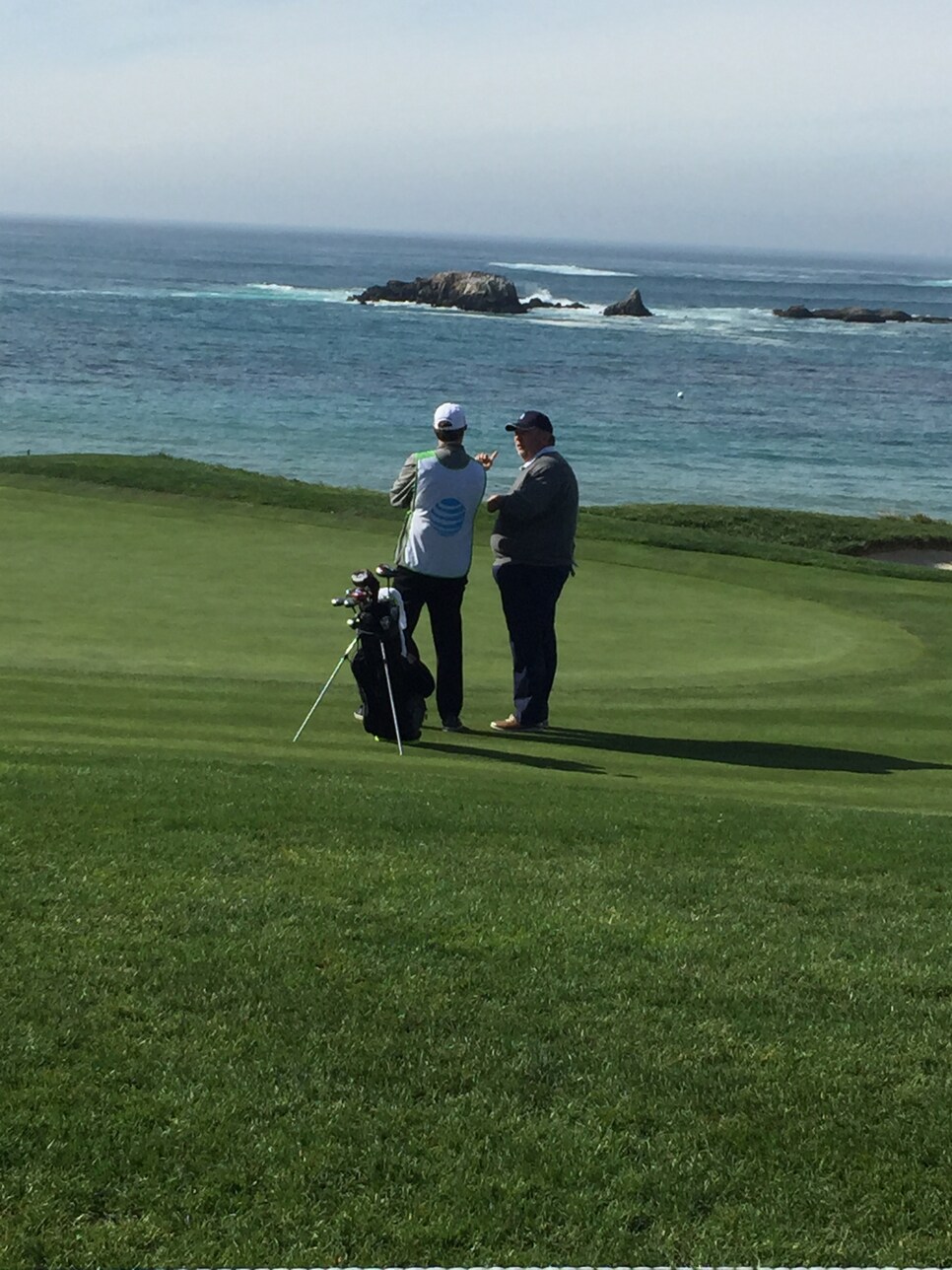 The next best thing to playing in the Pebble Beach Pro-Am is caddying. In a way, it's actually better. You can soak up the atmosphere of being inside the ropes and "in the game" without having your own skill on display alongside world-class professionals. Such was the case this past weekend of one Greg Garvey, who caddied for our chairman and editor-in-chief here at Golf Digest, Jerry Tarde.
Tarde has played many editions of the Pebble Pro-Am. He's taken a lot of real caddies, but this year decided to ask his neighbor.
Garvey just turned 60 but looks younger. He has a house in Fairfield, Conn., and a few other places. "You could describe him as an investor, or an entrepreneur or, as I prefer, unemployable," Tarde says. Garvey is a 9-handicap on his way down from much higher. Whatever he lacks in orthodoxy he replaces with temerity. He's also known as Java Man, because he likes to wake up and smell the coffee. As in, few are the people who start the day with a more satisfied filling and emptying of the nostrils.
"Hanging around Mr. Tarde in the golf world is always a special experience," Garvey says. "You can't walk three paces without somebody saying hi… For my wife Kathleen and me, three days at Pebble Beach watching great golf up close and hanging out with Jerry and his wife Beth was a lifetime experience."
As for the golf, Garvey had this to say:
"Well, it all starts with great weather that showcases the Monterey experience in all its glory. The professionals we played with, Ricky Barnes and Jim Herman, were incredibly nice. If there was ever a doubt how good and special these athletes are, I can attest they are out of this world. Sure, there are recognizable similarities from 100 yards in, but from the tee shot and mid irons, it's not a game we will ever experience. Jerry and the other amateur in our group, Jim Tullis, showed flashes of golf excellence and competed hard, but 54 holes at these venues will confirm that keeping their day jobs remains a good decision."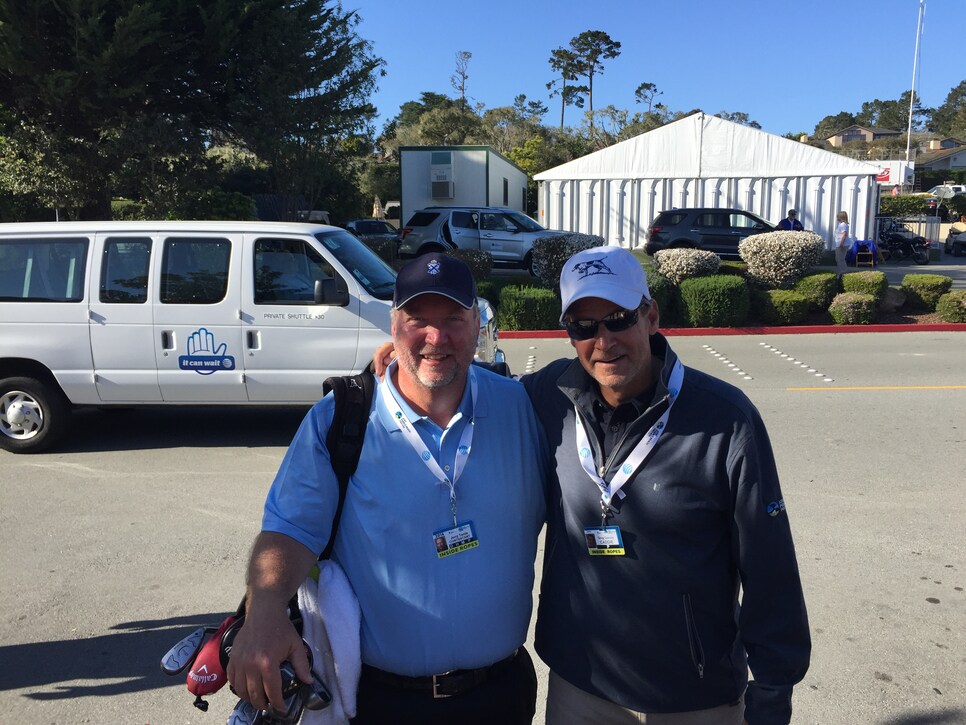 "He had every right to, but never did he knock me down and hit the shot himself," Tarde says.
At one point, the team of Barnes/Tarde was T-7, but their finish won't get a lot of retellings around the office over the next week. By Garvey's account, Tarde helped Barnes on five holes for a total of 7 strokes, including two birdies for net-eagles and "a big bogey on the one hole Ricky tripled."
"Jerry was in a greenside bunker and I said to him, 'Hey, we've been pretty much along for the ride until now. This could really matter. And then Jerry pops it out onto the green and makes a real nice two-putt from 35 feet." Tarde, by the way, is a 9-handicap on his way up from once around scratch.
"There were probably a few times when I had to remember that I was the caddie, and that I wasn't really on the invite list," Garvey remembers.
That Garvey should also keep his day job, whatever that may be, is another good idea. (As of press time, he was flying to his house in Telluride for some skiing.) Because if there's one thing a stand-in looper is responsible for, it's getting to the first tee on time. No one is going to ask you if the yardage is 166 or 167 yards, or if the club looks laid off at the top, but keep your bead on the shuttle as your man might be a bit outside his element among the stadia and TV cameras.
In the first round, Tarde and Garvey were late.
They caught their playing partners walking off the first tee (which was the 10th for this group, possibly adding to the confusion). On the next tee, a man from outside the ropes remarked, "Way to go, Jerry. You haven't hit a bad shot yet." This was Ricky Barnes' father Bruce, who played two seasons as a punter for the New England Patriots in the NFL.
In the second round, Tarde began the round on time and with a natural birdie. Garvey called to Mr. Barnes, "Jerry hasn't hit a bad shot today either."
Even for caddies, it's all about getting invited back.