OAKMONT, Pa. – With an imperturbability previously unseen in him, Dustin Johnson won the U.S. Open despite another of those Dustin Johnson things he gets into.
For the final seven holes, across maybe an hour and a half in the world's most prestigious tournament, Johnson didn't know if he had the lead, or was one stroke behind, or two ahead. The Sunday round of the Open had been distorted into full-on farce by a U.S. Golf Association rules decision that could have seen Johnson apparently win the tournament on the 72nd hole only to fall into a playoff when charged, an hour and a half after the fact, with a one-stroke penalty.
Not to put too fine a point on it, but the farce was one more freakin' example of how golf's holier-than-thou rules can make no sense.
Instead, with brilliant play capped by a 190-yard 6-iron to three feet for a birdie on that 72nd hole, Johnson created such a lead, four shots, that when the penalty finally came down, it was meaningless. "It doesn't matter now," Johnson said before adding golf's understatement of the year: "And I'm glad it didn't matter because that would have been bad."
Through the day's last seven holes, Johnson insisted the gathering storm of controversy never bothered him.
"I felt like I wasn't going to be penalized," he said. "So I just went about my business. Just focused on the drive at 12. From there on out, I just figured we'd deal with it when we got done."
Shane Lowry began the day with a four-shot lead over Johnson. But the Irishman came apart with four straight bogeys late and wound up tied for second, beaten by three shots. He was quick to acknowledge his poor play and quicker to praise Johnson, saying that he knew from the 12th hole on of the possible penalty and adding, "I credit Dustin for playing the way he played on the way in, having that hanging over him."
The farce began on the day's fifth hole. As Johnson addressed a putt, he either caused his golf ball to move a millimeter backwards or he didn't. An USGA rules official told Johnson to play away, all was fine. But seven holes later, another rules man, the boss, informed Johnson that, at round's end, he might be assessed a one-stroke penalty.
This was farce of a most farcical kind. Look, the ball's movement didn't give Johnson an advantage. Besides, slow-motion replays of the ball's movement showed Johnson didn't cause the movement. And yet Johnson would have to play the last seven holes of the Open – a tournament he choked away a year ago, a tournament he first choked away six years ago – yes, he would have to play seven holes under Open pressure with no real idea where he stood.
Not to put too fine a point on it, but the farce was one more freakin' example of how golf's holier-than-thou rules can make no sense.
It's as if Steph Curry threw in a long shot for the Golden State Warriors, but maybe his foot was on the 3-point line or maybe not. Officials then would let the game go on with a promise to check the video at game's end. Maybe then they would give the Warriors another point or maybe not. But play on, guys.
Students of Dustin Johnson's unquestioned talent and questionable decisions on Sunday in major championships use two Sundays in 2010 as their benchmark. With the Open to win at Pebble Beach that summer, he flailed his way to an 82. Two months later, in the PGA Championship at Whistling Straits, he grounded his club in a bunker. (I must interrupt myself here. No, he did not commit that heinous violation; he touched grit in a waste bunker trampled by fans. Such scattered grit on the ground, for convenience's sake that week, had been re-identified by the rules boys as a real bunker.) Anyway, a two-shot penalty imposed after play ended cost Johnson a place in a playoff for that major.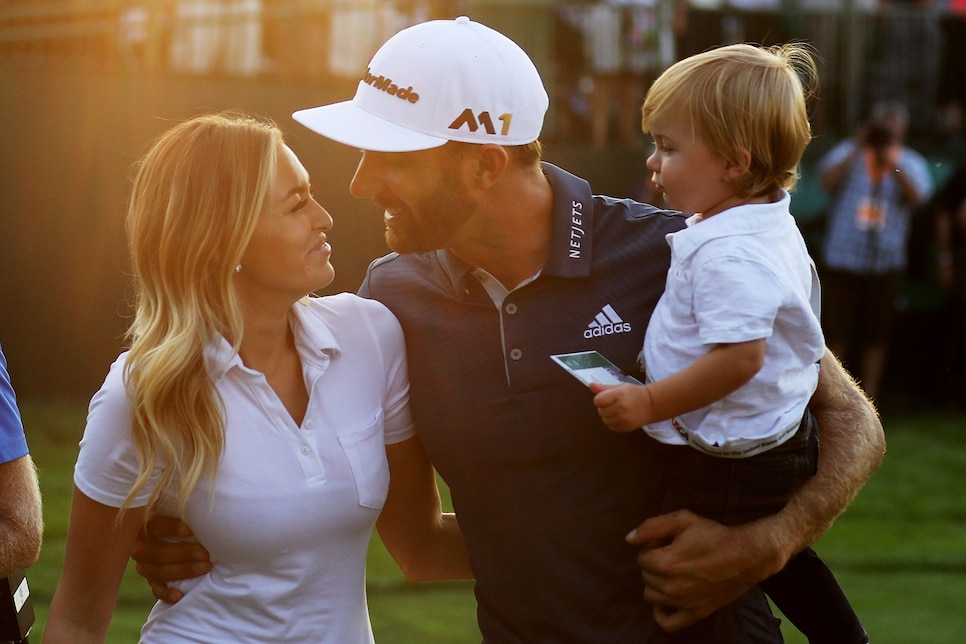 David Cannon/Getty Images
Then there was last year's Open. With a 15-foot eagle putt to win on the 72d hole at Chambers Bay, he ran that one by four feet and missed the comebacker to lose to Jordan Spieth by a shot.
To finally win a major – he'd never won in 28 tries – "feels really great," he said. After last year, to come back this year and perform like this, it shows what kind of golfer I am."
I bring up all this by way of suggesting, loudly, that golf enter the 21st century. This is nearly blasphemy, especially coming from a Bobby Jones disciple, but it's long past time to forget what the sainted one said during the first round of the 1925 U.S. Open. Jones had put a shot in the rough on the 11th hole. There, about to hit, he inadvertently moved his ball. He immediately called a one-stroke penalty on himself. He would not be talked out of it, even by fellow competitors who said they had not seen the ball move.
He went on to miss a playoff for that championship by one shot.
On that foundation, a lot of people, mostly stiff-necked pedants, decided that golf, alone among games, was honorable. After all, each competitor was his own rules official, as demonstrated by one of the game's greatest players in the tournament he prized above all. That day and forever, Jones would accept no congratulations for the act of honor.
"You might as well praise me," he said, "for not robbing a bank."
Speaking of robbing banks, in Jones's day, another American did in face gain fame by robbing banks. When asked why he did it – why such dishonorable work? -- Willie Sutton explained, "That's where the money is."
And speaking of money, Dustin Johnson, as payment for his starring role in the farce, was paid $1.8 million.