The Loop
A positive Padraig Harrington says he's "on the right path"
PALM BEACH GARDENS, Fla. -- The Padraig Harrington who won three major championships in a span of six contested about 100 years ago has reemerged at the Honda Classic, still unsure and a bit unsteady, but possessing a growing sureness that his relative steadiness can be sustained.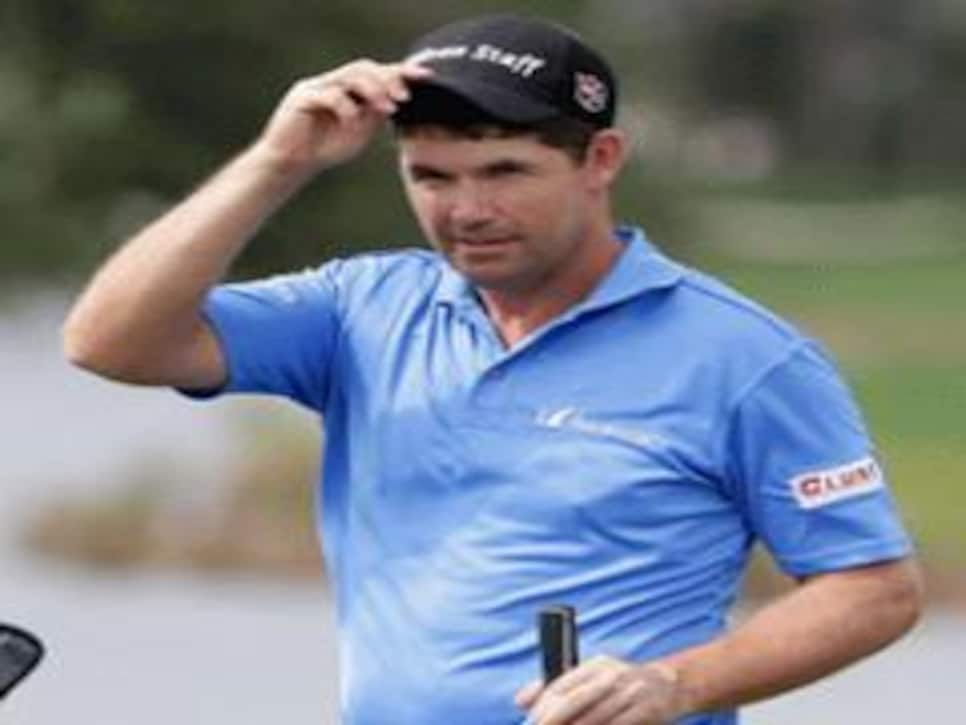 Harrington, 43, hasn't held a 36-hole lead on the PGA Tour since the 2010 Valspar Championship. More significantly, he hasn't led after 72 holes since his victory in the 2008 PGA Championship. Granted, he did capture the Asian Tour's BRI Indonesian Open in December, a $750,000 tournament where he was the headliner, even though he wasn't ranked in the top 300 in the Official World Golf Ranking at the time.
A win is a win, and all, but Harrington will be the first to tell you that leading a PGA Tour event, especially one played on an abrasive layout that dispensed harsh justice to a number of top players, requires a greater level of proficiency.
"It's nice to be in contention. I'm very positive about my game coming in here this week," said Harrington, who has missed five of eight cuts this year and needed a sponsor exemption to get into an event he won in 2005. "I don't know what's going to happen the next 36 holes, but I have a good idea where I'm going."
That in itself is a victory for the reflective Irishman.
For all those mystified by the recent struggles of Tiger Woods, Harrington perhaps serves as a relevant case study in a dominant game being compromised by psychological corrosion.
In the simplest terms, Harrington has struggled to put aside the fact that he's Padraig Harrington. He constantly fights the tendency to get too immersed in results rather than focus on the process of hitting good and proper shots. He tries too hard to not try too hard.
Many players refer to this as getting in their own way.
Without a top-10 finish since the 2013 FedEx St. Jude Classic, Harrington has been virtually tripping over himself. He might as well just tie his own shoelaces together.
It hasn't helped that he has tinkered with his swing endlessly in the last seven years. Sound familiar?
"My big problem is really trying to control the outcome and not settling for the process being enough," he said. "Ultimately, I have found out that is the biggest hindrance to my game. My mind out there was better than it's ever been. It was ugly at the end there. I found it for a while, though."
Offering him solace is that he found it in Indonesia, too. After blowing a four-stroke lead through 54-holes, Harrington sank a 15-foot par putt on the 72nd hole to beat Thanyakon Khrongpha of Thailand by two shots. It was his first win since the 2010 Johor Open, also on the Asian Tour.
The win came out of nowhere. Or so it seemed.
"When you go across to Asia, you're staying in the Presidential Suite. You've got a chauffer and a police escort for the week. You're treated like a star and you play like a star," he said with relish. "They bring you in there and your picture is all over the billboards and advertisements, and you have to deliver. It's got to have an effect on the ego.
"When I go to Asia, I'm back to being a three-time major winner. You get built up and you sometimes play like that. Here it's a different feeling."
Ranked 297th in the world, Harrington feels almost invisible in America. Part of that is due to his European heritage. Another part can be attributed to his precipitous decline in performance. And then there's human nature; people are predictably drawn to bright young talents like Brooks Koepka or Jordan Spieth instead of a married father of two children predisposed to disquietude.
Take his play on Saturday. He was comfortable until making the turn and then some old swing faults began to creep back in. He made four birdies on his last nine, sure, but he hit only two fairways and that caught up to him with soft bogeys on his last two holes.
"That was disappointing. But you can't have everything go your way all the time," said the man who hasn't had much go his way in years.
Golf's demons never rest. It takes enormous visceral vigor to fend them off. There isn't a golfer in history who hasn't eventually succumbed to them, and it's easy to surrender to them once they have displaced a player's preternatural confidence.
But good players find a way to rebound, rebuild, and then recapture their edge. Woods, after his personal tribulations in late 2009, won five times in 2013 and claimed another PGA Tour Player of the Year honor. Now he's in the midst of another reclamation project.
Harrington, Player of the Year in 2008, would admit that his play in this week's weather-plagued tournament is merely an overture towards better days. He said he feels like it's coming, but one can never be sure either.
Dancing on a razor's edge leaves some deep cuts. When the third round restarts at 10 a.m. EST Sunday, Harrington will quickly find out how sure his footing remains.
"We're on the right path," he said, trying to sound confident, but letting doubt sneak in just the same. "It's just a question of, can I do it? As you get older, you lose a bit of your innocence. I have always been a person who probably tries a bit too hard. There's no doubt on the mental side I've been trying ever so hard. It's hard to ease off. I did find some peace this week. Even if it was only for a bit of time I did find some peace."
And a piece of himself, too.